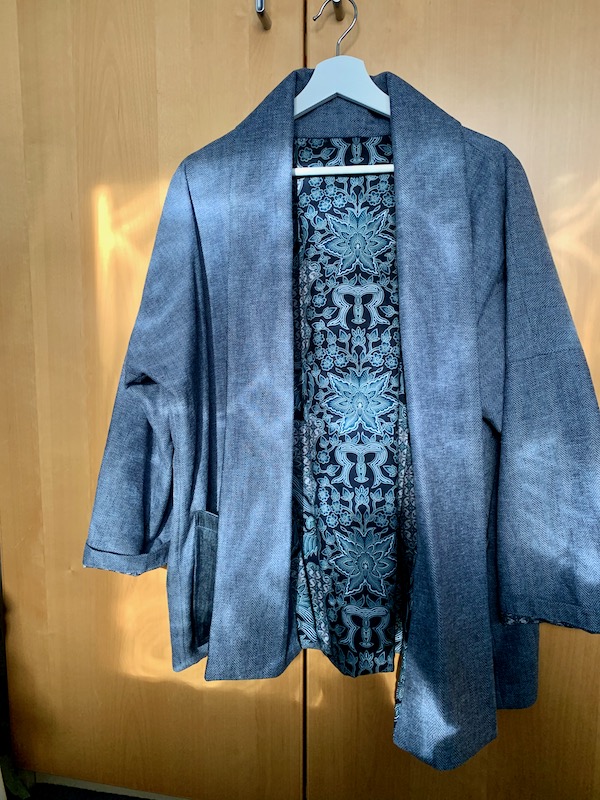 It seems that I'm not alone in the sewing world in having slightly lost my sewing mojo (or 'sewjo') recently. It's not that I have completely stopped sewing: I made a birthday shirt, another pair of Persephone sailor trousers, and an (un-blogged) pair of Lycra workout leggings, as well as many masks and my keyboard mat, though the latter barely counts as sewing. Those items are obviously not nothing, but the output is less than I would normally have sewn in a comparable period. I certainly don't have more spare time than I would normally have. Even though I have been working from home, my home office is my sewing room and vice-versa, and unfortunately not big enough to be set up for both functions simultaneously, otherwise I might have been able to take a short breaks to do 20 minutes or so of sewing in my day and get away from the screen. Mostly, I think the problem has been that while I enjoy the sewing process itself enormously, my main impetus to sew is to produce clothes to wear in the presence of other people, and those opportunities have been severely lacking since March. Recently, I wanted to make something cosy and comforting, but which would also look fairly smart on work calls, and so I decided to make a Wiksten Haori jacket.
Once again, I am slow to this particular sewing party. People have been raving about this pattern for ages and I have been slow to pick up on it. I suddenly realised that a) I could make it out of the remains of the linen fabric from my Persephone trousers and some batik I bought in Indonesia in 2019, and b) it would function like a warm, soft, unstructured cardigan, but would look like a smart-casual jacket. It would therefore help me 'stash-bust' my fabric pile and also work perfectly for working from home. The pattern is based on Japanese haori jackets worn over a kimono. It has dropped sleeves and a boxy, rectangular shape to the pieces and a rolled-over shawl collar, and as it is fully lined, it is intended to be reversible. You can also choose to fold back the collar in half (to make the front more open), or leave it unfolded for a different look and greater coverage. The pattern is intended to be worn with a lot of ease and so is over-sized. I did wonder about going down a few sizes, but in the end I just went down one size so it would still have the intended over-sized silhouette, and would enable me to wear multiple layers underneath for warmth during the winter!
It's not a complicated pattern, and is very well-drafted with clear instructions, so it wasn't an overly-challenging sew. Cutting out turned into the most difficult part, because I had limited lengths of fabric from my stash, involving a degree of fabric tetris in order to fit all the pattern pieces on. The batik fabric I used for the lining was particularly challenging because it had a large pattern repeat, and the pattern (like a lot of batik) ran down the length of the fabric rather than across the width, and the fabric itself was not very wide. I wanted to centre the pattern on the centre back line since I could wear it lining side out. I love patterned fabric, but every time I use it I remember how difficult it makes placing pattern pieces and cutting out! Eventually, the only way I could arrange the cutting was to piece together the sleeves vertically by including a horizontal seam. I managed to do this matching the pattern pretty well, so it is almost invisible unless you look closely. I also opted to use scraps of denim for the (huge!) pockets and the undercollar piece.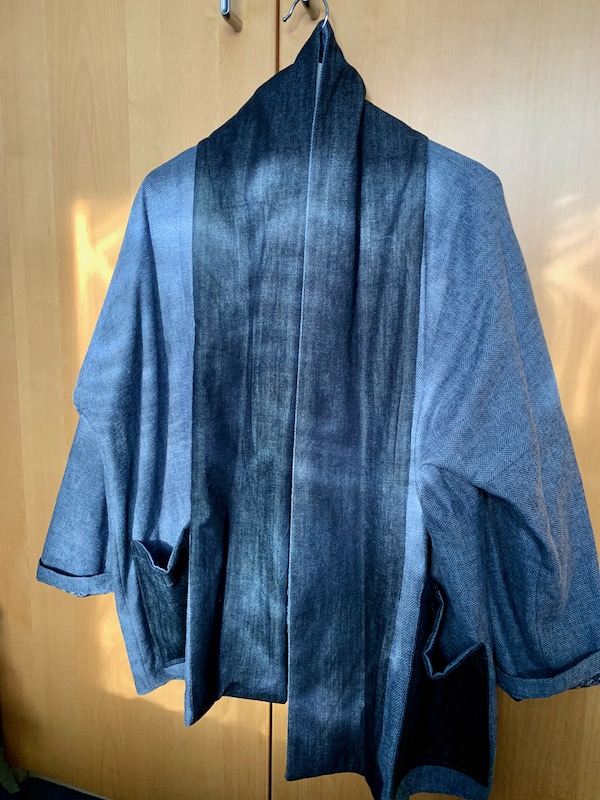 I do really enjoy a clean-finished pattern. This one had a new-to-me technique of bagging out the lining by sewing the outer and lining together at the hem first, then sewing the sleeve cuffs and hemming them at the same time, and finally closing the front and neckline seams with the collar. This very last seam (turning under the remaining edge of undercollar and stitching it down to enclose the neckline raw edge) was the trickiest one. My thick layers of denim and linen meant that my sewing machine ploughed up a giant ridge of fabric before it, no matter how hard I tried to wrangle it, and the end result had some giant pleats in it. Since I finished it late on a Sunday evening, I left this mess on the sewing naughty step for a couple of nights, then one evening during the week, I unpicked the seam and hand sewed it back down, which gave a much better finish.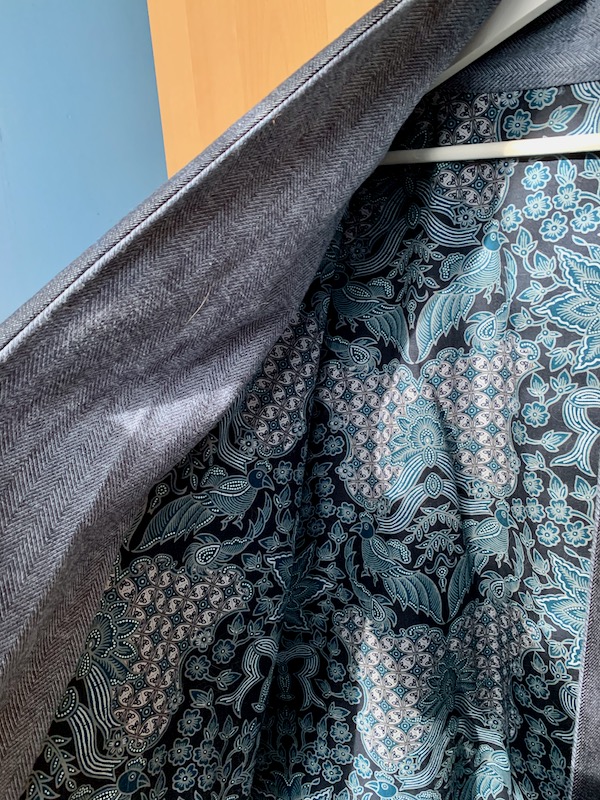 I've already worn it during an online networking meeting this week, and found it as cosy, soft, comfortable and smart as I had hoped. It was a lovely way to coax my sewjo back to life again, and I expect I will make the pattern again at some point.