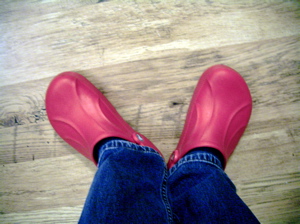 {width="300" height="224"}
It's amazing how much difference red makes. A while ago, I bought a pair of dark blue Beach Crocs. I loved them to bits, and wore them so much (including a lot of rough terrain walking Brazil) that I eventually wore the soles out. So, it being nearly winter, I retired the Beach Crocs to garden wear, and decided to buy a pair of Endeavor [sic] Crocs, which don't have holes for the biting British winter wind to whistle though.
I also decided to get a bright red pair, because I like red. If you're going to wear weird and ugly shoes, they might as well be brightly-coloured weird and ugly shoes. I should have guessed that a brighter colour would make them more visible, but I think my experience proves that red is an incredibly salient colour for most humans. With the dark blue Crocs, I only got a couple of comments about them in the whole time I wore them. With the red ones, I get at least a couple of people a day commenting on them.
Anyway, when it's gloomy, grey and raining, I just look down at my Red Shoes and smile.