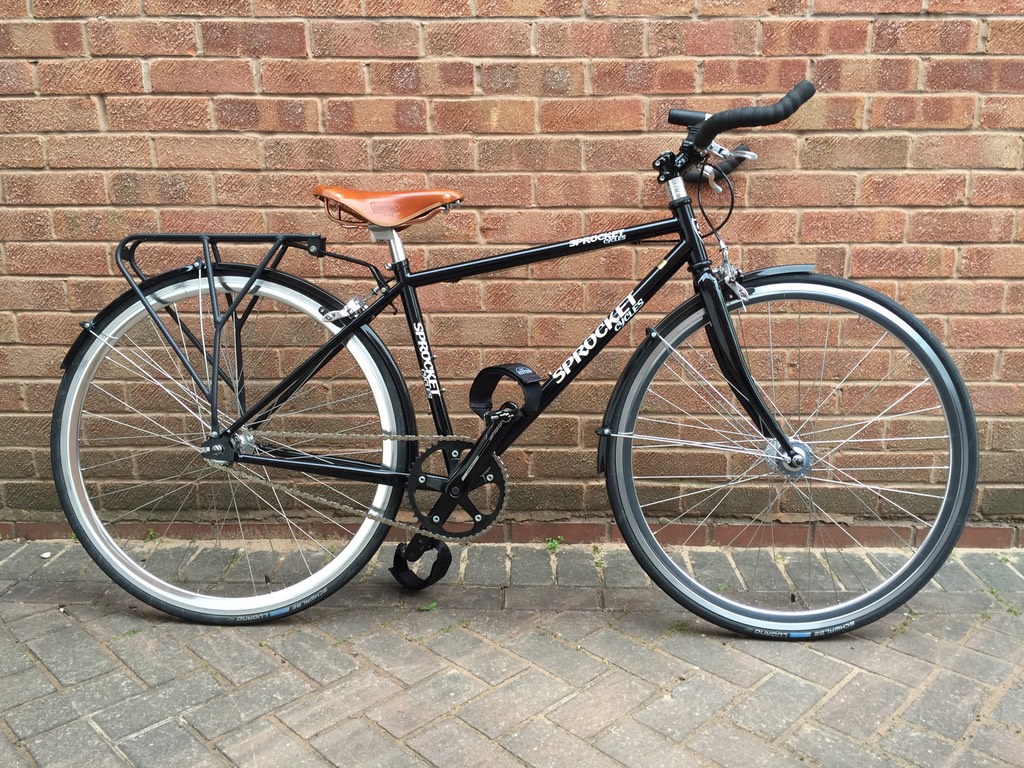 I had a cursed rear wheel. After 8 years, my old Fahrrad Manufaktur bike developed a rear wheel puncture problem that defied rational explanation. I had 3 catastrophic punctures in quick succession, with only two journeys (not even return journeys) between each of them, except the last which happened in front the bike mechanic, while the bike was just sitting on its stand in front of her. Pffft! Instant flat tyre. We checked everything: tyre, inner tube (I had brand new versions of each installed), inside of the rims, valves, everything. I still don't know what the problem was, but the final fix was apparently the charm, and the rear tyre is still inflated now. However, the whole incident made me think about whether the Fahrrad was still right for me. For one thing, it is so heavy, and the Nexus hub so difficult to disconnect and reconnect when you remove the rear wheel1, that fixing punctures by the roadside is very difficult. It is a supremely comfortable and stable ride once you've got it up to cruising speed, but getting it there takes quite a bit of energy. There was a period when I had trouble with the Nexus hub gears (which was eventually sorted out during servicing), when I rode the bike in a single gear because all the others slipped. That made me wonder whether a single speed bike might work for my commute. After all, if I could do it on a really heavy bike with poorly chosen ratio (the only gear that didn't slip), that it should work well on a lighter bike that was designed to be single speed.
So I thought about it for a while. I did some research on single speed bikes, and also considered getting a lighter 3-speed bike. A bike with some gears would certainly be more versatile, but in the end I decided that I didn't really want a bike that would work for any ride, but one that would be the perfect tool for my ride. These days I only ride on my 14 mile round trip commute, so if it worked for that route, it would work for me.
Single speed and fixed gear bikes are all the rage at the moment2, but it is surprisingly hard to find a good one at a reasonable price, particularly if you need a really small frame size (48 or 49cm) as I do. I liked the look of the Foffa Single Speed, and found that Sprocket Cycles in Birmingham stocked them, so I went along to have a look. I liked the model they had in, but when I found that they do their own custom single speed frames, I fell in love. The tiny frame and its geometry fitted me perfectly, and I loved the look of it. There was an extremely tall chap at the shop while I was looking at it who said he'd like one, but they didn't make the frames large enough for him. This frame just about reached his knees. Even better, the frame comes with eyelets and braze-ons for mudguards, a rear rack and bottle cages, which is rare for a single speed, but vital for a commuting bike. You can get them to custom build you a whole bike, choose the paint colour and all the components, but this particular one was half-built so I got a good price, and could choose the wheels and handlebars. I also bought a lovely skinny Tortec Velocity rack which they fitted for me.
I picked the bike up last week, and I'm besotted with it. Even with the rack the whole bike only weighs about 10.5kg, and I can easily lift it with one hand. I don't think I had appreciated how much easier it would be to ride such a light bike. I get to parts of my route that I considered tedious hills before, and barely notice that they go uphill. The bike leaps ahead when you apply a bit of power, and is such a joy to ride that I call it the 'Sprocket Rocket'. I've heard interviews with Spitfire pilots who say that it was a plane that you wore rather than sat in, and that it was so responsive that you only had to think about what you wanted it to do, and it would do it. I'm certainly not comparing this bike to a Spitfire, but it gives you that sensation of becoming an extension of your body, and responding instantly when you want it to do something. I was slightly nervous about whether I had made the right choice with a single speed, but after a short time to get used to a new riding style (and position on the bike), I'm convinced that it's perfect for my commute. I love the utter simplicity of not having gears and changing my cadence and effort to change my speed. I love the fact that it is so easy to maintain and move around, and so silent when it runs. I was even more amazed when I found that — right from the start — I've cut 10 minutes from my commute, without feeling like I'm putting in any more effort. In short, my rides to and from work feel like a pleasure rather than a chore, which is certainly worth the money as far as I am concerned.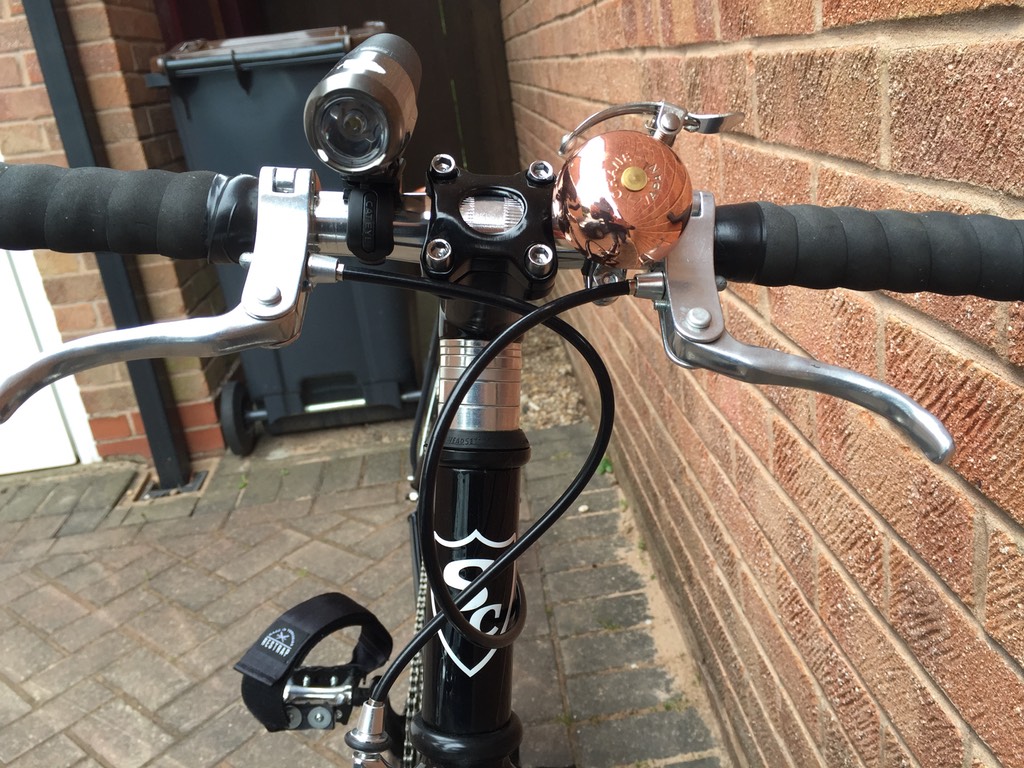 The frame on this bike is wonderful, but he components are pretty good quality too. It has 700Cx18/23 Weinmann DP18 rims with Miche Primato hubs, and Schwalbe Lugano 23c tyres. I don't think I've ever ridden on such skinny wheels, but to my surprise, they feel sure-footed and comfortable on the rather gravelly cycle path surfaces, even in the rain. My biceps will benefit from the effort required to pump them up to at least 100 PSI though. The brakes are Tektro RS38 calipers with no-name but solid feeling levers. The cranks/chainring are FSA Vero, and I have Wellgo M-20 pedals for now. Usually, single speed bikes are set up with a flip-flop hub, with a freewheel on one side and fixed wheel on the other. However, I can't see myself ever wanting a fixed wheel. As far as I'm concerned, freewheeling down hill is absolutely the best bit of cycling: setting things up so you have to pedal down hill seems crackers to me3. Rather than waste the opportunity, I asked Sprocket to set it up with two freewheels: a 16T and an 18T for when I'm exhausted, feeling lazy, or have to tackle bigger hills. The chainring is a 46T, and 46:16 seems to be a common ratio for single speed bikes, and works perfectly for the terrain I encounter.
I added a beautiful Japanese Crane bell in copper, which has a lovely tone. Since the National Cycle Route I mostly travel on is shared with pedestrians and dogs, a bell is important to let people know (politely) that you are there, and not frighten the life out of them when you pass them slowly. I missed a bell the first couple of times I rode it, as the bike runs so silently that you do take people by surprise. I chose bullhorn bars as well instead of standard racing drop bars because I have never got on with those. The bullhorns offer quite a variety of positions, and plenty of leverage when you are honking out of the saddle. I also added pedal straps to increase pedalling efficiency on hills, which has helped a lot. These are Restraps, made from recycled seat belts in Yorkshire. They are great for commuting because you can adjust them easily using velcro to fit whatever shoes you happen to be wearing. I had a similar style of diagonal strap on my old recumbent, and found that the placement made it easy to get into and out of, but offered a good fit once your foot was in place, as the strap naturally tightens on your foot as you straighten it on the pedal. I've already mentioned the Tortec Velocity rack, but I really like this rack. It feels incredibly strong and sturdy, but doesn't detract from the look of the bike. It is very slim, and the sides angle in towards the centre line, so that the weight of the bags is carried closer to the midline of the bike for stability. The only disadvantage is that the top platform is too narrow to take a rack-top bag, but I'm trying to reduce the amount of junk I lug to work, so most days one pannier bag is sufficient.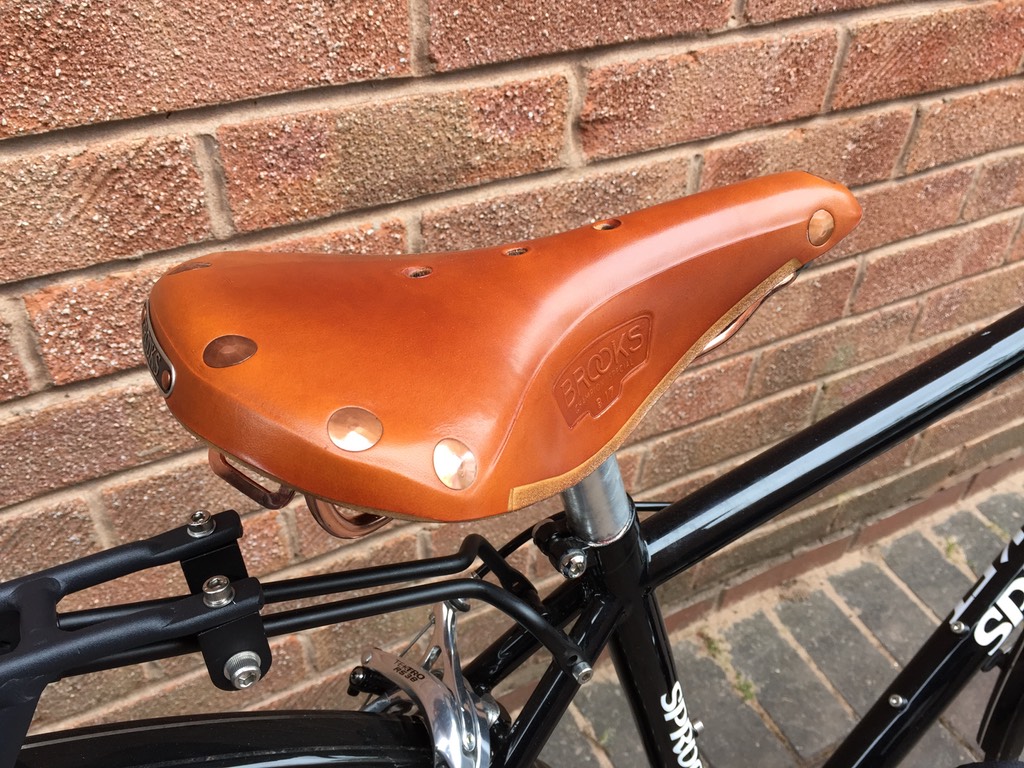 Finally, the only component I actually replaced on the bike after getting it was the saddle. The stock saddle was OK, but I didn't find it very comfortable as the nose was too wide for me. I've coveted Brooks saddles for ages, and decided to splash out on a gorgeous honey-coloured B17 Special, with the copper rivets. They are certainly pricey, but if you look after them, they will last for decades, and continue getting more beautiful, lived-in and comfortable the longer you ride on them. In contrast to a modern gel saddle, the surface of the leather is very hard, but the leather and frame flex slightly to smooth out the bumps, and the surface moulds itself to your hind quarters over time. You hear horror stories about how uncomfortable the breaking-in period is for Brooks saddles (often from people who have never tried them), so I was prepared to be stoical in the face of a numb backside for a little while. To my delight, however, the saddle was instantly comfortable. To be fair, I do have a good deal of — how can I put this delicately? — natural padding, so your experience may vary. I found that it supported me perfectly, didn't rub anywhere and even filtered out road vibration much more effectively than the previous saddle. My only issue at the moment is that the leather is so polished that I slide about a little. I adjusted the tilt slightly today to try to prevent that, but it will get better over time as the surface develops more of a matte finish. One other bit of information might be useful if you're a woman reading this, and interested in the B17. Brooks makes a version of this saddle specifically for women — the B17 S — but unfortunately, they don't make the Special version with the copper rivets4. I looked that the sizes of both and found that they differed only minimally, and that the main difference was the that nose of the women's version is slightly shorter5 . After searching around on the forums, I found other women reporting that the 'male' version of the B17 works fine for them, so I took the plunge, and it fits well. Again, your experience may differ, but I don't think there's anything about this saddle that generally fits women worse than men.
I love this bike to bits.