A couple of months ago I wrote about my adventures learning to sew. I haven't been idle since then, and have been busily making more clothes. I've learned two things about myself in this process, one of which has surprised me, and the other which has not. The first (unsurprising) thing is that I have found that I've loved learning a completely new skill. I like learning things in general (it's difficult to be an academic if you don't), but I've been hoovering up tips and techniques like it's going out of style. I recently came across the video classes on Craftsy.com, and have taken several classes on particular techniques (which handily happened to be reduced in price at the time). I enjoyed the Jean-ius! course with Kenneth D. King on reverse engineering a pattern from scratch from a favourite pair of ready-made jeans, and I'm currently watching one called Sew the Perfect Fit on fitting patterns with Lynda Maynard. However, it was when I found myself glued to The Couture Dress with Susan Khalje that I found myself thinking, "The Couture Dress? Who are you and what have you done with bsag?". Seriously, it's a great course, and not only has some brilliant tips that are useful for any kind of sewing, but is also about taking time and care to sew with precision for the best finish — all of which is relevant to any kind of garment. At one time, this is exactly the kind of thing that people would have learned from watching their mothers or grandmothers sewing, and is difficult to pick up from books. Just seeing how people handle fabric at the machine is useful when you are teaching yourself.
The second (surprising) thing I learned about was just how much wearing clothes I've made myself has boosted my confidence and self-image. It makes sense when you think about it, but wearing ready-to-wear clothes (unless you have the figure of a catwalk model) is likely to make you feel bad about yourself. Everyone's body is different, so the limited range of sizing is unlikely to fit you well (or fit you at all). That makes you feel as if the problem is with your own 'abnormal' body, and that you should try to change your body to fit the clothes better. The process of making clothes approaches things entirely the other way around: it acknowledges that everyone's body is different, and that the sizing on the patterns is only a rough starting point. From there, you alter the pattern to fit your particular body, not the other way around. When you read sewing blogs and watch the classes, it's very empowering, because you see so many different shapes and sizes of people and find out about adjustments for every conceivable fitting issue, and you realise that your body is no more or less normal than anyone else's. What's more, you see that people look fantastic in their clothes when they are well-fitted, whatever their shape and size.
I've realised that I've tended to buy clothes that are loose fitting (and usually too big) when I've bought clothes. Many of the clothes we buy are also made of knitted fabric, or are woven fabrics containing Lycra or Elastane so that they stretch. While making my own clothes, I've found myself drawn to quite tailored, fitted patterns, made from woven fabrics without stretch, and have been surprised how much I enjoy wearing that kind of garment. It seems counter-intuitive, but when unforgiving fabrics and shapes are well-fitted (and suit your own particular figure), you are less conscious of your body, not more. In fact, you tend to just forget about your clothes and get on with life.
I think it's fair to say that I'm a convert. I love the process of making clothes, I love learning new techniques, and the end result makes me feel more confident, comfortable and relaxed. I've also become a bit obsessed by understanding how clothes are constructed. I find myself staring at people on the train if I spot someone wearing a garment constructed in an interesting way, trying to understand how it is put together. One of these days someone is going to catch me staring, and then I am going to have a hard time explaining that I was not, in fact, staring at their bust, but trying to work out how the princess seam on their top worked. Wish me luck with that one!
For those interested (and I appreciate it might be a small fraction of my usual readership), here's the latest batch of stuff I've made.
Linen Hollyburn skirt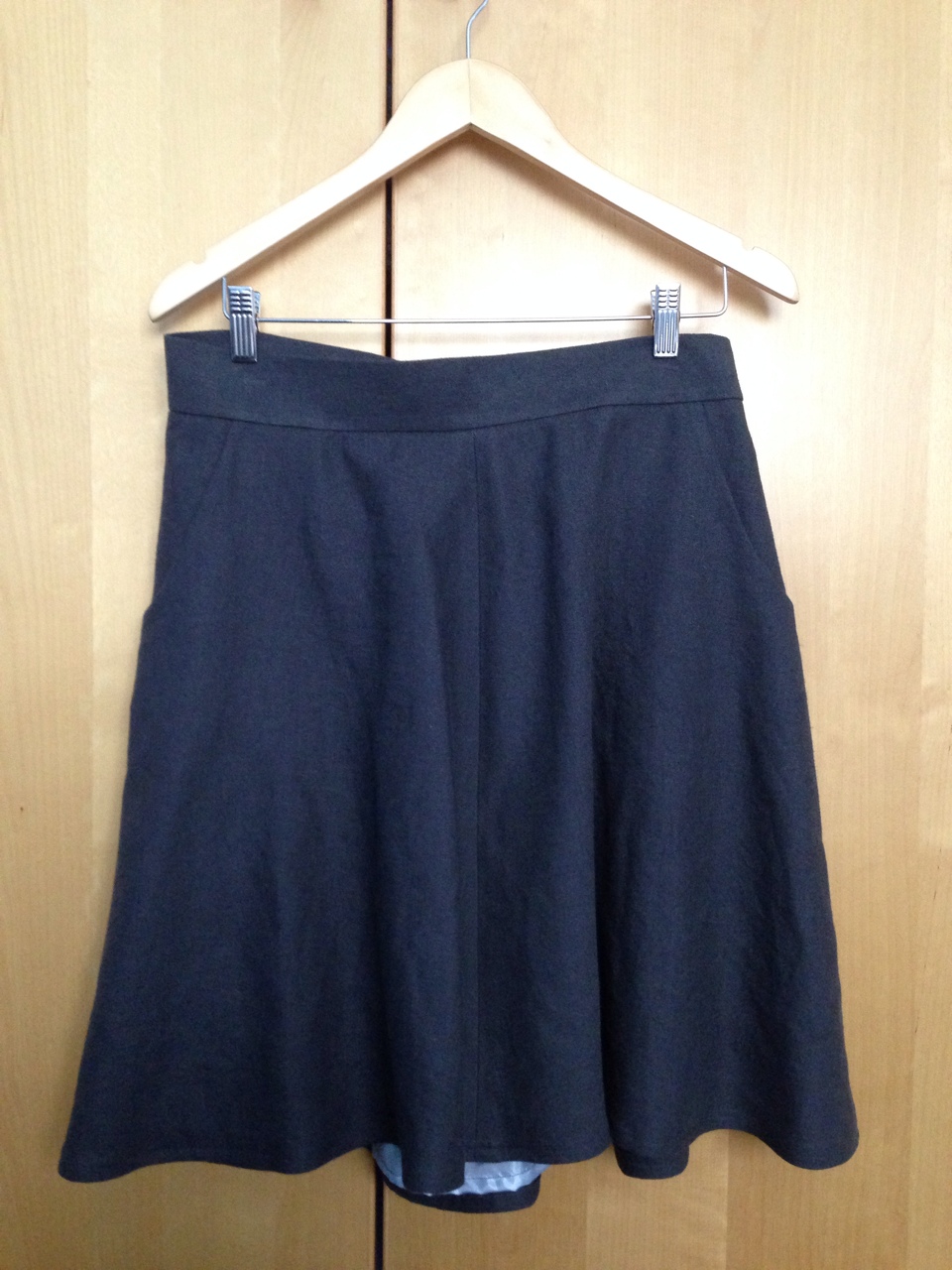 Making a pattern for a second time is really fun, because you know you can do it, and you know that the end result will fit you well. I got some lovely grey linen mix fabric from John Lewis (the poshest fabric I've bought so far), and really took my time getting all the details right the second time around. I lined it from the start, made all the seams French seams or Hong Kong bound seams (where the raw edges of the seam allowance are bound with bias binding), and made sure the fit was spot on. I was particularly proud of my 'stitching in the ditch' on the waistband. This is where you sew in the little trough between the waistband and the skirt from the right side, to secure the inner edge of the folded-over waistband down. On the last Hollyburn, I ended up top-stitching (rather unevenly), because my first attempt at stitching in the ditch was more like a drunken ramble over the general area. I pinned more carefully this time, and went slowly and carefully, and the stitches are nicely hidden.
This skirt is a dream to wear. The waistband fits me perfectly, the lining feels luxurious with tights or bare legs, and it drapes really nicely. I have to say that it looks much better on me than on the hanger, and I have worn this a lot.
Sewaholic Thurlow trousers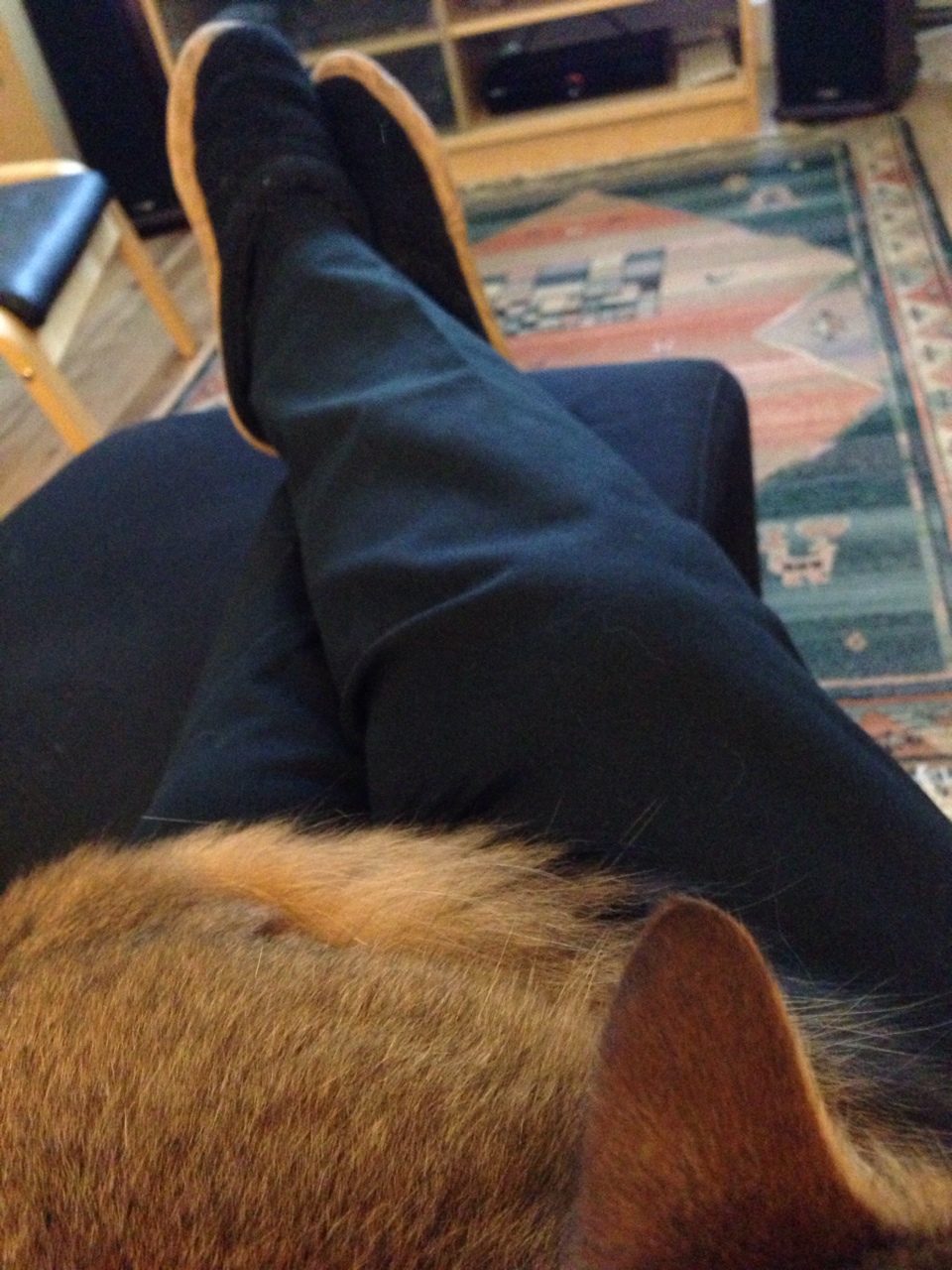 I'm afraid I don't have a proper picture of these, because they are currently in the wash, so you'll have to make do with this shot of Bella christening them with cat hair instead.
I had been itching to make a pair of these Thurlow trousers since I got the pattern, but since they involved some slightly more advanced techniques, I waited a while to attempt it. The instructions are very clear, but the sewalong by Lladybird helped enormously with the tricky double welt pockets and fly. I can't say that I had ever appreciated quite how many moving parts a typical pair of trousers actually entails. It seemed as if I was cutting out pattern pieces from my black cotton twill and lining fabric for days, but eventually, the fun part of construction happened. The front pockets were very easy, as they were conceptually very similar to the ones on the Hollyburn skirt (though a bit more fancy, with a different fabric to line them). I was dreading tackling the rear welt pockets though: not only are they quite complex, but there's a point of no return when you have to cut into the fabric of the seat of your trousers. Amazingly, they went smoothly. My pockets could be a bit neater, but I think they are fine for a first try. The zip fly was also a first for me. It's a process that's quite hard to visualise until you actually do it, and then it makes much more sense.
The fly itself was fine, but I had used a zip that was too long. This is a common situation, since it is difficult to find zips which are exactly the right length, and the advice is to just cut the top of the zip off after you have inserted it, but before you attach the waistband. All the tutorials on this emphasise strongly that you should be careful when zipping it up at this stage that you don't pull the zipper pull off the top of the zip, because it will be almost impossible to put it back on. "Pfft", I thought, "as if I would do something so stupid." Then I tried the almost completed trousers on and promptly pulled the zipper pull off the top of the zip. Oops. Several minutes, and a lot of bad language later, Mr. Bsag and I had managed between us to get it back together. It works, but the bottom of the zip is a bit mangled. None of this shows, but next time I am definitely scouring the web for a zip of the correct length.
Anyway, zip-related mishaps aside, I am really chuffed how well the trousers turned out, and how well they fit me with no adjustments. It helps that the construction is very clever, and that you leave sewing up the last part of the centre back seam until last. You can then adjust that seam in or out to tailor the fit to your waist, which works very well. I think next time I make these (and I will definitely make another pair), I'll make the back crotch seam a touch longer, and perhaps raise the centre back a little bit. Even so, these trousers fit me far better than any I have ever bought.
Anna dress
This was my first pattern outside the safe and pear-shaped territory of Sewaholic Patterns. It's an Anna Dress, made by a company called By Hand London. The Anna has become a bit of a phenomenon among home sewers1. It's a very adaptable dress that seems to magically flatter almost every figure type and size, and can be made successfully in almost any fabric from silk to denim. It's also quite easy to put together, and doesn't need any very tricky techniques, other than inserting a 22" invisible zip.
I bought some red floral cotton from the market which was pretty cheap, and opaque enough not to need lining. It's actually a little stiff, and I'll probably try a more drapey fabric next time I make the dress (and there will certainly be many other times, because I love this dress).
It all went together easily (even the invisible zip, after I had a practice on a scrap of fabric), and I love the end result. I made the midi version (which is just below the knee on my Hobbit frame), and the slash/boat neck option for the neckline. It fits pretty well, but I did have to make a couple of on-the-fly adjustments or hacks to stop the neckline gaping at front and back. I tapered the seam allowance at the centre back to bring the top of the neckline in at the back, and also made a couple of pleats in the front neckline. This doesn't look too out of place, because they mirror the pleats below the bust. However, I think what I need to do next time is to cut the bodice according to my high bust measurement (i.e. under my armpits, above my bust) and then do a full bust adjustment. This should also lengthen the torso a bit, and get the pleats to sit a bit lower as intended. It's very wearable though, and extremely comfortable, and the shape is ideal for my figure. I also love the fact that it has kimono sleeves that are cut out with the bodice, which means no need to 'ease' sleeves in.
I've been very busy the past couple of weekends, so I haven't done any sewing. What I'd like to focus on now is getting better at adjusting patterns and fitting, which is why I am watching the Craftsy class on that. It's clear to me that I struck lucky with Sewaholic Patterns, because they fit me so well out of the packet, but with other pattern companies I'm likely to need to do more fitting, so I need to learn about the adjustments I'm likely to need to make, so that I can apply them routinely. I have also been too lazy and impatient to bother with making a muslin test garment, but I think I would like to take my time to do that now with new patterns, so that I can have confidence when making the item in the final fabric that it will fit perfectly. It also allows you to be a bit more creative and try out modifications to the pattern that would be risky to try in expensive fabric.
---
Or sewists — I'm never sure what people prefer. ↩︎