I've just come out the other side of a bit of a frantic period of sewing. My brother is getting married next week, and so of course I wanted to make something nice to wear. Naturally, I have known the date of the wedding for ages, so I had plenty of time to plan what I wanted to make, and sew in a relaxed and leisurely way. Did I do that? Reader, I think we both know the answer that that rhetorical question. I did not. I waited until about a month before the wedding before starting my dress, then made some stupid decisions about a top layer, panicked, and ended up going on a three-day sewing bender less than a week before the wedding.
Let's start with the dress. After much deliberation and whiffling about, I decided to sew the By Hand London Anna dress. I've sewn the pattern before (in fact, it was one of the first things I made), and I like the way it looks on me. I then found a lovely cotton lawn in a jewel-like pattern from Clothspot what would suit the style very well. However, I decided to go down a slightly more difficult route than was strictly necessary. When I made my first Anna, I didn't know how to grade between sizes, so the bodice (particularly the upper chest and neckline area) was too large, and I had to improvise some neckline pleats to fix it. I looked at the pattern and was thinking about how to grade between sizes, but then remembered that I had made my own bodice sloper: why not just use the sloper to recreate the pattern pieces? Then I would have the same style, but fitted much better to my own body.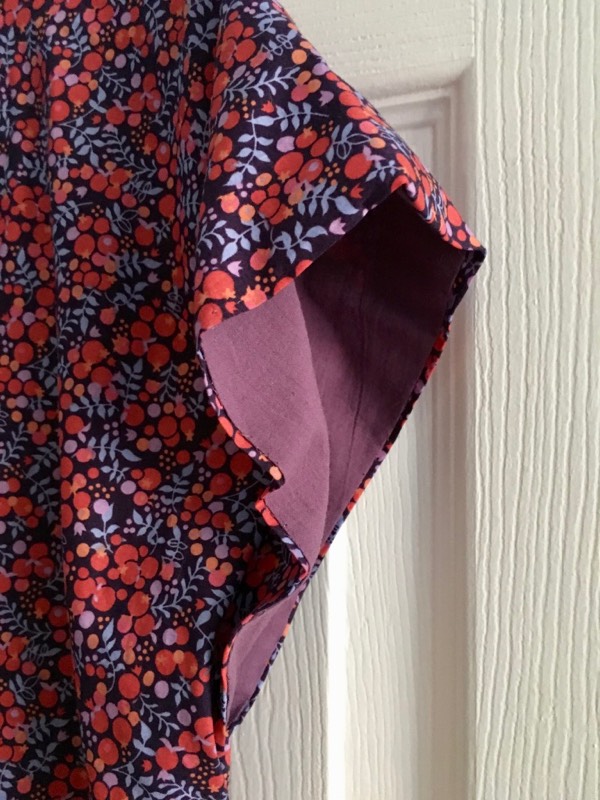 That process turned out to be a bit harder than I thought, but not in the way I would have predicted. I thought that the bodice pleats would be difficult, but actually, they were quite easy to achieve through manipulating the darts on the sloper. The grown-on/kimono sleeves turned out to be really tricky to draft. I found that either I was disrupting the line of the shoulder too much, or else creating an arm hole that was much too small for my arm. Eventually (with much erasing of what I had drafted), I sorted it out. Since I was making a lining too, I made the lining up first to check the fit, and was pleasantly surprised to find that it was a good fit. There's a more ease around the waist and lower torso than than I need, but since it's for a wedding, I decided to leave it as room for cake. I can always take it in a bit more afterwards. From there it should have been plain sailing, but I got blasé when overlocking seams on the skirt panels with my overlocker and sliced a great big slit in one of the front panels. I fumed about this for an evening, thinking of ways that I could repair the hole, but the next evening I did the sensible thing and unpicked the panel, cut another and sewed it in. After that, the rest was fairly plain sailing, and I'm happy with the dress (apologies for the wrinkles in the photo below — it has been in a garment bag for a few days). I really should have shown in modelled, because it is one of those dresses that look like nothing on the hanger, but come to life when they are worn, and you see the shape properly.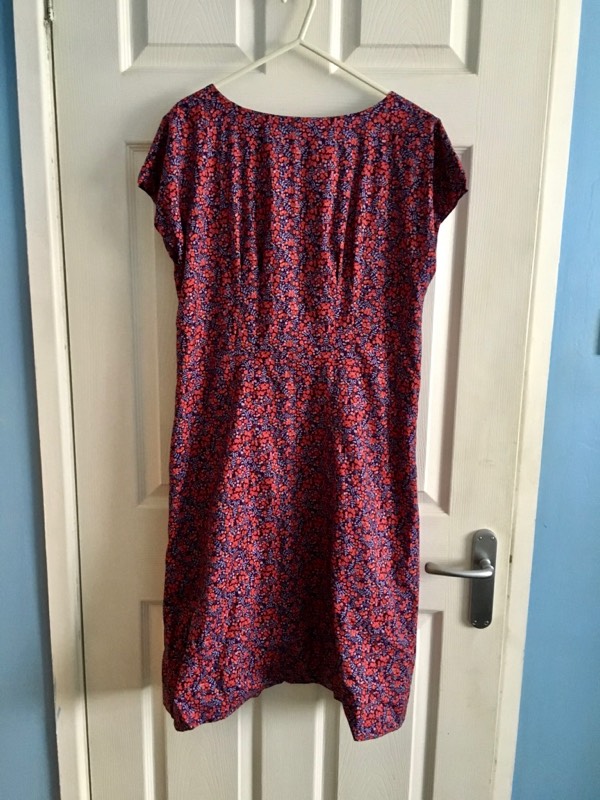 So, the dress was sorted out, and my thoughts turned to a top layer. Given that the wedding is in September, in England, I'm likely to need a bit more warmth than a short-sleeved dress can supply. At this point, I came across a Kate Davies knitting pattern for a beautiful shawl, called Fantoosh!, and fell in love with it. I bought some gorgeous yarn from Old Maiden Aunt Yarns, in the colour lon-dubh. The colour is stunning1, the yarn is silky and incredibly soft, and giving a yarn the Gaelic name for a blackbird and making it the colour of a blackbird's wings is basically a fast way to get me to hit the 'buy' button. This whole shawl caper was basically the stupid decision in my sewing frenzy process, not because of the pattern or yarn, but simply because it involved knitting. I am the world's slowest knitter, and I had never knitted a lace pattern before. Also, while I adore the colour of the yarn and it goes with a lot of my clothes, it actually doesn't go very well with the dress I had made. I'm currently about half way through the shawl, and it's going OK (apart from a few lace holes in not quite the right places2 — luckily the pattern is quite forgiving of errors, and they blend in), but it became clear that I was not going to be able to finish and block it before the wedding. I'm going to love it when I've finished it and get a lot of use out of it, but in the meantime I needed another plan. I also needed (I belatedly realised) to make some kind of handbag, since I don't own one, and refuse to buy one.
Earlier this week, I rushed out to Barry's Fabrics in Birmingham to gather fabrics to make both. I had only the vaguest idea what I was going to make jacket-wise, but I thought that linen would probably work well whatever I decided. I love linen as a fabric, it's easy to sew, and linen garments tend to work well dressed up or down, which means I am more likely to get good use out of it. I picked up some lining material, and some fake leather ('pleather') from which to make a bag.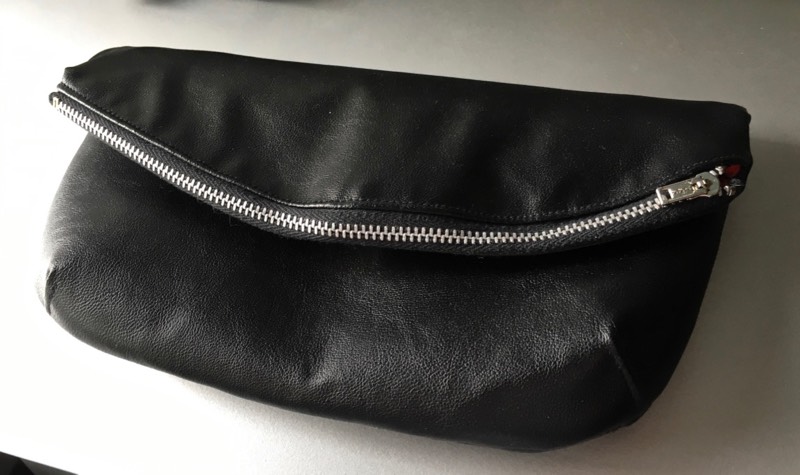 First (while procrastinating about the jacket pattern), I made an Ida Clutch bag. This is a lovely, simple pattern, which makes quite a smart looking bag. The pleather worked well with some canvas interfacing to stiffen it a bit, and I lined it with a scrap of red/orange patterned cotton I already had. If I make another one, I need to make the junction between the ends of the zip and the seam of the bag neater, but I'm pretty happy with it, and it will do the job well. Importantly, it was also extremely cheap to make. Around this time, I also made Mr. Bsag a bow tie out of my remaining dress fabric. He liked the colour and pattern, and fancied wearing a bow tie. I came across a free pattern for one, and luckily it was a quick and easy make. I also learned how to tie one, which is bizarrely something I have always wanted to do. We will therefore match outfits in a minor way, which will be either sweet or nauseating, I can't quite decide which! I had ticked another couple of items off the sewing to-do list, but the jacket conundrum was still lurking menacingly in the background.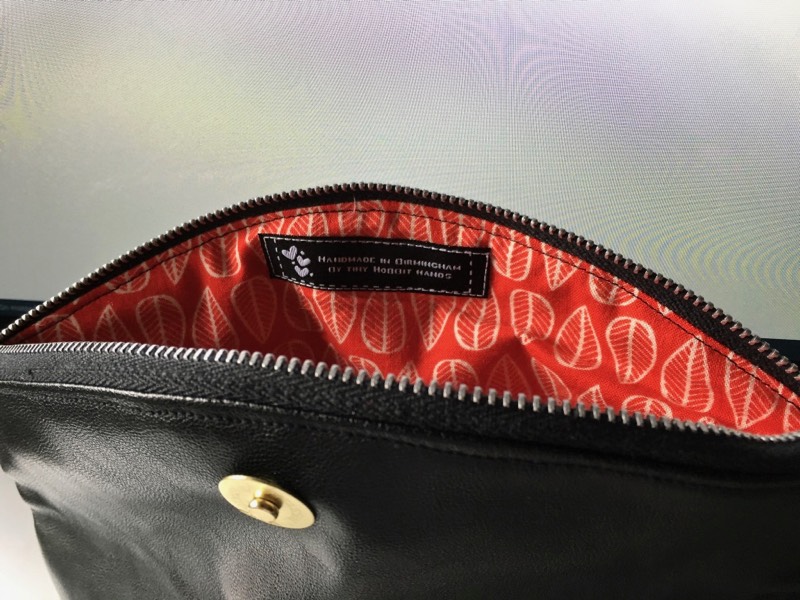 At first, I thought I would design my own. After all, I have my sloper, which worked so well to recreate the Anna pattern, and I have some Bunka books which show you — in a series of fiendishly complicated diagrams — how to turn your sloper into a number of different jacket styles, so how hard could it be? I even started drafting the back pattern pieces, but after a couple of hours spent staring at the diagrams, thinking about how little time I had to accomplish this feat, and starting to panic again, I decided there had to be an easier way. I probably will design and draft a jacket at some point, but it will definitely be much easier when I'm not doing it with the clock ticking before an important event.
I was actually searching for instructions on how to draft a simple stand collar when I found this jacket pattern. Without the two pleated sections at the lower front (which I could just omit), it was very close to the kind of thing I had in mind. Lekala also has an interesting model as a pattern company: you can enter your own measurements, and they tailor the pattern for you, including adjustments for things like the relative length of your torso or legs, the circumference of your upper arms, and so on. The instructions you get with the patterns are quite minimal, so I'm not sure that I would recommend them if you are a complete beginner (I had to do a fair bit of puzzling out to work out how the facings came together and joined on to the neckline), but they are nice patterns.
This particular jacket featured an angled dart (I've also seen it called an English dart), which results in a right-angled seam in the bodice front. I had never sewn one before, but after finding some instructions on the internet, I just gave it a go. The first one (pictured below) worked out beautifully, which must have been beginner's luck! The second one resulted in a bit of a bubble of fabric at the corner, but it's not too prominent. It's really tricky to get the two seam lines to join precisely, while not trapping other bits of fabric. I think I need to practice this, because the end result is a rather lovely detail.
Other than the darts, the rest of the jacket sewed up quickly, and I also made a lining for it, which worked out well. I really like the jacket, and it looks great with the dress. I think it will be quite versatile, so it was definitely worth the effort. The fit is really impressive, given that it was automatically generated from a few measurements. I'll probably try a Lekala pattern again, as it's quite a short cut over having to make adjustments to a pattern yourself.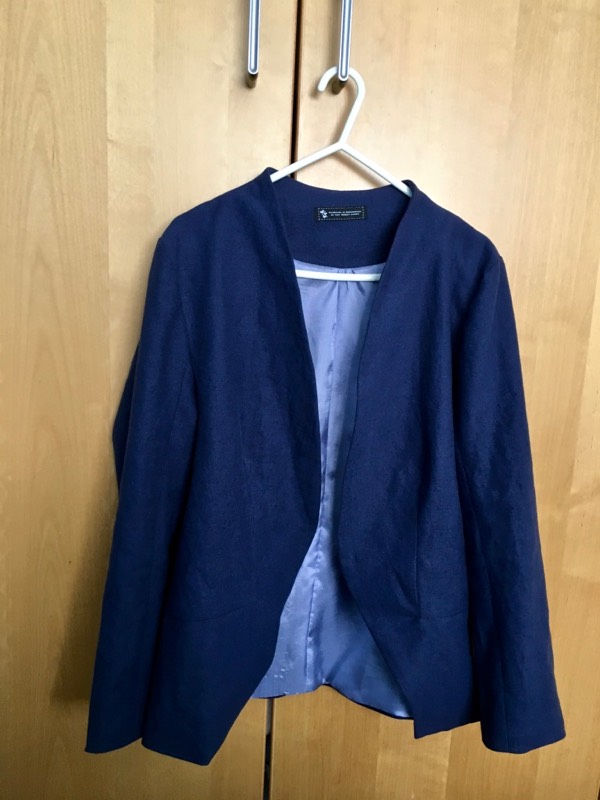 So, another item ticked off the list. The final thing (which I finished yesterday), was to shorten a shirt that Mr. Bsag had bought from a charity shop, but that was a fairly quick job. I love sewing, but that was an intense period of pressured sewing, so I'm glad to have a sewing-free day today. I'm also quite proud of what I've made. My outfit will all be self-made (apart from shoes and hosiery) and Mr. Bsag will have a me-made bow tie and a shirt altered by me. More importantly, I will be wearing something I feel truly comfortable in, that feels like my own style.