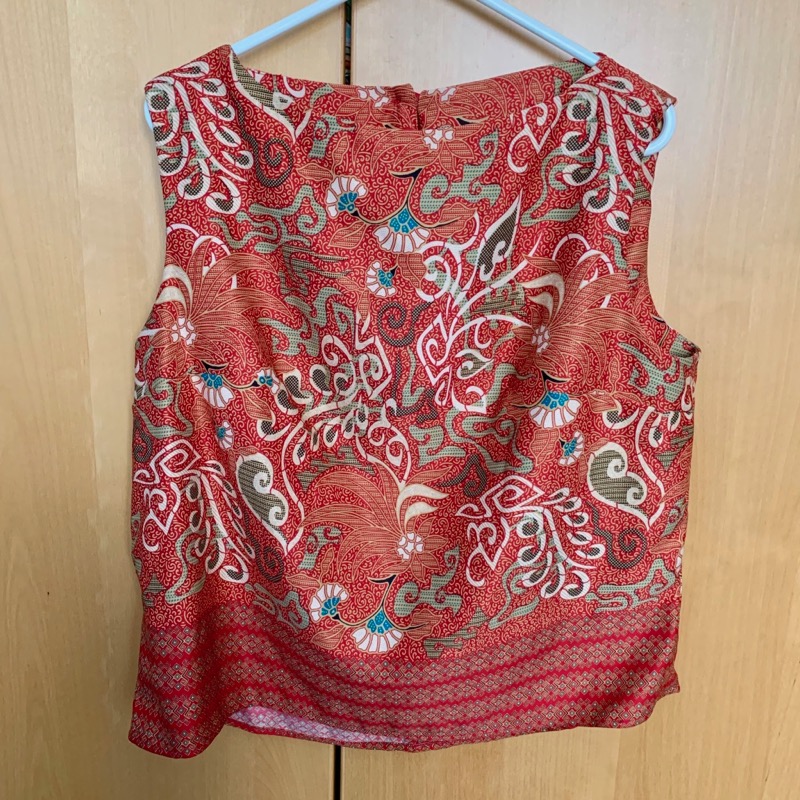 Last weekend I finished drafting a pattern for a simple sleeveless top and then sewed up the pattern. It turned out pretty well in the end, but it wasn't without a bit of drama.
My plan was to use the bodice sloper pattern I developed using Seamly2D and transform it into a simple 'shell' top that I could layer under an open shirt or cardigan. In order to keep things simple, I went with a sleeveless top with a keyhole opening at the back closed with a fabric loop and button. I changed the neckline to be a wide, boat-neck style (which I think suits me), consolidated the darts to a single French dart at the side, and lengthened the top to somewhere around the high hip level so that I could tuck it into trousers or a skirt or leave it untucked. I also decided to draft a facing so that I could finish the neckline and armhole edges cleanly.
In deciding how to transform the sloper to the shell pattern, I used the Suzy Furrer class on Craftsy (now Bluprint) — Designing your wardrobe: Drafting tops. It had some good tips, but since it was based on a slightly different sloper, I had to wing it a bit. The Bunka sloper has a few more darts (in different places) than the one Suzy uses in her class, and it also stops at the waistline, rather than continuing down to the low hip level. However, I had also made a skirt sloper using the Bunka method, so I just needed to use the measurements from that to extend the bottom of my pattern.
Rotating out darts in Seamly2D requires a bit of a knack to select the right points, but it works well. Since I wanted to top to be fairly loosely fitted, I left the waist darts unsewn, and just rotated out the side dart into a French dart (which ends in the side seam). In retrospect, I think I could have made that dart end much lower on the side seam, as it looks rather like a normal bust dart when sewn, but never mind — it does the job.
Altering the neckline was also fairly easy, though I needed to use some trigonometry to figure out the angles and lengths required. One thing that is slightly tricky in Seamly2D is making sure that the seam angles at the neckline and armholes work well between the front and back pieces. This is called 'truing the pattern', and when you do it on paper, you just line up the pattern pieces next to each other and adjust the seams so that you end up with a smooth curve. I haven't found a way to do this with Seamly2D yet, so I just had to eyeball it and then adjust once I had printed out the pattern on paper.
I made a slight mistake with drafting the hip extension. I forgot that the high hip and low hip lines on the sloper are drafted for a close-fitting skirt or similar garment, so they don't include a lot of ease. The end result isn't too tight, but it would have benefited from adding a bit of ease to the hemline to make it bit looser.
As you can see in the image, I used a lovely patterned fabric that I bought nearly two years ago in Indonesia. It is a polyester fabric (which I usually don't like), but it is high quality and has a very nice soft feel with an almost spongy body. It also presses well and was easy to sew without things slipping all over the place. I love the colour and detailed pattern, and I placed the pieces on the cross-grain so that I could use the border pattern at the base of the top. I even managed to match this border pattern between the front and back pieces!
The one big drama came when I sewed it together, rather than when I drafted it. I gaily sewed the shoulder seams of the outer shell and facings after I had sewed the darts and side seams, then joined the armhole and neckline edges of the outer and facing, right sides together. Then I tried to turn the facing inside the shell and realised my mistake. It simply isn't possible to turn the piece when you have closed three complete circles with seams! I've sewn a facing before, so I should have remembered that you need to leave the shoulder seams of the outer and facing unsewn, and then sew the armhole seams and neckline seams separately, leaving a good 5 cm or sew at the ends of the seams open.
I had to carefully unpick the shoulder seams, turn the facing to the inside, and then try to piece the now mangled shoulder seams back together with hand-sewing. The end result looks fine, but it was a tricky bit of sewing! I wore the top on Friday when Mr. Bsag and I went out for a meal and then a whisky tasting to celebrate his birthday, and I think it looked nice.
I think — overall — this drafting experiment was a great success. I will change a few things next time, but it fits pretty well and looks good. It was also fun to sew1. I sewed it on my treadle-driven Singer 201, and — having had more practice — I am beginning to feel really comfortable with the process. I feel more in control and can stop and start more smoothly. It has helped that I have changed the treadle belt from a leather belt (which is the traditional one) to a hollow polyurethane belt joined with a metal connector. I have seen other people with treadles suggest using this type of belting (which model steam engine enthusiasts also use, apparently). It doesn't slip or stretch as much, and it is beautifully quiet in use. I can't wait to use it more for sewing, and to draft some more tops!
---
Before the Great Facing Disaster of 2019, anyway… ↩︎