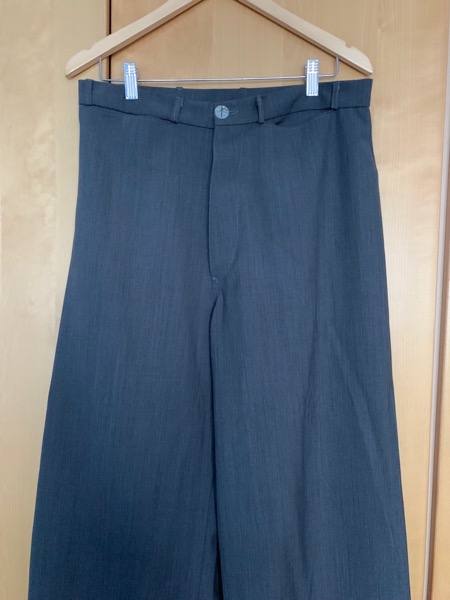 I might not have written much about sewing recently, but that doesn't mean I haven't been sewing. I've made a few things that I haven't got around to blogging about, but a few weeks ago, I finished a pair of Persephone Sailor Pants (a pattern by Anna Allen) which I'm really pleased with. However, the making was not without incident. Part of my reason for writing this is so that I might remember not to be such a blithering idiot in future.
I had seen this pattern quite some time ago and really liked the cut. It is inspired by trousers worn by sailors in the US Navy in the 1940s, and is unusual because there is no side seam. There's just one pattern piece for the leg, which wraps around and joins on the inside leg seam. Never mind sailors wearing the trousers, in my size, the pattern piece looks like something they could hoist up the mast and use for propulsion! There are also interesting semi-hidden front pockets which tuck in under the waistband, and a button fly which I always like.
I decided that since it was an unusual pattern with fewer seams than usual to use when adjusting the fit, I probably ought to make a toile or muslin. I had a bit of scrap fabric which was enough to make the shorts version. That would be fine to check the fit around the waist and hips, since the legs have a generous amount of ease. I don't really know what happened then, but I can only conclude that — despite everything I've learned since making my own clothes — I decided to cut the numerical size that I somehow felt ought to be, rather than the size that my measurements and the pattern's measurements indicated would actually fit me. Idiot.
The inevitable happened: I tried on the basted-together shorts, they were too small and looked terrible. That's not surprising since they were at least a size too small. I could blame a lifetime of fitting room anxiety, feeling that I should be thinner, and worrying about the number on the size label of my clothes, but really I should know better now. That number is completely irrelevant: what matters is that the clothes fit your body. When they do, they look great. When they don't, they look terrible, and make you feel terrible. I screwed the toile shorts into a ball and sulked about it for a couple of weeks, really angry with myself. Then I pulled myself together, got the pattern out and started again.
Anna recommends that you cut the size which fits your hips, and then (if necessary) reduce the circumference of the waist by increasing each of the darts, or by adding darts at the sides (where the side seam would be if there was one). This seemed like a sensible idea. I used the difference between the stated body measurements and finished garment size on the pattern to figure out what kind of ease was intended for the pattern. Then I worked out how much I needed to reduce the waistline by to equal my waist measurements plus the designed amount of ease. I then distributed this amount among the existing darts, two new darts at each side, and a small amount taken out of the centre back seam.
I had a length of very nice, wool-rich grey suiting material which had been sitting in my stash for quite a while. I was a bit hesitant about using it for this pattern, because I think the pattern is intended for robust fabrics with a lot of body (like denim, canvas or heavy linen), but I could picture flowy, wide-legged elegant trousers of the kind that Katharine Hepburn might wear (and we all know how much I idolise Hepburn).
I'm glad to say that it worked out brilliantly. I was a bit nervous to try them on after basting the main pieces together, but I was thrilled to find that they fitted like a dream: smooth and streamlined over the waist and hips, then opening out into an elegant leg line. Of course, that is what happens when you make something to the actual dimensions of your body. Idiot.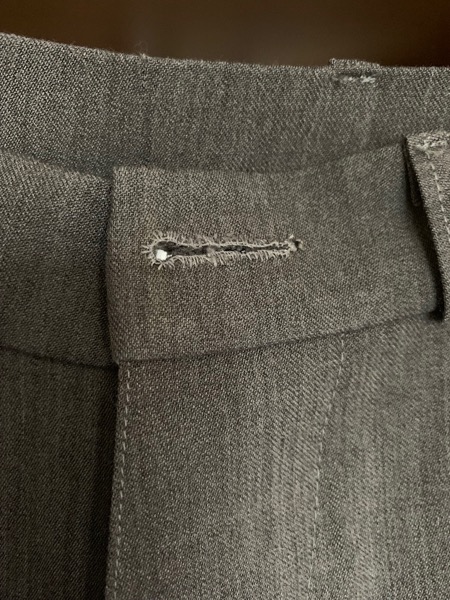 The rest of the construction went like a dream, and I took my time with the details. I hand-sewed the inside of the waistband down for a neat finish, and even decided to try hand sewing a buttonhole on waistband. I had bought some buttonhole gimp from eBay (a kind of stiff, silk-wrapped cord that is used to strengthen the opening of the buttonhole), practised making one on a scrap and then tried it on the real thing. It would horrify professional tailors, I'm sure, but then they do at least 100 buttonholes to practice. I'm quite proud of it. It could be neater, but it is structurally sound and the edges of the hole stay neatly together in use. Next time I will try using the proper buttonhole silk thread (I just used ordinary sewing thread), as I think the thicker thread would give a more even and filled out appearance. The button is a lovely hand-made one by ArrowMountain that I bought myself as a Christmas present, along with a few more of her designs.
I have to say that I feel fantastic in these trousers. If I do say so myself, I make the trousers look fabulous. On the hanger, they are just flat bits of fabric, but when I wear them I give them shape, structure and movement. Wearing them I feel the perfect balance between smart and relaxed, and I'm tempted to bust out a sassy line of dialogue or two, a la Hepburn.
So, what I need to remember the next time the size demons get into my head is to ignore the size number, get out the tape measure and the calculator, and make the size that fits my body. Then make that size, wear it and rock it. Thus endeth the lesson.