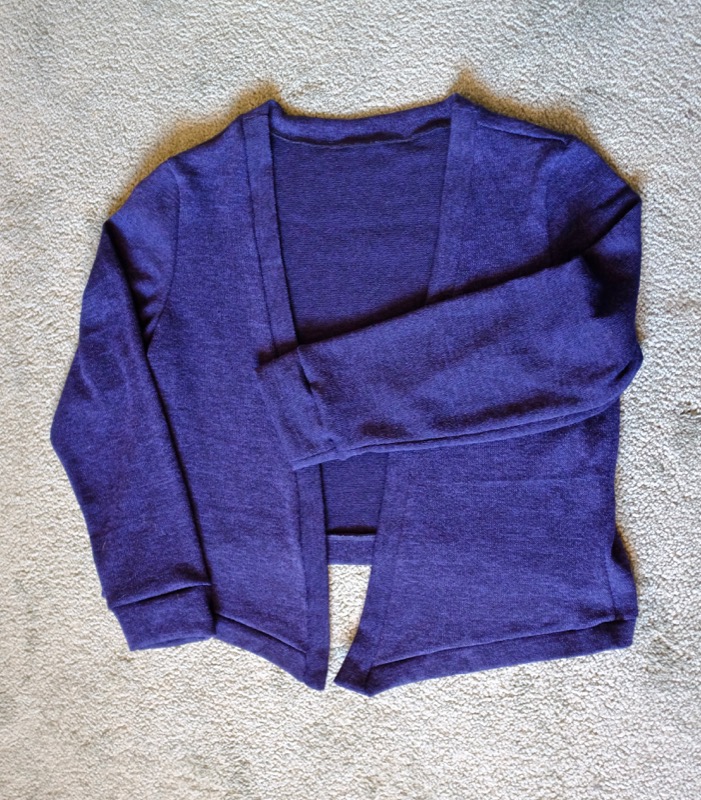 2016 is certainly not getting any easier as it drags on, is it? Like many people, I'm finding it hard not to get anxious and disturbed by every new revelation or outrage on the news. There are certainly plenty of issues about which it is absolutely right and proper to get anxious, disturbed and angry, but there comes a time when you need to switch off for a bit. Personally, I find solace in both music and making things.
I subscribe to Seamwork Magazine. It is an interesting online pattern magazine, with articles about sewing and fabric, and two free PDF patterns every month. I don't download all the patterns, but I had saved the Wembley cardigan a while back, thinking that it was a nice simple shape with some interesting details, that would make a good staple item for wearing with dresses. Last weekend, I ventured into deepest, darkest Digbeth to visit Barry's Fabrics for the first time, and despite my strict plan to only buy the fabric that I had on my list, I somehow ended up coming out with a short length of a lovely soft sweater knit that would be perfect for the Wembley Cardigan. The fabric is made of synthetic fibres, but very soft with a nice feel, and the heathered black and bright blue threads give the overall impression of navy blue at a distance, making it a good staple item to go with other things I've made.
The Seamwork patterns are designed to be quick to make, and the Wembley lived up to that. I really enjoy sewing challenging projects that make me learn new techniques, but what I was in the mood for this weekend was a quick and easy project that I could just enjoy. And so it proved: I quickly lost myself to the delicious flow/focus state of smoothing fabric, placing and cutting out pattern pieces, matching notches and seams and feeding fabric into the terrifying but mesmerising maw of my overlocker machine. Gradually, the magic happened, and from a pile of flimsy flat pieces of cloth, a rather lovely and refined three-dimensional garment emerged.
It all went smoothly, with (for once) no seam ripping required, and might have gone even faster if I had not got distracted by music. It started with a lovely documentary about Reykjavik on BBC Radio 4, featuring musician John Grant talking about his love for the city, and geeking out about the difficulty of learning the Icelandic language. That set me off on a mini-John Grant marathon in my iTunes library, as I'm a big fan of his music (particularly the album 'Pale Green Ghosts'). For some reason, when I ran out of John Grant music, ELO seemed like the obvious next move.
I think it's fair to say that ELO are not a trendy band. Nonetheless, I am completely unashamed of my un-ironic admiration and affection for their music, and there are times when only ELO tracks will hit the spot. Yesterday morning was one of those times, and I marvelled again at what an utterly perfect five minutes of pure joy 'Mr Blue Sky' is. From the bouncy, thumping intro to the crazily-rising melody, it is impossible to listen to it and not feel uplifted. It is also impossible to sing, but that doesn't stop you having a go, and adds to the fun as your voice swerves giddily across the octaves, trying to find a pitch you can handle. Listening to it again reminded me that I had heard a particularly good episode of Soul Music a while ago about the song. If you haven't heard it, do give it a listen1. There are so many good stories in this one, but I defy you to listen to Tracey Collinson talking about her memories of her lovely, positive, husband Nigel who died suddenly from cancer, and the version of the song that kids at her sons' primary school made to raise money for charity. If you don't have a massive smile on your face (and big fat tears running down your cheeks) by the end of that episode, I don't know what to say to you.
---
If you haven't heard the series at all, it's a good one. Each week, they explore what a particular song means to people, and also feature musicologists to pick apart what makes it unusual or special. Even episodes featuring songs I dislike have been fascinating. ↩︎