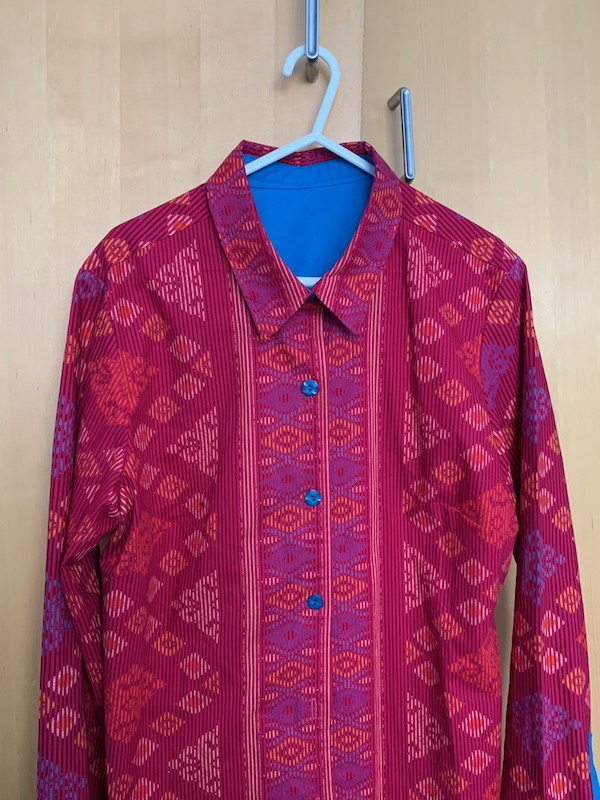 Well. I don't want to dwell, but I can't avoid the elephant in the room. This wasn't — to put it simply — the 50th birthday I would have imagined only a few weeks ago. I've had Happy Birthday sung to me on a WhatsApp voice recording, lots of lovely messages and phone calls from friends and family, and I've had the fun of finishing sewing this chunk of riotous colour: a Granville shirt by Sewaholic.
I bought the fabric in Yogyakarta (in Indonesia) last summer on a work visit. I was immediately drawn to the vibrant colours and the pattern, but in retrospect I really needed to by 3 m of fabric, not 2 m. I therefore decided to turn necessity into a virtue and bought some plain turquoise fabric (matching the colour of one of the motifs) to use as contrast. Feeling confined and restricted, I wanted to go wild with colour, to make something bursting with life and vibrancy, so the plan came together.
I started the shirt last weekend, as the cutting took quite a long time. I cut on a single layer (rather than on folded fabric) to make my Indonesian fabric go as far as possible, but also to try to match the pattern between pieces as much as possible. Like a lot of Indonesian fabric, it has a border print along both selvedges, so I decided to place that along the button band on the front bodice, and do my best with the rest of the pattern motifs. I found that it worked well to cut one piece (say a side back panel) and then use that cut fabric as a pattern to cut the second piece, as you can then move the fabric around until you get a perfect match. It was an absorbing game of pattern Tetris, but in the end I managed to get all the pieces except the inner yoke, inner collar stand, inner cuffs, sleeve plackets and undercollar cut from the patterned fabric, with the remainder of the pieces in my contrast turquoise.
I finished off the sewing this weekend. I've had this pattern for a while, but while I've used the instructions to help me sew a self-drafted shirt, I haven't actually made up the pattern until now. It fits me very well, except that the sleeves are perhaps a little long. The next time I make it I will try to remember to shorten the sleeve pieces by 3 or 4 cm.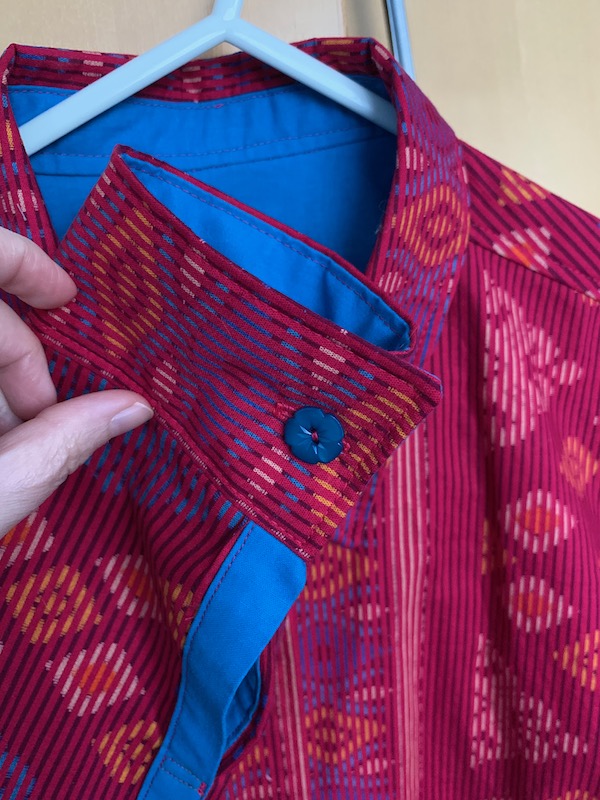 Shirts are absorbing things to make, with some challenging techniques. The collar went pretty well this time, as did the cuffs, though one is neater than the other. I am very proud of my tower sleeve plackets though, as these are the neatest I have ever managed. Just as well really, as they are as subtle as neon lighting! I used Vilene sew-in interfacing for the collar, cuffs and button band for the first time (rather than iron-on/fusible interfacing), and I was really pleased with how well it turned out. I worried that the interfacing felt a bit too thick and plush and that it would be bulky, but it gives nice body to those parts and feels very soft and natural.
My only substantial error (and it was a classic) was that I managed to slice into the already sewn body of the shirt with a rotary cutter when trimming the seam allowance to flat fell the side seams. After a certain number of bad words, I fixed it by sewing a scrap of fabric on the inside to support the small tears, stabilising the area with Fray check (a kind of magic liquid glue for fabric), and then doing tiny zig-zag stitches over the tears to hold them. It is visible if you know where to look, but the busy pattern and the fact that it is under the arm saves it from being more obvious.
I'm really pleased with the finished shirt. If fits well, and it is a cheerful ray of sunshine in dark times, which is just what I intended. When we are finally able to go out and celebrate, I'm going to put it on like armour.