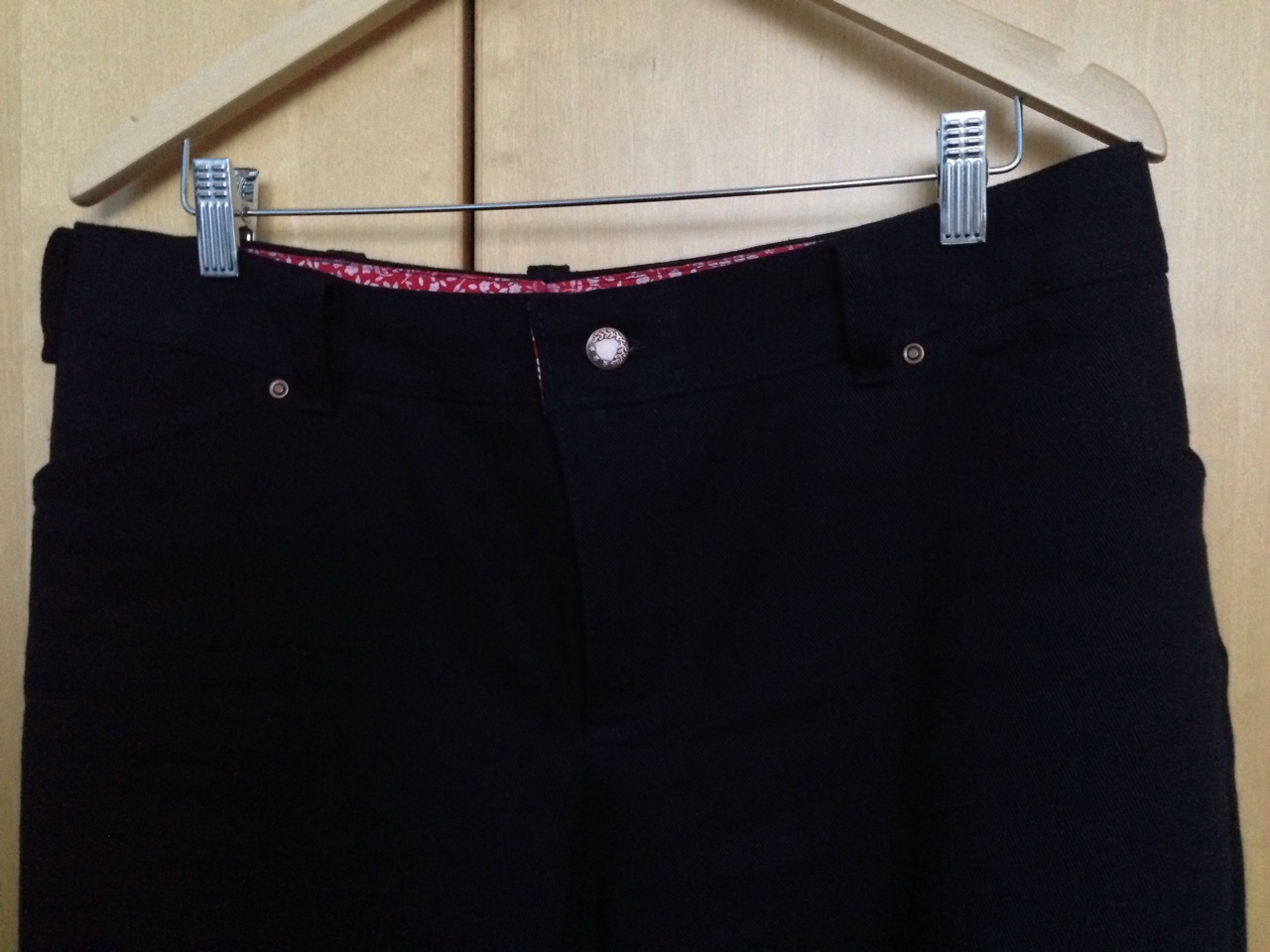 Before I started making my own clothes, I lived in jeans as much as possible. Not that it was easy to find jeans to fit me — it certainly wasn't — but I have always felt comfortable in jeans, and they were my fallback position for clothing my southern slopes. Now that I'm making clothes, I've started wearing more skirts and even dresses1, but I still love jeans. Unfortunately, I'm down to my last pair of intact ready-made jeans, so the situation was a bit desperate. To the sewing machine, Batman!
Well, first to Craftsy.com, where I learned a lot from Kenneth D. King's class on reverse engineering a jeans pattern from an existing pair (without taking them apart). It's a great class, and provides no end of useful tips about making jeans, and about sewing more generally. The idea is that you thread baste your existing jeans to mark the seams and the grainline, then trace off the seamlines using a piece of silk organza (which is transparent and stable enough not to stretch out). I went through this process and made a muslin which wasn't a bad fit, but needed a fair bit of tweaking. To be fair, I've never had a good fitting pair of jeans, so the originals aren't a great fit, just the best I've got. I got the idea that I needed more of a crotch curve, so I adapted the pattern and sewed a new muslin. What I ended up with was a comically low-hanging crotch, like all the kids wear today, but a look that is not at all flattering to someone in their mid-40s. At this point, I was getting a bit tired of all the muslin-making and pattern-tweaking, and was getting impatient for a pair of actual jeans that I could wear. I began to wonder why I didn't just adapt the Thurlow trouser pattern, since I had made a pair very successfully, and knew that the style fitted me. Most importantly, the crotch curve works very well for me straight from the pattern. If I've learned anything in my short experience of trying to sew trousers, it's that crotches are complicated beasts. Once you've got the shape, length and depth of the crotch curves right on your trousers, the rest is reasonably easy.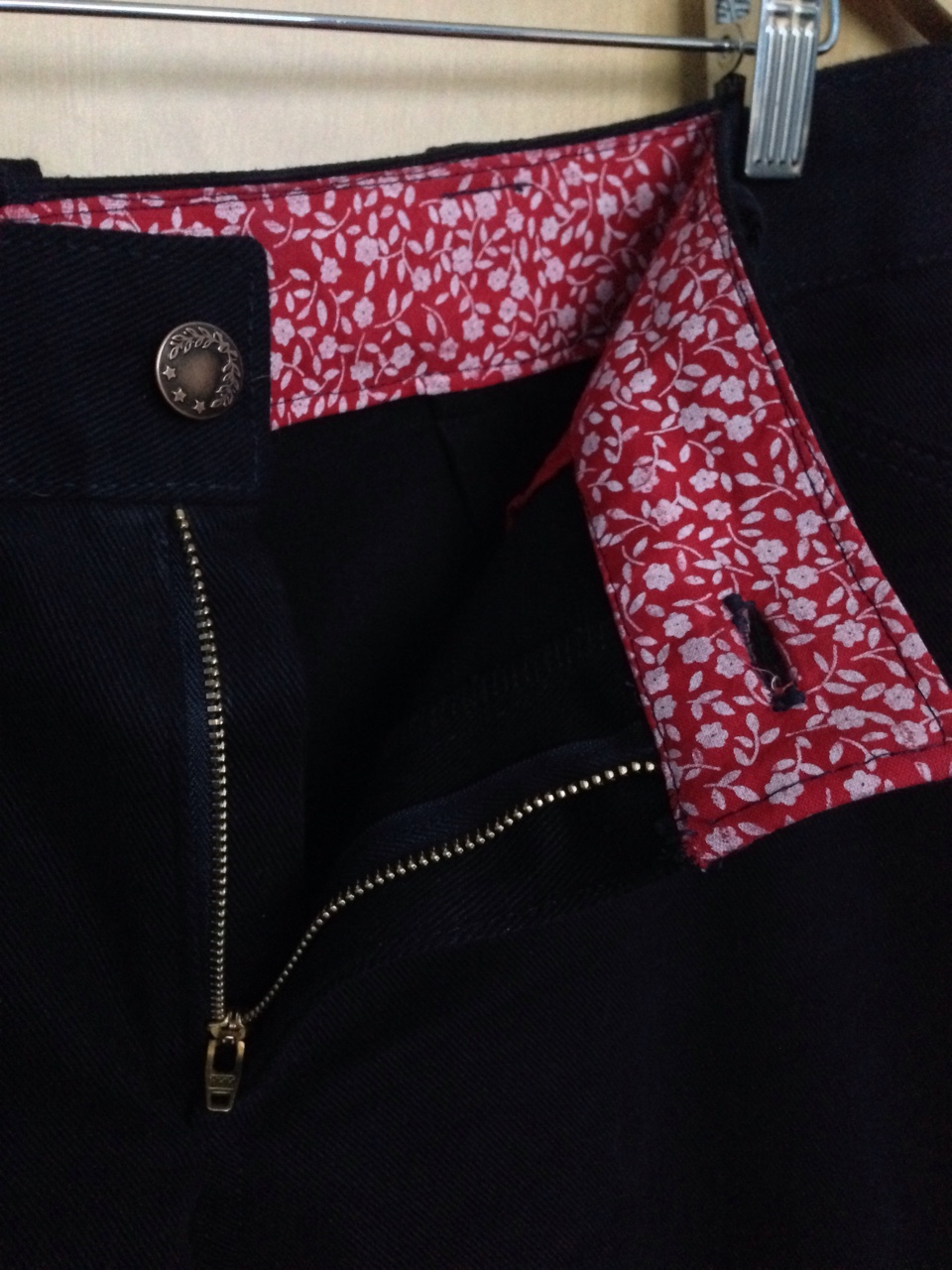 My plan was to 'jeans-ify' the Thurlow pattern, squaring off the waistband on both ends, top-stitching the seams, and using patch pockets on the back rather than welt pockets. I even got some rivets and metal jeans buttons to give a nice finish. I already had some heavy dark blue cotton drill, so I decided to make a test pair up in this fabric before jumping in to using real denim. I have to say that the process went remarkably smoothly. After a bit of testing, I found that topstitching using an ordinary jeans needle with two spools of ordinary thread (rather than topstitching thread) worked well and looked smart. By using a matching colour thread, I also made the topstitching a bit more subtle, which helped when it went very slightly wayward in places. Instead of the fly pieces that came with the Thurlow pattern, I used the ones I had drafted in the Jeanius class, as well as the back pocket pattern I traced off. This also meant that I could use the construction method that Kenneth King recommends, which uses two identical front pieces, rather than one with an extra flap on the fly section. That simplifies things a bit: I find Kenneth King's method easy to follow, and I ended up with a really neat fly front. I also used a 5" zip rather than a 4" one, as with a big hip:waist ratio, a longer fly makes it easier to get them on and off, while still having a close fit at the waist. This time I got a zip that was actually the right length, so I didn't have fiddly business of trying to shorten the zip. Next time I might make the fly extension (the bit that goes between the right-hand bit of the zip and your body) a bit wider to give more of an underlap. While I'm on the subject of sides, I also reversed the way that the fly overlaps, because having the overlap (with the button hole) on the left feels much more natural to me than the reverse situation which is the way that the Thurlow pattern is drafted.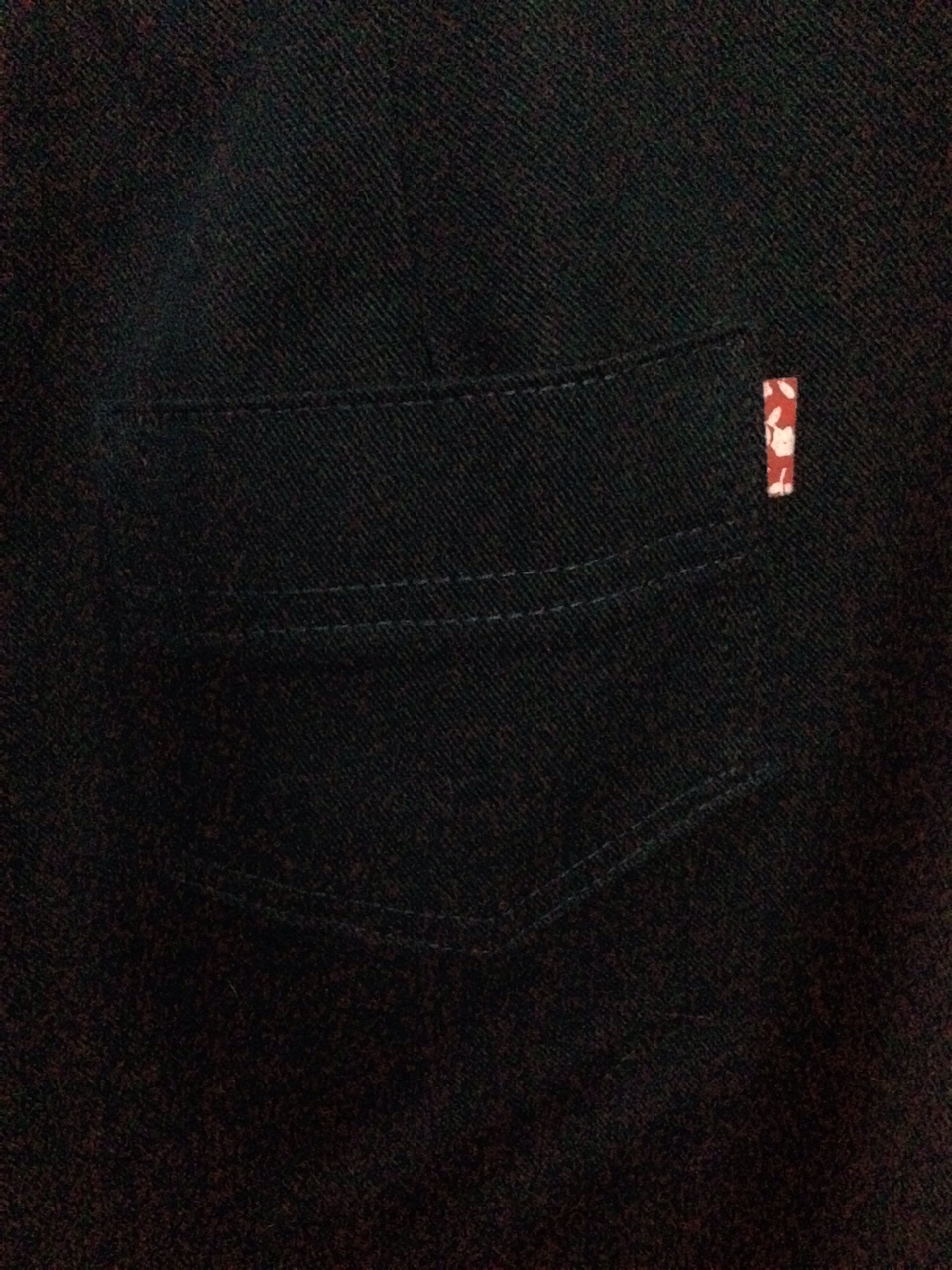 I was really pleased with the way that the rear pockets turned out, with the little fabric tag I made out of the same fabric as the waistband and pocket lining. Now that I feel a bit more in control of the fabric and sewing machine, I find that I really enjoy doing top stitching and keeping it neat and straight. I topstitched the rear pockets, edges of the front pockets, waistband and the inseams and crotch seam. The latter also helps to make the seams a bit more hard-wearing. A few weeks ago, I decided to buy a serger (or overlocker) machine, which has made my seam finishing much neater and more durable. If you don't know what a serger does, just take a peek inside your clothing, look at the inside of the seams2 and you'll see a neat, knitted web of threads that seal the raw edge of the seam. You can finish seams on a normal sewing machine with a zig zag, but while it works, it's isn't a patch on a serged edge.
Sergers are incredibly fun. The foot and feed dogs seem to grip the fabric much better than a sewing machine does, and it sews many more stitches a second. Two needles anchor the fabric pieces together, then a 'stitch finger' knits together two more threads, entwined with the needle threads, which are applied to the edge after a knife has neatly trimmed the raw edge of the fabric. It's really noisy, and fast, but there's something hypnotic about the way that you feed fraying, messy fabric in at the front and get trimmed, neatly finished fabric out the back. The whole process is similar to what I imagine it might be like to drive a Formula One car: slightly terrifying but also exhilarating.
The only problem I encountered in the whole jeans-making process was with the waistband. The Thurlow pattern uses a contoured waistband, which is made of a piece of the outer fabric and piece of thinner lining fabric, both of which are interfaced to make them more stable and stiffer. The waistband is in two pieces, which in the original pattern, join at the rear extension, and are then pressed flat either side, like a butterfly's wings. However, as I deviated from the Thurlow method and pressed the rear crotch seam to one side so that I could topstitch the seam allowance down, I had a bit of an issue when it came to fitting the waistband and making a nice join with with this seam. The waistband and I had a bit of a fight, and once I'd got it on, I found that it was a little too loose, particularly at the front. It's a bit annoying but when you wear it with a belt, it's not noticeable. Next time I'll make sure that the waistband is really snug before I finally stitch everything down.
All in all, I'm really pleased with these jeans. They fit me really well (apart from the waistband), and are extremely comfortable. I've already bought some actual denim to make another pair. Next time I'll take in the side seams just a little near the top and make sure that the waistband is shorter at the top edge than the bottom edge so that it sits close to my body. I'll also move the rear pockets up just a couple of centimetres: they don't look odd at the moment, but the balance would be better if they were placed a little higher. I might also draft a yoke piece to use on the top of the back piece, instead of the darts, for shaping. Real jeans have a yoke, and while the darts worked fine to shape the back even in fairly heavy drill, a yoke would look more authentic.
Sewing gets more and more fun as you get more experienced. I can't tell you how liberating it feels to be able to make my own jeans which fit me far better than any I could buy.