I haven't written much about sewing recently, but that's mostly because I've been too busy doing it to write about it! I thought it might be time to do a round up of what I've been making recently, as much to remind me what I have made as anything else.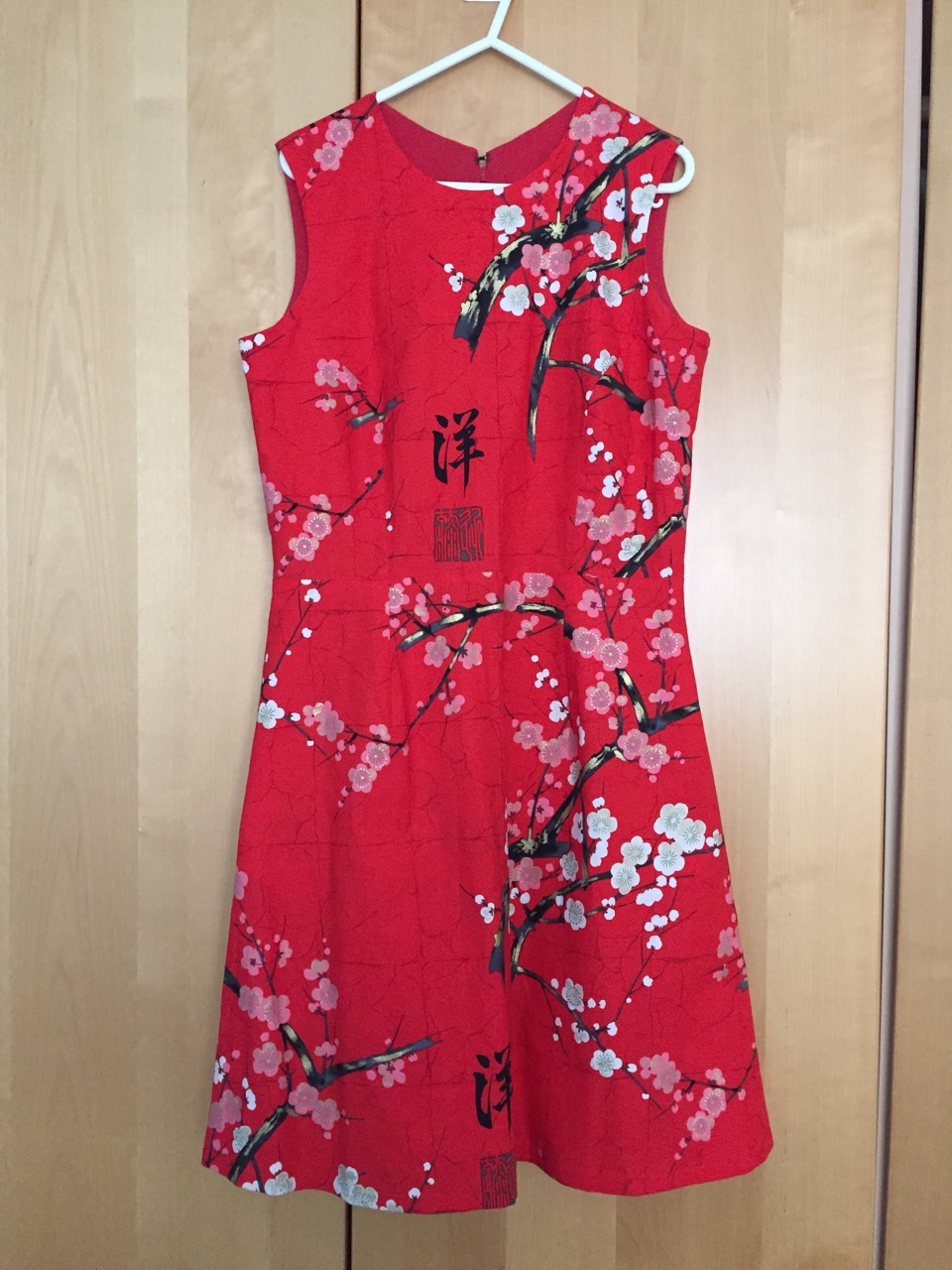 Earlier in the year, I attended a wedding. Some of you may remember the extreme reluctance with which I approached the prospect of having to go clothes shopping when I found myself in a similar situation a few years ago. However, since I started making my own clothes, events requiring new clothes are an exciting opportunity to make something cool that will fit me, and that I enjoy wearing, rather than filling me with a feeling of doom.
I found the Sinbad and Sailor Hepworth dress pattern, which I liked a lot. It is named after the sculptor Barbara Hepworth but I keep accidentally calling it the Hepburn Dress, thinking of Audrey Hepburn, as it reminds me a bit of the kind of thing she might have worn. In either case, it's a style that suits me well: a fitted bodice (in this case with princess seams on the front), flaring out into an A-line skirt. I also found some fabric that I absolutely adored with branches of cherry blossom on a red background, which I thought would work very well with the dress. I bought the fabric and then discovered that Scruffy Badger had made the same pattern in the same fabric. Oops: accidental pattern stalking! I like to think that great minds think alike, and with making clothes, even two people making the same pattern in the same fabric results in two unique garments. In this case, her pattern placement was much better than mine, so the effect is quite different. In any event, it was reassuring that the combination could look good.
I put quite a bit of work into fitting this pattern, because I had a feeling that it would become a staple for me, and a starting point for different variations. I made two muslins: the first after using my measurements and measuring the pattern to adjust it, which resulted in a bodice that was a perfect shape, but just a touch too small for comfort. I then made a second (just the bodice part this time), adding a bit more ease, and also adding more fabric to the armholes for better coverage. The fitting changes I made were to grade from a larger size for the skirt to a smaller size for the bodice (which is precisely why ready-made dresses rarely fit me), to lengthen a bodice a little (I have a relatively long torso), and to lengthen the skirt fairly substantially to end up with a skirt that sits just at the knee. That version was perfect, and I then made the dress in the final fabric. Once you've got the hang of the clever (but initially baffling) technique for joining the bodice facing and shell, it is an easy dress to put together, and the facing gives it a really clean finish around the neck and armholes.
I love wearing this dress. It fits me really well, and the simple but fitted shape is one that I like a lot on me. I don't think I've ever felt more comfortable or happy in an outfit at an event, which is a triumph as far as I am concerned. I made another item to wear with it in the week leading up to the wedding, which you can see below: a By Hand London Victoria Blazer.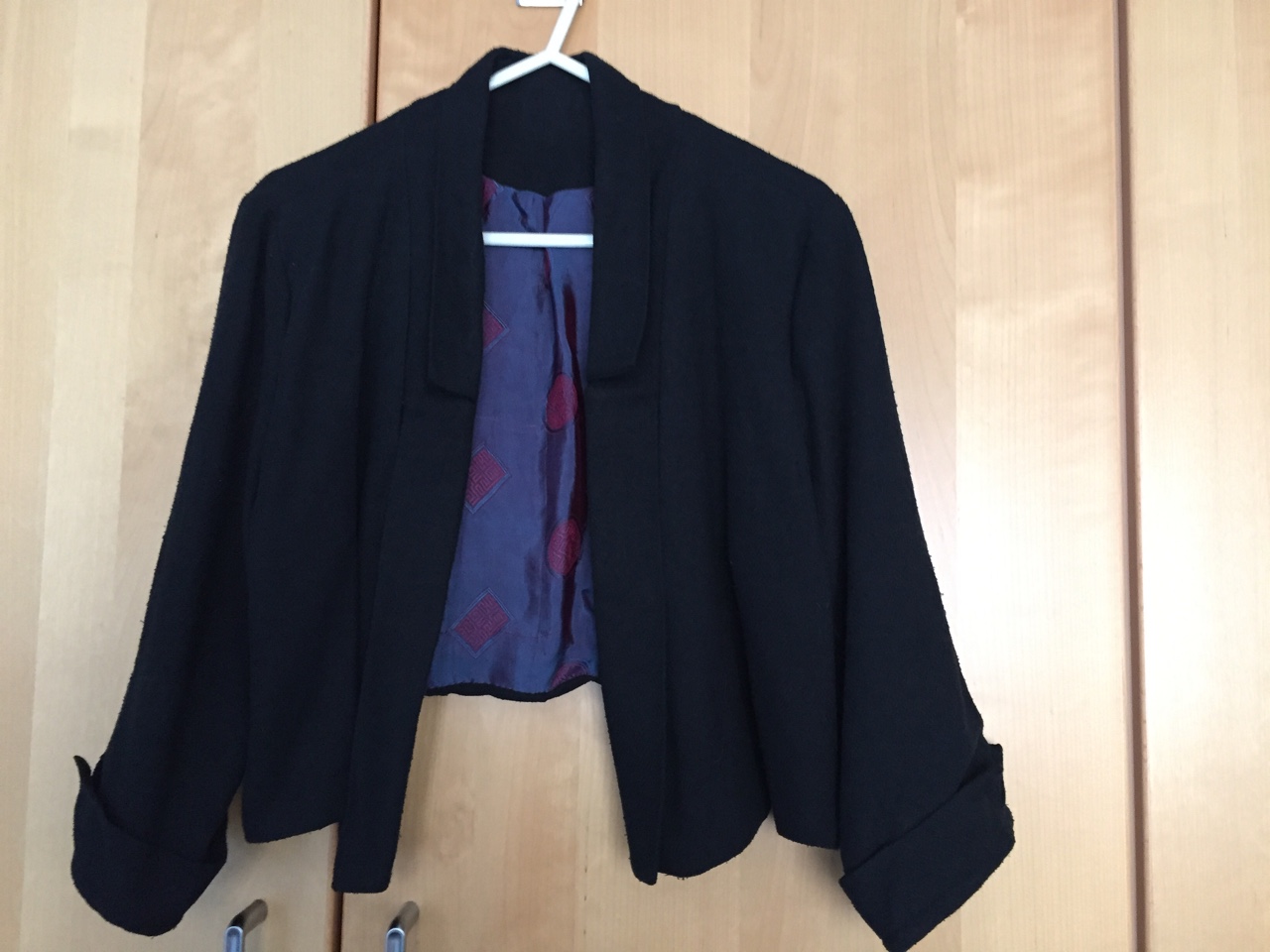 I made the cropped version with 3/4 length sleeves, which sits perfectly at the waist of the dress, out of silk noil, a kind of raw silk. I like silk noil, as it has a rather rough texture, but is beautifully soft and drapey, and feels wonderful against the skin. The pattern doesn't include a lining, but I had seen other people draft one for this blazer, and fancied having a go at that. I used some amazing shot silk that was previously a pair of Thai wrap trousers. I bought them as a set with a matching wrap top years ago, primarily because I loved the fabric, which is shot red and blue. I wear the top a lot, but the trousers do nothing for me, and are prone to flap open in a light breeze, flashing much more leg than I am comfortable with. I couldn't bear to throw them away, and this seemed the ideal opportunity to use them as a gorgeous lining for this jacket.
It worked out quite well, and feels like the height of luxury when worn, but I learned some lessons about drafting a lining that I will apply next time I make one. First, you need to make the lining bigger than the outer, so that it doesn't pull the outer fabric. Second, I needed to do something more intelligent with the bottom hem, so that the lining sits a bit higher in the jacket and the shell hem forms a kind of facing. I know how to do this now, but didn't at the time (and was in a bit too much of a rush to find out). In any case, this pattern is supposed to form quite a soft, slouchy jacket, so the end result looks appropriate, but I know that I could do better. As a side note, bagging a lining is another weird and very counter-intuitive process, that seems to require an advanced degree in the mathematical discipline of topology. For one thing, the sleeve lining and shell fabric are joined end to end (like joining the end of two pipes), which with the seams already sewn between the lining and the shell for the body feels like it can't possibly work. You get to the point where you have to pull the outer through a hole in the lining, and it looks as if you have created a giant fabric knot, but eventually hey presto! you end up with a jacket, neatly lined. It's magical.
I enjoyed the process and the end result of making the Hepworth Dress so much that I very quickly made another, with some navy plaid linen that I bought in a sale last year.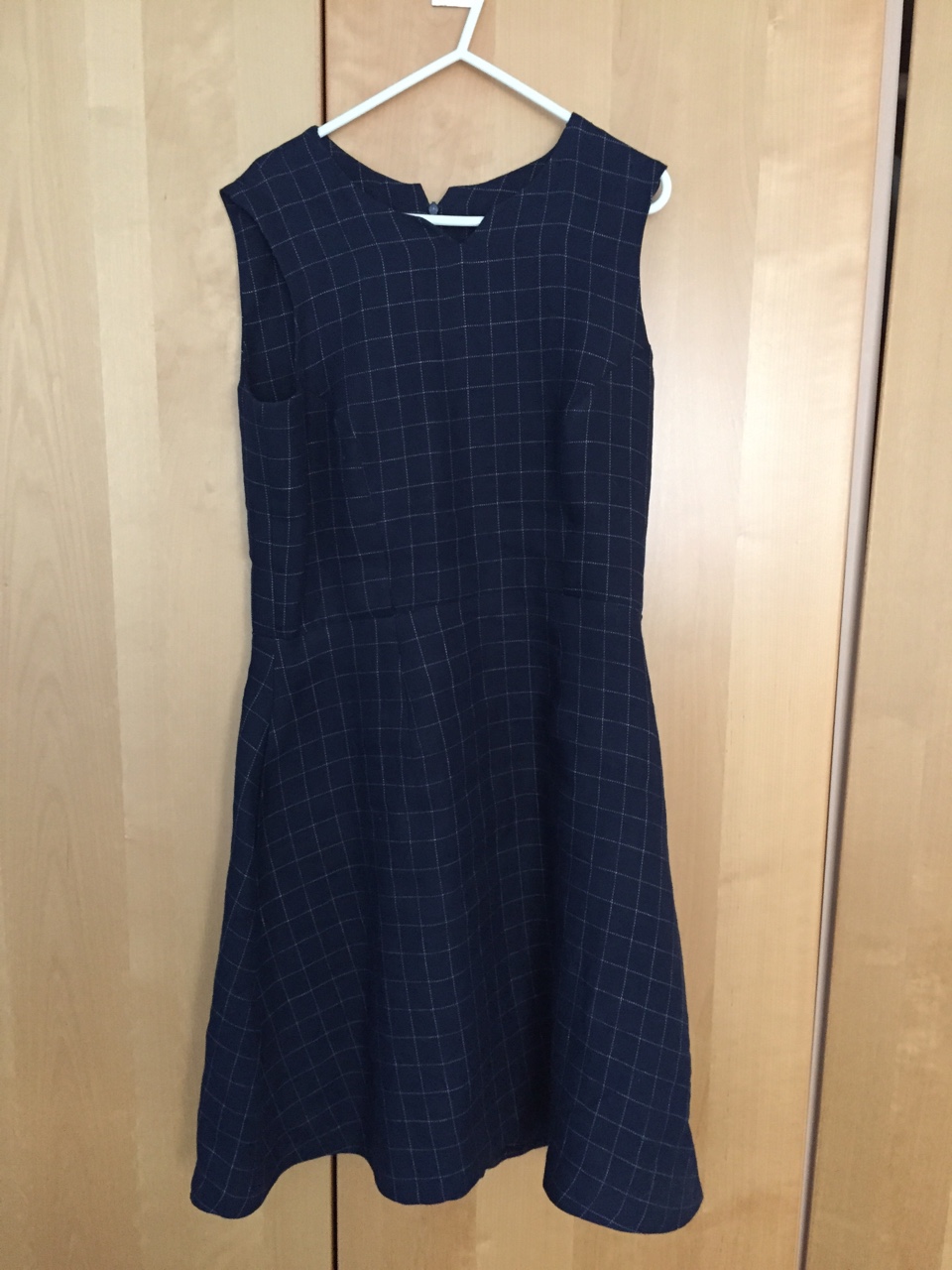 On the hanger, it looks a bit rumpled and misshapen, partly because the fabric — though more loosely woven — has much more body than the cotton print I used first. Once worn, it looks very smart, and hangs nicely. I call it my 'blueprint dress', because the white stitched plaid lines on a navy background remind me of blueprint or graph paper. I also converted the round neck to a notched neck, which adds a nice detail, and worked out well with the facing.
I have to say that trying to match the lines up — particularly over the curved princess seams — both vertically and horizontally was a nightmare. In the end, I settled for a compromise whereby I matched as well as I could in the areas that would show the most (the centre front and centre back), and allowed it to drift a bit if it had to where it was less visible. I think it turned out OK, and at least doesn't make my eyes twitch when I look at it. It's another very comfortable dress that looks smart and even professional1, and you can dress it up with a smart jacket, or be more casual with a cardigan. I'm pretty sure it will get a lot of wear over the summer.
A bsag sewing period would not be complete without a pair of jeans, and sure enough, I've made another pair2. This time, I actually used a proper five pocket jeans pattern, rather than adapting a trouser pattern — the Ginger Skinny Jeans pattern by Closet Case Patterns. Now, in previous times, the phrase 'skinny jeans' would have me running for the hills, but having seen examples of this pattern worn by women of all shapes and sizes, including those as generously endowed in the backside department as me, I was fairly confident that I would like the pattern on me. And I really do. These jeans look great and are incredibly comfortable.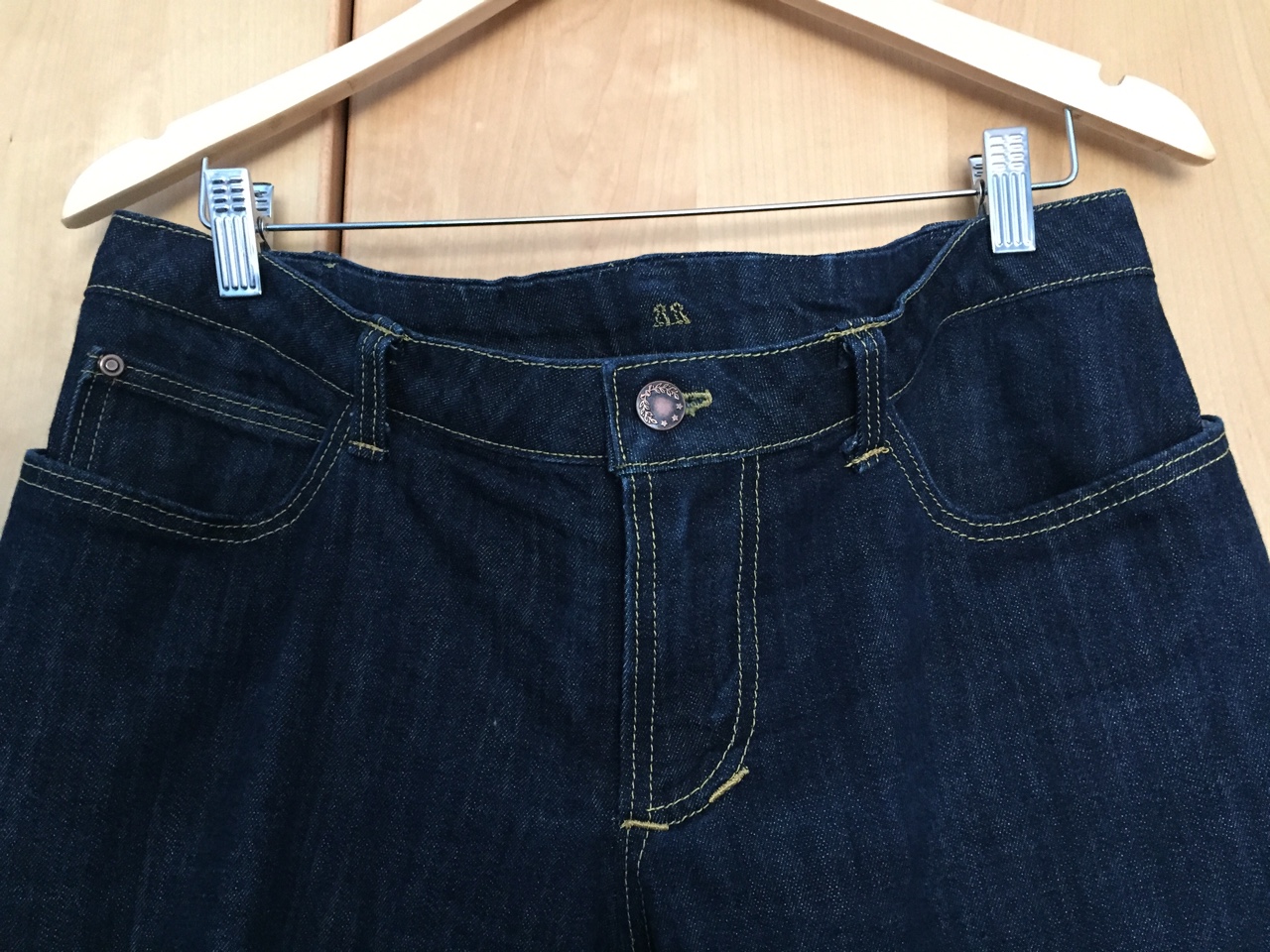 I was fairly sure that I would have to adjust the waistband and the back yoke to hug into the small of my back, but the instructions cleverly get you to baste all the pieces together to check the fit before sewing the final seams. This allowed me to work out how much I needed to curve both the yoke pieces and waistband, and then cut new pieces for those before finally sewing it all together. I would make a couple more tiny tweaks next time to bring the waist in a bit more, but this version fits me very well.
I used proper top-stitching thread this time instead of cheating with doubled up ordinary thread, and the result looks much more professional. In case you are wondering, that thing on the inside of the back waistband is the outline of a pair of cats. My sewing machine has a cat stitch (really) and I couldn't resist. It didn't work brilliantly in the top-stitching thread, but it still makes me smile every time I see it.
This is a wonderful pattern. Heather (the designer) has thought the details through really well, and it has the neatest method of constructing the fly I have yet seen. In the trousers I have made before, I've always struggled to line up the stitching of the crotch seam with the fly so that it forms a straight line, and also to insert the zip straight and set back enough from the edge of the fly that it doesn't peek out. That's because the standard method gets you to pin the various flaps of material back in the process, as you sew through the various layers of the zip fly's innards. It's easy to get things mis-aligned if you are a beginner. In this pattern, there are flaps of fabric included in both front pieces. You therefore sew the whole of the front crotch seam together as one — right at the beginning of fly construction — using a basting (temporary) stitch for the part that will form the fly, and a smaller (permanent) stitch for the remainder of the crotch seam. These points are clearly marked on the pattern, so it's easy to be precise. You then press the extension flaps to each side, knowing that the seam between them will be the centre front, and everything will be perfectly straight and lined up. Once you have finished the whole thing, you just rip the basting stitches out and you have a functional fly. It's a wonderfully clever technique. She also offers a lot of guidance on the back pocket placement for a visually pleasing result, and she provided a larger version of the pocket pieces as an optional download. Pattern testers apparently felt these were a bit too large for general use, but for those of us with a generous amount of real estate back there, the bigger pockets are perfect. They provide a kind of visual illusion, persuading the viewer that they are actually ordinary sized pockets on an ordinary backside, rather than huge pockets on an ample backside. It's hard to tell from the photo, but you will have to believe me that these perfectly proportioned when worn.
I used some very nice but reasonably-priced Italian denim (with a bit of Lycra in for stretch) for these, and it is a lovely fabric: has a bit of weight to it but is also very soft, and is a nice deep indigo. I immediately ordered enough to make two more pairs because good denim is hard to find. I'm going to make another low rise pair like this soon, and may also try the high-waist version at some point.
I've made a few other garments too, but these are the highlights. I'm definitely going to make another pair of jeans soon, but I'm also planning on a few more summery tops, and perhaps a pair of linen trousers and long shorts.