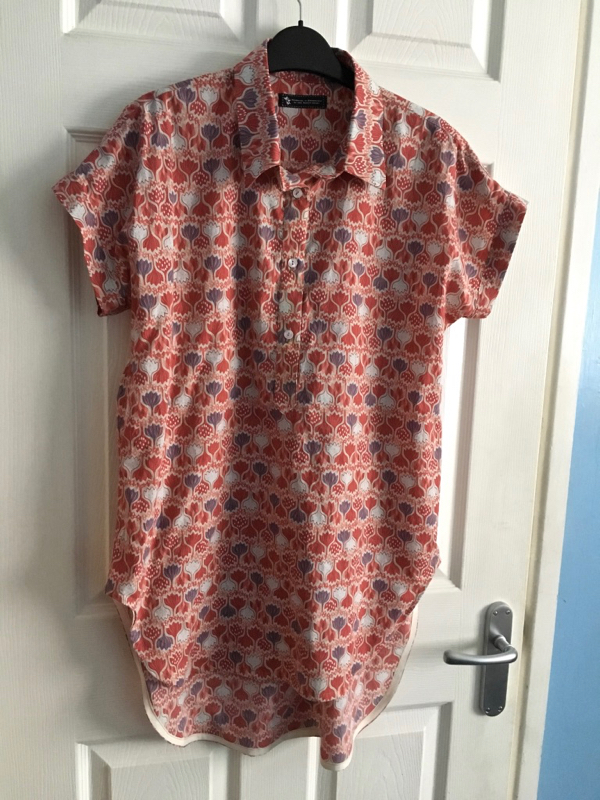 As I make progress with my sewing, I'm trying to be a bit more strategic about what I make. When you start out, the giddy excitement of actually making things means that you flit between patterns, making anything shiny that catches your eye. That's not necessarily a bad thing (and it's certainly fun), but I've been trying to plan a bit more thoughtfully, and think about what kinds of garments I need to give me maximum flexibility. I've also tried to slow down a bit, and make each item as polished as I possibly can.
Kalle shirt
A month or so ago, what was missing in my wardrobe was breezy, lightweight shirts and summer trousers. Inevitably, right after completing them, the lovely weather that made them necessary has disappeared and I was back in jeans and jumpers for a bit, but I did get a chance to wear them this week. I made the Closet Case Patterns Kalle Shirt1 and the Megan Nielsen Flint trousers 2.
I have made no end of Closet Case patterns. I generally love the style, they are well-drafted patterns with great instructions, and — best of all — they tend to fit me well with minimal tweaking. Usually, I prefer tops (and the bodice of dresses) to be fairly well fitted3, but I specifically wanted a loose and breezy shirt for hot weather, and the Kalle shirt fitted the bill perfectly. I found a gorgeous cotton lawn from Clothspot with an pattern of abstract flowers and a great colour scheme that works really well with the rest of my clothes, and set to work.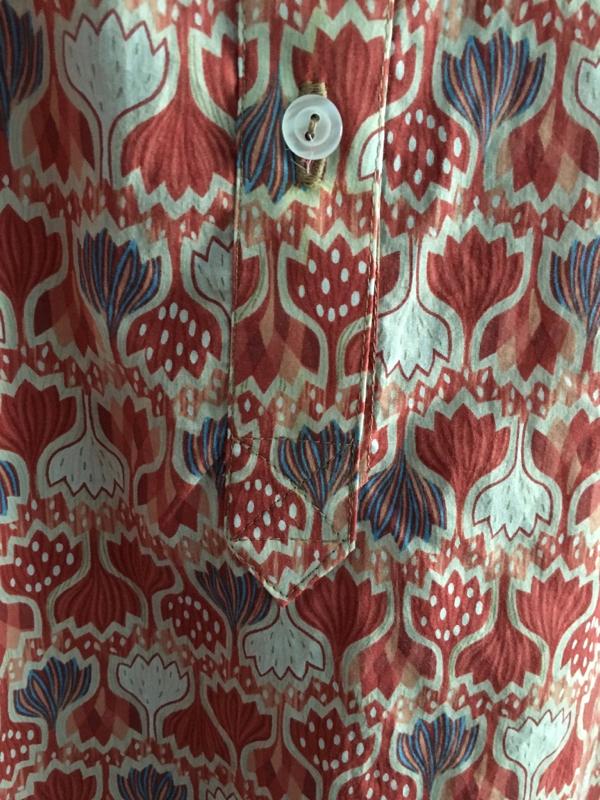 The pattern comes with lots of interchangeable options, which mades it a good candidate for repeat uses, as you can vary the details and make the finished garments look quite different from each other. I made the tunic length version first, with a collar, a popover placket (i.e. it only buttons half way), and an inverted pleat. The second version (cobbled together using up scraps of fabric I had lying around) is the cropped version, with a round neck and popover placket. The cotton lawn was absolutely gorgeous to work with. It is lightweight and drapey, but very stable, and it presses beautifully. I took my time with the details like the placket and collar, and was really pleased with the quality of the result. I used flat-fell seams for the side seams, so with the enclosed yoke and the clean-finished cuffs, this thing looks lovely on the inside too.
The only part that I messed up (I now realise) was attaching the cuffs. In her latest tutorial on sewing elements of the Kalle shirt, Heather explains that she carefully drafted the cuffs so that they follows the line of the shoulder, rather than sticking out. This means that the angled bit of the cuff seam should be match up with the shoulder seam, not the underarm seam as you might assume (OK, as I assumed). In practice, I'm perfectly happy with the result (the cuffs do stick out a bit, but I like the look), but it does explain why the notches didn't match up at all: I had the cuffs on upside-down.
I opted to cut it out at the drafted length, which I suspected would be a bit long on me. It is indeed rather long, but I'm comfortable with it, and it looks really good when I'm wearing it. I think the soft, drapey quality of the cotton lawn helps with that, and also allows the shirt to drape nicely over my form, without swamping me or giving me a shapeless figure. The shirt fits very nicely at the shoulders and upper chest, which also helps to give it shape. If (let's face it, when) I make the tunic length again, I might remove about 5cm of length from the front and back pieces, particularly if I use a fabric with more body.
You might also notice that the shirt has a label. I noticed that some other sewists who blog about their work have had their own labels made to add a kind of finishing flourish to their hard work. It's a bit frivolous, but I was really tickled by the idea of having my own custom clothing labels, so my birthday present from my parents was the money to order them. I got them from Wunderlabel, and I'm really pleased with the result. I fiddled about for ages with the design and wording, but finally settled for 'Handmade in Birmingham by tiny Hobbit hands'. Sewing in that label to something you have made is a very pleasing final touch.
Flint trousers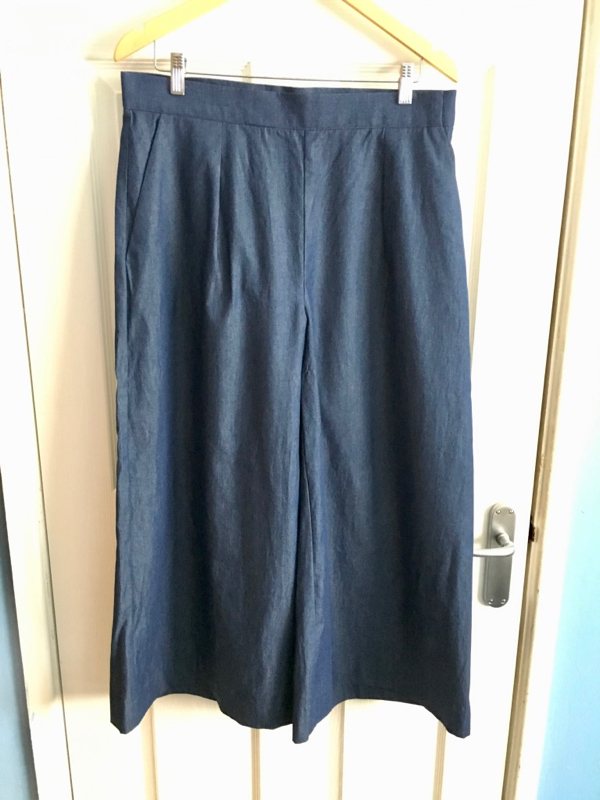 My second make was a pair of Flint trousers. I have a now ancient pair of Rohan linen-look drawstring trousers which I have worn to death over the years. They are cool, lightweight, quick to wash and dry, and can look casual and relaxed or reasonably smart, depending on what you wear them with. They have acquired various battle scars during my travels (such as a rip on the hem caused by a broken plank on a Pantanal boardwalk), but they have been amazing value in terms of the wear I have got out of them. They are, however, finally on their last legs (sorry), and the fabric is all but worn away in places. So I wanted to make something that would fill the comfortable, wide-legged, lightweight trousers niche in my wardrobe.
There are quite a few patterns out there which would have fitted this purpose, but I liked the streamlined look of the Flint. One thing that has always annoyed me about Rohan trousers is the drawstring waist: it was useful to pull the waist in enough to fit me, but there was all sorts of baggy gathering going on that I didn't like, as there were no darts in the trousers. The Flint trousers have a fitted waistband and rear darts (very important for my own particular rear elevation), as well as a nice detail of tucks on the front.
I bought some absolutely gorgeous chambray (again from Clothspot) that is lightweight, but opaque, stable, and with a lovely sheen that isn't apparent in the pictures. I made the most streamlined version of the pattern, without the waist ties, and made it even more minimal-looking by using a button and hook and eye on the inner waistband instead of two buttons on the outer.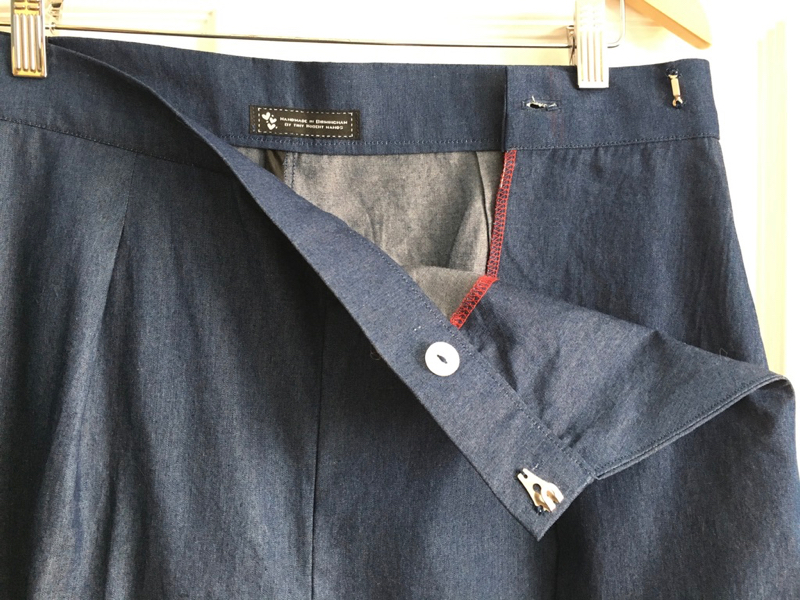 Again, it is a very well drafted pattern, and for once in my life, my measurements fitted well in a single size, rather than having to grade between sizes. It was also easy to make, but I took my time with the details to make them as sharp as possible. I think I achieved my neatest ever waistband in these trousers. The opening is very clever and quite unusual: instead of a zip, they open in the left-hand pocket bag, but the clever construction means that it is completely hidden while you are wearing them. They are supposed to be cropped, but I gave myself room for manoeuvre on length by cutting them out at the drafted length. It turns out that trousers drafted for mid-calf level on a normal woman equals perfect anklebone length on my Hobbit legs. I think I prefer them at this full length, and have hemmed them, but I can always change my mind later and hack a chunk off and re-hem.
I wasn't sure if I would like the front tucks. I thought they might puff out in an unattractive manner, but actually, they are very well-behaved and serve to slightly disguise the results of eating a big dinner, which is useful. I'm really pleased with the fit at the waist and the high hip: the trousers fit closely and smoothly in that area, then hang straight down in a very elegant 4 way, and swish about. Wearing them, I feel like a pint-sized Katharine Hepburn, swanning about at a cocktail party and engaging in sassy repartee with matineé idols. I think we can all agree this is the best possible way to feel when wearing clothes.
Wardrobe planning
It isn't coincidence that these two items look good when worn together, while working well with existing items in my wardrobe. I am gradually getting the hang of this wardrobe planning thing. It has to be said that this kind of planning is an awful lot easier when you can make your own clothes. When I had to buy my clothes, my wardrobe was a random collection of items made up of things that happened to fit me. Since it was almost impossible to find clothes that fitted me properly, this was a very random collection indeed, and tended to be in very basic colours (like black) so that they had some chance of working together as an outfit. Now I can think about what I want to wear, plan a collection of items that work together in multiple permutations, and are the colour, length, style and shape that I prefer. Then I just look around for a suitable pattern to use or adapt (or draft my own), and suitable fabric. This — it turns out — is a far easier way to do it. It's a gradual process, since sewing your own clothes takes time, but I am getting there gradually.