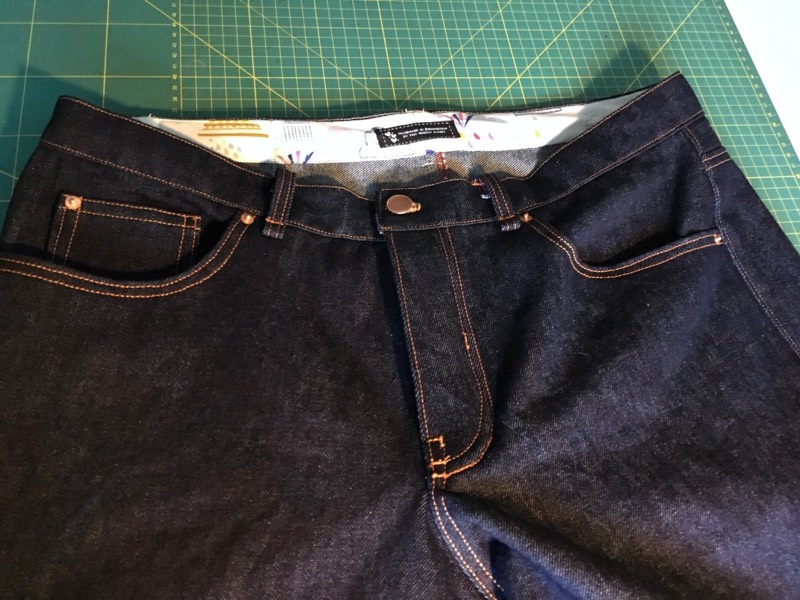 "Can girls wear trousers too?"
I remember it with great clarity. I was about four years old, my Dad holding me up at the window, as we looked out at the street. I had seen a girl, wearing jeans, walking down the street, and the though suddenly struck me for the first time. When my Dad answered that of course girls could wear trousers, it was like the sun coming out. I really wanted to wear trousers, and had no idea that I could. That was the beginning of my love affair with jeans.
Fast forward a few years, and I'm about 8 years old, walking down our street to go and call on my friend to play. I was wearing a pair of OshKosh B'Gosh denim dungarees that my Mum had got from a jumble sale1. I loved those dungarees. I loved the clips that held up the bib, and all the pockets. Years later, our neighbour at the time told me how she used to smile as she saw me striding down the street in those dungarees, hands deep in the pockets, chin held high, like some female, suburban Tom Sawyer. I remember how confident I felt in them, how much I felt like me. I wore them until they were practically rags.
While I wore jeans almost constantly in the intervening years, I struggled to find a pair that fitted me, in a style I liked. At University at the end of the 1980s, I bought a pair of Levi 501 jeans with a button fly. They were much more expensive than jeans I had bought until then, but I felt the same way in them that I had all those years before in my dungarees. They fit me really well and I felt confident and comfortable in them. They aged beautifully, and shaped themselves to me, becoming buttery soft and gorgeously shaded as they aged. I wore them way past the point where the hole to fabric ratio increased beyond the fashionably lived-in look, and mourned their eventual demise. I tried to buy another pair of 501s, but either the cut had been subtly changed, or my body shape had changed, but I never found another pair that fitted in the same way. In fact, after that pair, I never bought another pair of any brand that fitted as well, or that I loved as much as those jeans.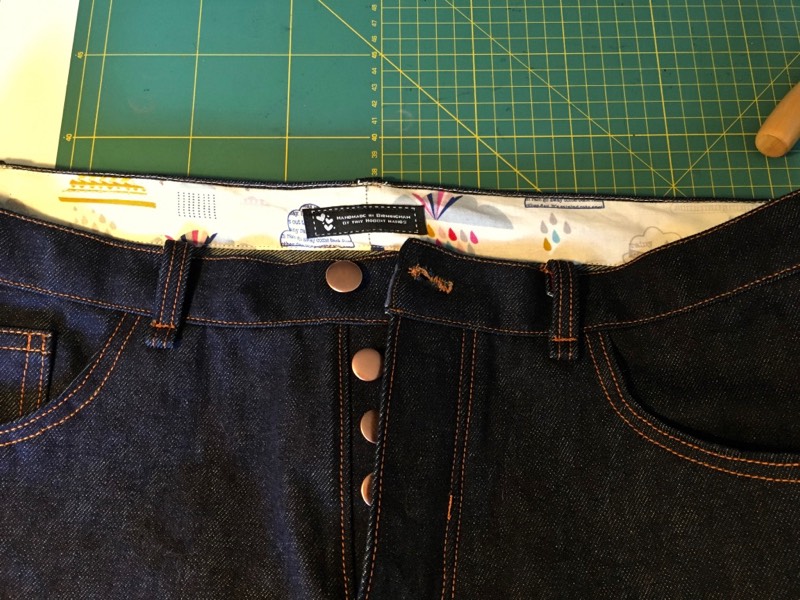 Buying any clothes — but particularly jeans, since they are my staple item of clothing — became a task that I dreaded. Time after time, I would pick up a pair that looked reasonable, then stand forlornly in the fitting room looking at the denim pulled tight over the fullest part of my hips, but sagging and bagging at the waist. I could have easily tucked a house brick in the gap at the small of my back. My only option was to buy a pair that at least fitted my hips and thighs, and then use a big belt to haul in the waist to fit me. It made me feel like a freak. I obviously wasn't the right shape. I took no joy in clothes, and they gave me no confidence. I no longer walked down the street with my hands in pockets, head held high.
As regular readers will know, a few years ago, I started sewing clothes, and the whole thing was a revelation. I love the hands-on making part deeply, choosing the pattern and the fabric, making decisions about construction, and solving problems. Equally, I love the result. The difference it makes to have clothes that fit you perfectly is astonishing. I am learning2 what I actually like to wear, and what works best with my figure, blithely ignoring what happens to be fashionable. I've developed a love for wearing well-fitting skirts and dresses. My Mum could tell you how amazing that is, since she always had a huge fight on her hands to get me into a dress when I was a child, but when I can make a dress that fits me and that is really me, it turns out that I don't hate dresses. I do, however, still deeply and truly love a good pair of jeans.
Of course, you can make jeans too, and I have. The Ginger jeans pattern is a great one, and I regularly wear the two pairs I have made, but I was still looking for a pattern that would fill the Levi 501-shaped hole in my life. Thankfully, Heather brought out the Morgan Boyfriend jeans pattern, which looked just right. It is nicely fitted at the waist and hip, with a more relaxed fit on the leg, and even has a button fly. It is made with non-stretch denim which I personally prefer, as I find that it shapes itself better to you as it wears in.
Over the past couple of weekends, I have been making my dream pair of jeans, from the Morgan pattern. I had already made an extremely wearable toile (or muslin) from some black twill, which fitted like a dream. I had copper buttons and rivets and copper topstitch thread at the ready, and I wanted to make this pair really special. Then I realised that the week in which I would be finishing it would be the week in which the centenary of the Representation of the People Act would fall. It may seem tenuous (or even frivolous), but in my own mind, jeans and equality are inextricably linked. Yes, girls can wear trousers, and thanks to the bravery of the Suffragettes and the quiet tenacity of the Suffragists, we can vote, and do anything else we put our mind to do. We are certainly not all the way to full equality yet, but we have come a long way.
I wanted to mark that in some way, to make my own tribute that I would wear with confidence and pride. Since the pattern for the Morgan jeans features an optional leather patch, I decided I would try my hand at some very basic leather work. I bought a scrap offcut of vegetable tanned leather on eBay and a set of leather stamping tools, and stamped one of the Suffragette's mottos "Deeds Not Words" on the patch. It's a good motto too, now more than ever. For good measure, I topstitched a 'V' pattern on the pockets: 'V' for victory and vote.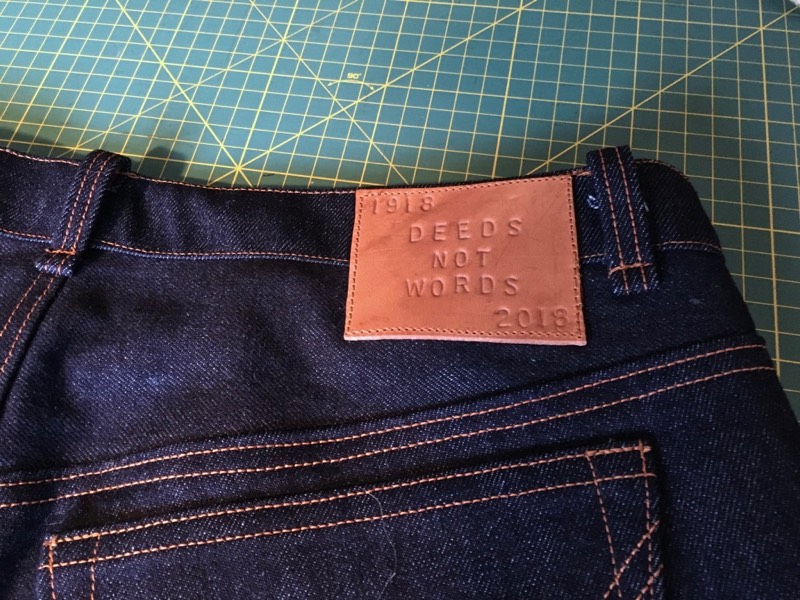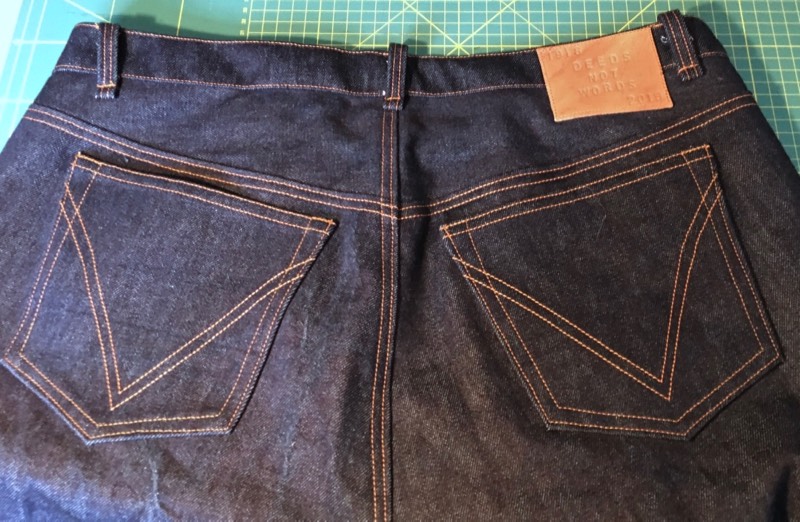 I love these jeans. They reflect my shape and my choices: dark indigo denim, copper hardware, rain clouds in one pocket a rainbows in the other3, and words to live by on the back.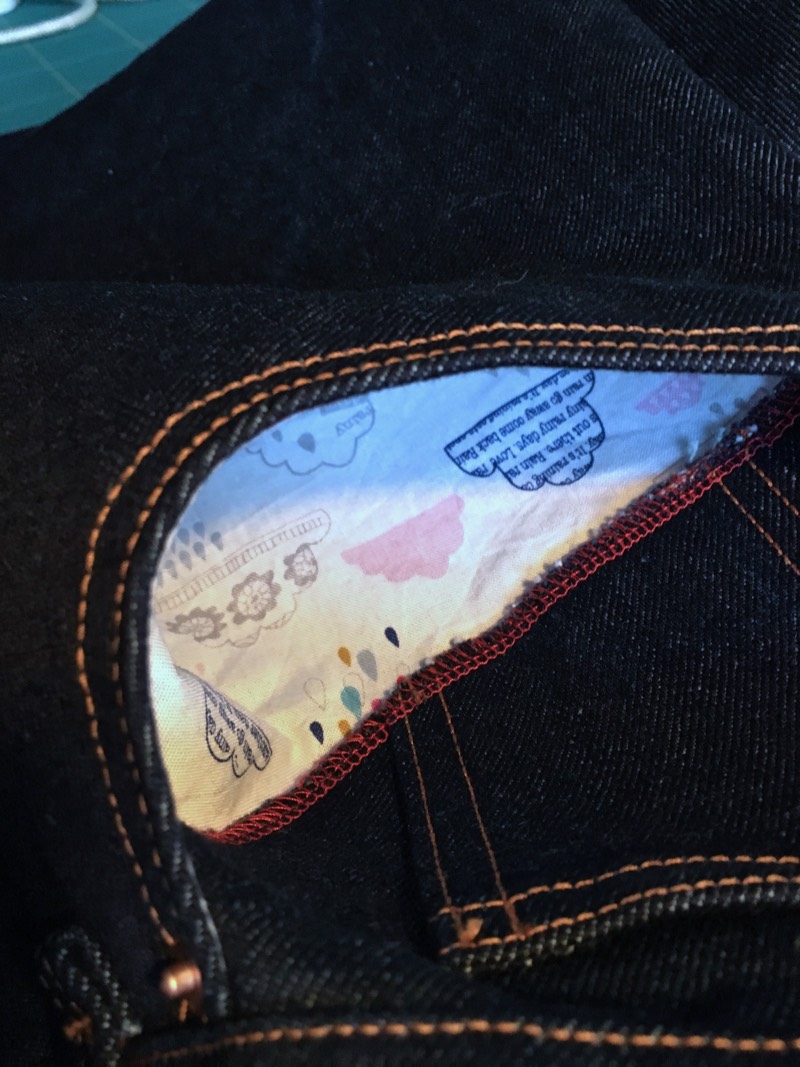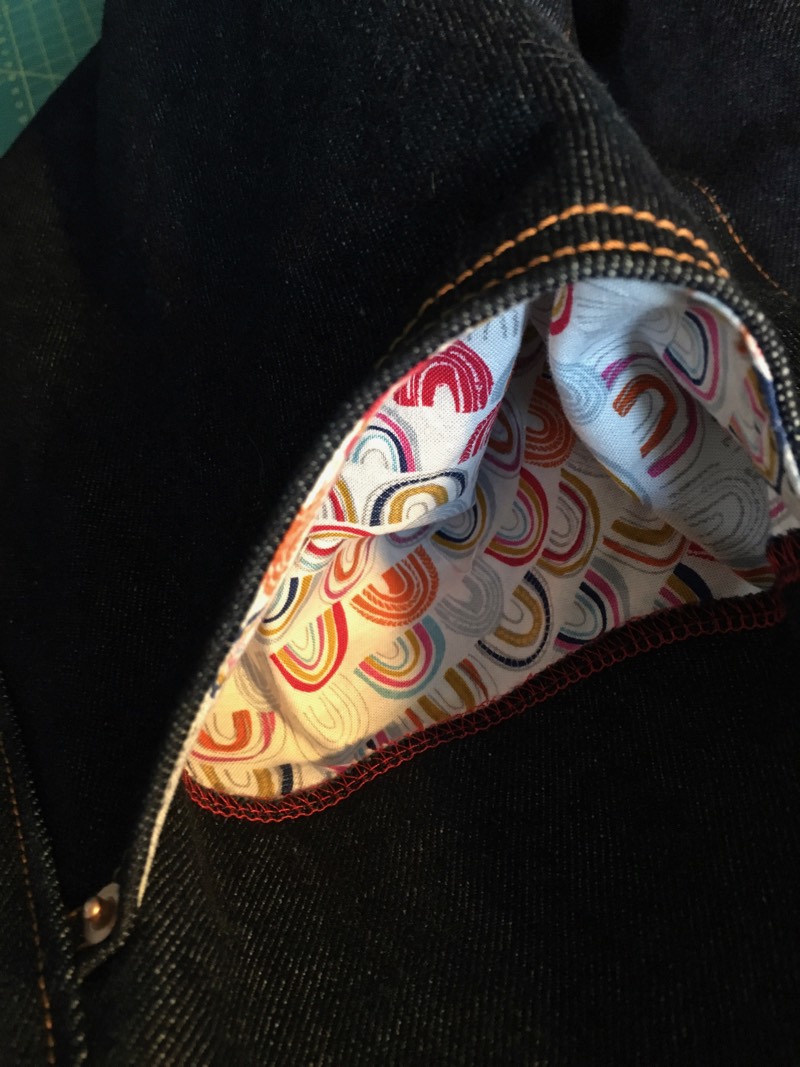 ---
I think in the US, this would be called a rummage sale, but in any case, a sale of second hand clothes donated by local people, to raise money for the Scouts. ↩︎

In my late 40s, which is ridiculous. ↩︎

This was actually an error when I was cutting out: I managed to cut 2 left pockets. Anyway, I'm styling it out as a feature rather than a bug :-). ↩︎