Sometimes milestones pass you by. I had a really busy teaching Semester this Autumn, so it only recently dawned on me that I had completely missed this blog's 20th anniversary back in October (my first post was on 11 October, 2002). Still, better late than never to celebrate, eh? Since I love a bit of analysis, I've had a look at what 20 years of articles looks like.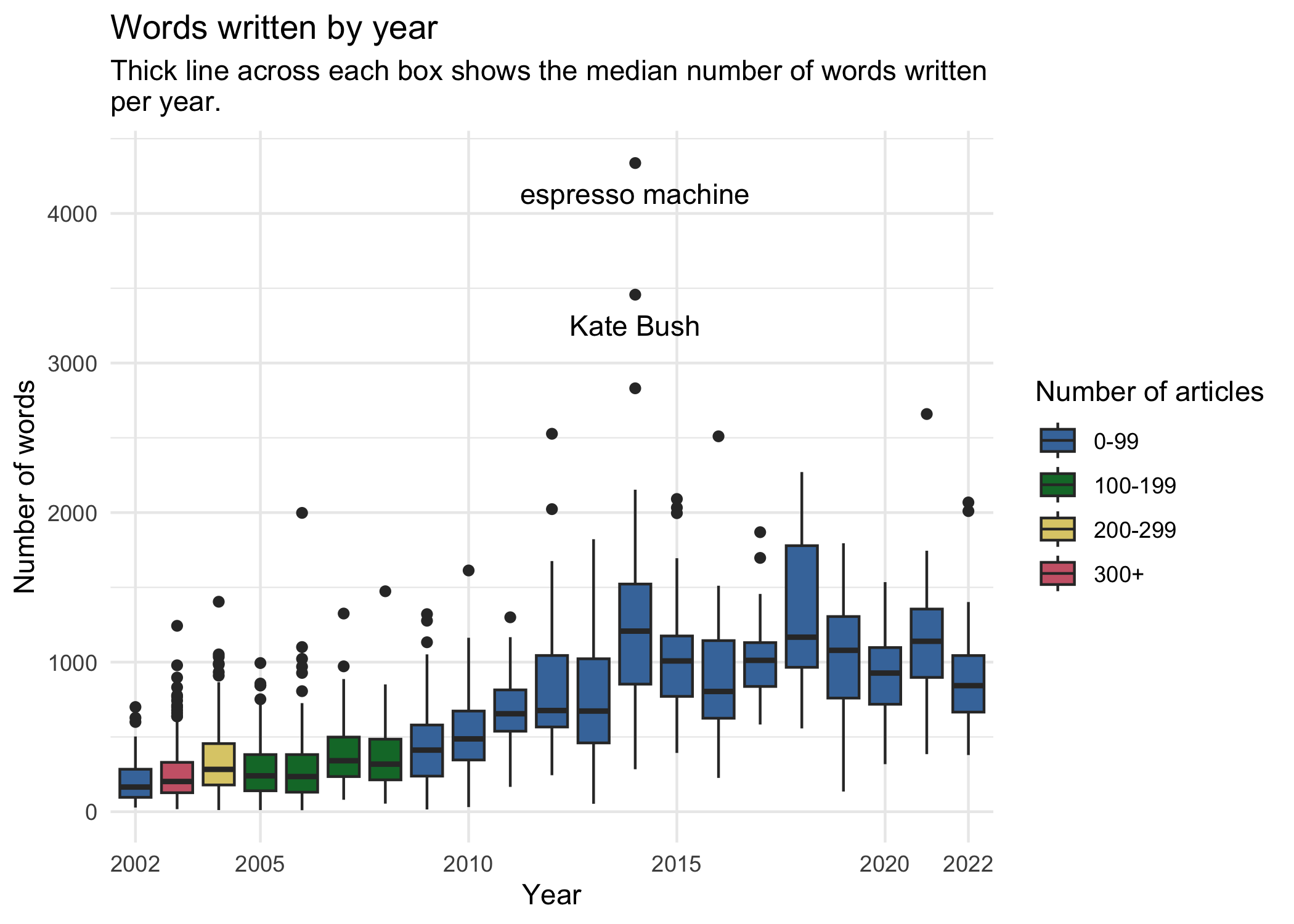 Since all my articles are Markdown files, I used a little shell script and the wc command to save a list of the date, title and word count of each article to a CSV file for analysis. The word count is a bit approximate, because it will include links, markup and so on, but it's close enough for my purposes. It turns out that I've written a total of 735,091 words over 1,693 articles (excluding this one). Wow.
The graph above confirms my guess that while the number of articles I write per year has gone down substantially (to around 1 or two per month), the length of the articles has increased. I seem to have settled down into this 'fewer but longer' pattern from about 2014 onward. That year also holds the record for my two longest articles: a whopping 4,337 words reviewing my Sage Barista Express, and 3,457 words on the genius of Kate Bush. That's probably a reasonable representation of my major preoccupations, though sewing and keyboards may end up eclipsing that word count, at least collectively. My love for Kate's music is pretty much lifelong at this point, and we still use that same espresso machine a couple of times every day, so both have held up well.
I have also settled into a favourite day of the week on which to write here: Sunday. That's also not surprising given the demands of work. Sometimes I start a draft on Saturday and finish it on Sunday. I'm quite surprised there are a number of articles published on other days of the week, but I suspect that they are from the earlier, headier days of this blog when I posted more frequently (and before I joined Twitter in 2007). Friday — apparently — is Not A Writing Day.
When I started this blog 20 years ago, I had no real plan in mind. I still don't. I write about what interests me and makes me happy, and that is the only theme that runs through it. People still seem to find it and discover interesting things to read, but to be honest, I would probably still write if no-one was reading, just to amuse myself.
Having said that, thank you to all of you, whether you have recently found this blog, or whether you are old friends of the site. It is nice to know you are out there, and that you haven't bought into the idea that personal blogs are dead. Far from it, in fact: ooh! directory launched fairly recently and is curating a growing list of blogs on all sorts of topics. Taking a random browse through their listings (particularly Personal Blogs) is a delight, and I can highly recommend it!