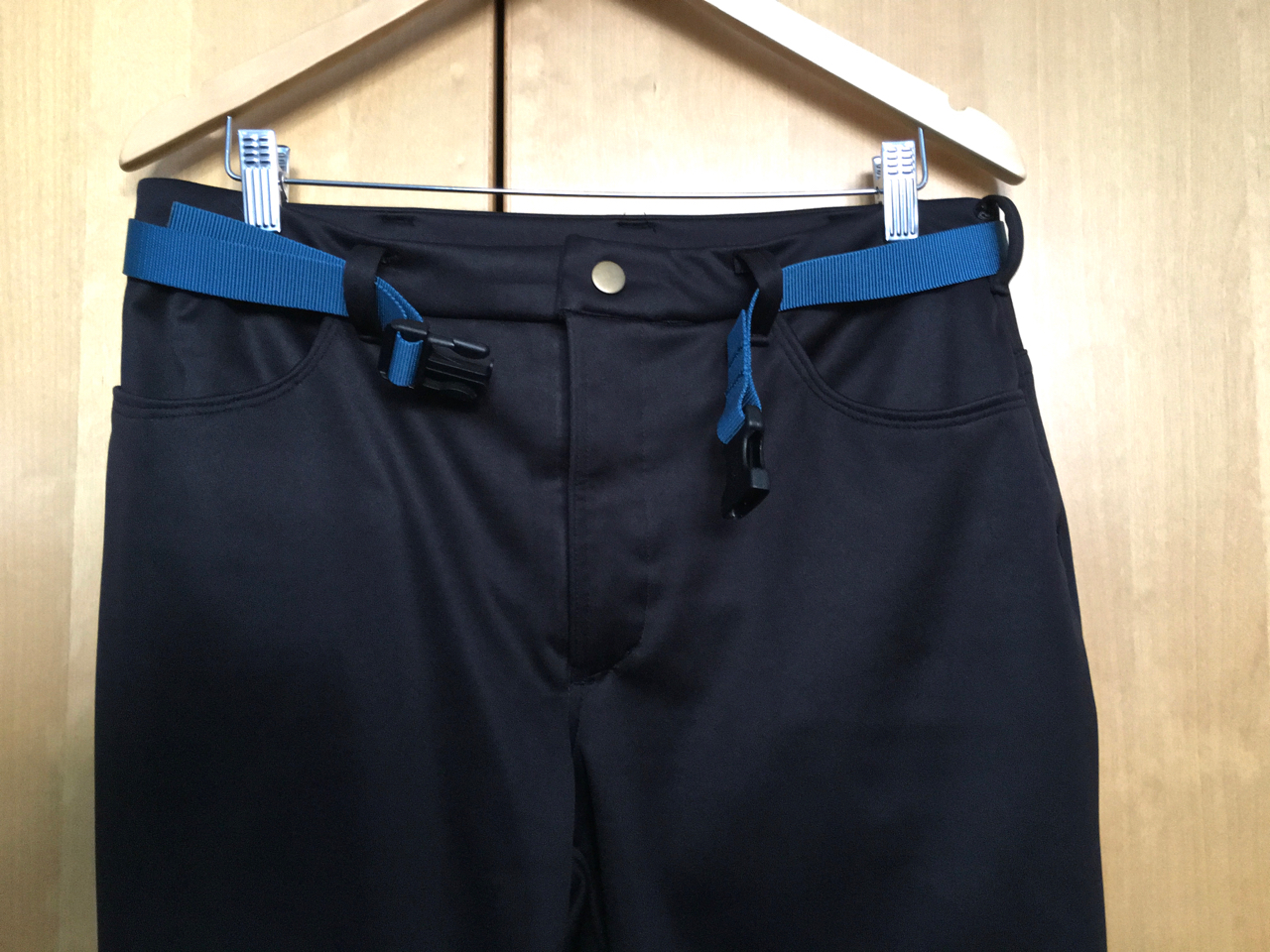 My latest sewing project unites my love of sewing with my love of cycling: a pair of Ginger jeans made from showerproof, windproof, softshell fabric for winter cycling. I used the Ginger pattern because I've made it a couple of times before and know that it fits me well, and because it is intended for stretch denim, and the softshell fabric I bought has a similar amount of stretch. This is a project I've had planned for quite some time, and while I'm very happy with the result, it was a project fraught with difficulties.
I normally cycle in my everyday clothes (perhaps just swapping out a more breathable top), however, winter rain means that I need to put on waterproof over-trousers, or suffer a soggy bottom half for most of the day. I hate waterproof over-trousers. They are hard to put on, constrict your movement, and are never breathable enough, so you need to weigh up how damp you are likely to get in the rain versus how damp you'll get from perspiring inside what feels like a plastic bag.
In a trawl of websites selling 'technical' fabrics for home sewing, I came across some windproof, showerproof softshell fabric, and I hatched a plan to make a pair of trousers that I could wear in winter to cycle in. I was a bit dubious when I got the fabric. It is rather more shiny than I would like, and quite thick and spongy. However, it has good stretch and recovery, which helps a lot while pedalling. The Ginger Jeans pattern is a nice pattern to make, and now that I've got the hang of the excellent fly construction method it uses, there's nothing particularly complicated. However, denim is much better behaved than this fabric. The softshell repeatedly snagged the needle, caused skipped stitches, broke one needle and refused to submit at all to an iron, which made pressing seams after sewing almost impossible.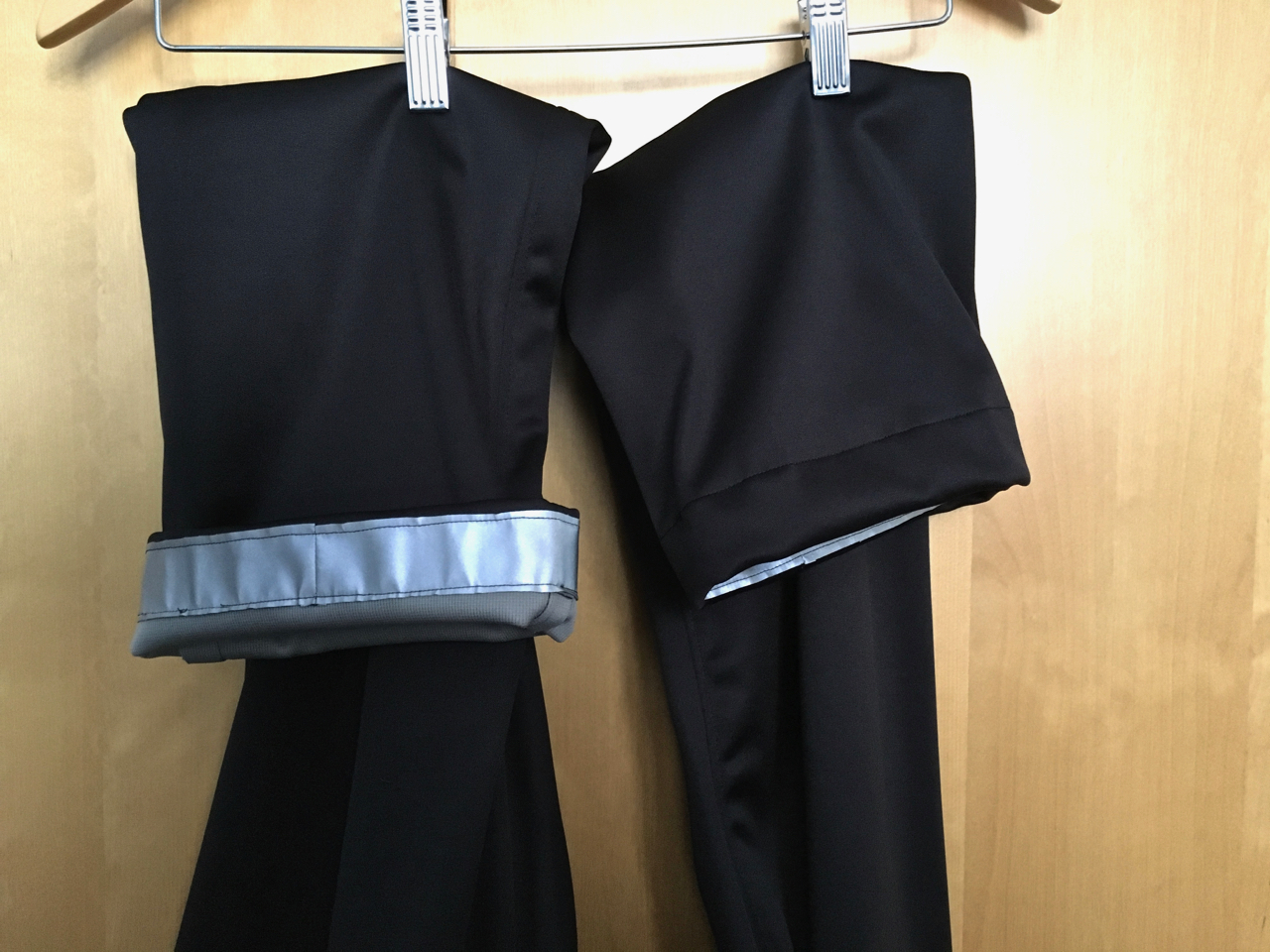 The whole project was quite a struggle. My topstitching is a bit dodgy, I bailed out of adding rear pockets (partly because I didn't want to add too many needle holes to let in water), and I decided not to add topstitching to the waistband. Despite the difficulties, the trousers eventually came together. I had also got a bit of reflective Scotchlite fabric, so I decided to cut strips to finish the hems with. With the cuffs down, the reflective strips do not show, but if I fold up the cuffs, I've got built-in reflectors for night riding. I might also add a popper to the cuff of each leg so that I can take in the volume a bit when cycling and avoid using cycling straps, but I'll see how I go with it.
I haven't yet ridden in the rain in these trousers, so I can't vouch for how showerproof they will be. However, they are very comfortable to cycle in, and protect you well from the wind and cold, while being breathable. I rode in frosty, windy weather, and arrived at work just the right temperature, and not sweaty, which is great. I had hoped to be able to wear the trousers at work as well, but the unanticipated shinyness means that I feel a bit self-conscious in them. An image of Olivia Newton-John as Sandy in 'Grease' post-makeover, in those black, satin trousers comes to mind, and I don't really have the legs to pull off that look! Technical fabrics have their place and their uses, but I will be very glad to get back to using natural fibres, which are so much nicer to work with.