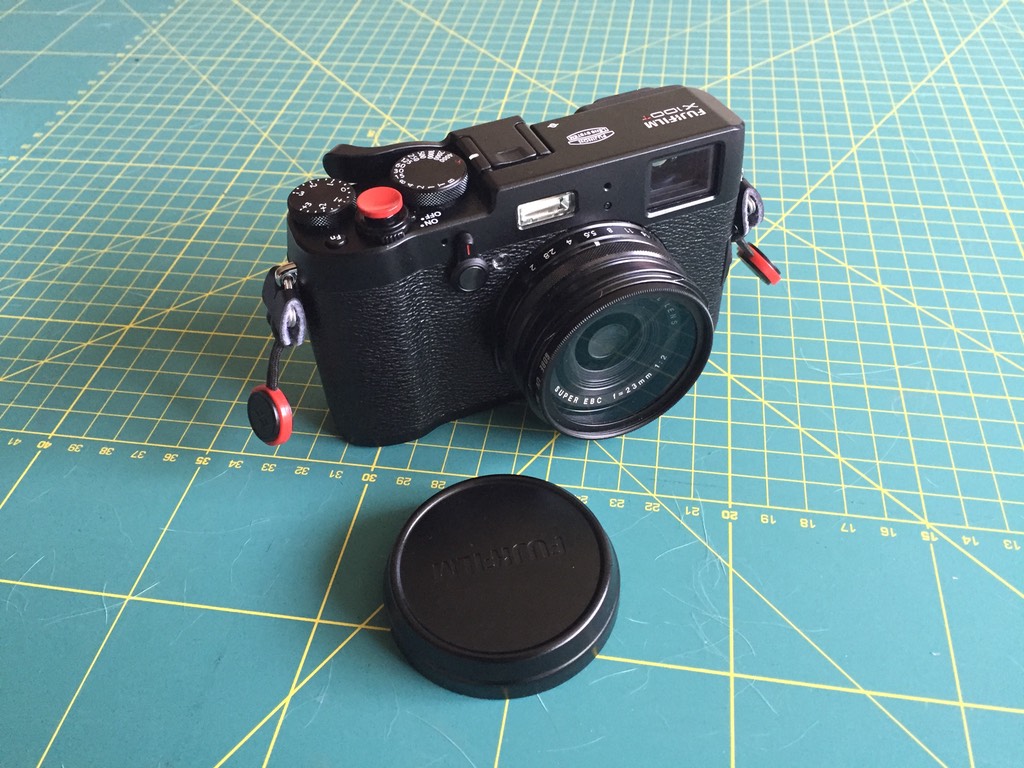 It started while we were on holiday in Norfolk earlier in the year. Mr. Bsag had just got a (new to him) camera on eBay (an Olympus OM-D), and was trying it out as we wandered around enjoying the sun. I was using my Sony RX100, which I love, but in the bright sunshine, I couldn't see what I was framing. The screen is quite good, but in bright sunlight you are basically holding the camera up, pointing it in what you hope is vaguely the right direction, and pressing the shutter. It is very hit and miss. Mr. Bsag's Olympus had a viewfinder, and he passed it over for me to try. And oh, I had forgotten just how much I love pressing my eye up against that tiny window and looking out at the world through it. It's not just that you can actually see what you're doing at when it's sunny, but — to me at least — it is a much more direct experience. That tiny window on the world is all that you can see, but that makes what you want to capture much more obvious.
And that was it, really. While I still love the Sony for its impossibly tiny size, I really wanted to get a camera with a viewfinder again, and peer out of that little window on the world. After a lot of weighing up of pros and cons, I settled on a Fujifilm X100T, and managed to find a used, but good quality one with a lot of extras on eBay.
I was actually going to wait a lot longer before writing a review, to give myself time to settle in to the camera and come to a properly-considered conclusion about it, but I'm too excited by it to do that. I love this camera.
Handling
As I've already mentioned, the main feature I was looking for was a decent viewfinder, and the Fujifilm definitely has that. You can choose between an excellent electronic viewfinder (EVF) or an optical viewfinder (OVF), or use the OVF with a small, inset EVF image in the lower right which shows a magnified portion under the point of focus. You can quickly switch between any of these by flicking the lever on the front of the camera, without taking your eye from the viewfinder. Both the EVF and OVF can show a lot of useful detail, but the EVF allows you to see exactly what the image will be like (for example, showing you a monochrome preview if you have selected one of the monochrome film simulations), while the OVF allows you to see what is currently outside the frame, making it easier to take photos of fidgety cats or small children. I find that I mostly use the EVF, but sometimes switch to the OVF in poor light or if I'm using manual focus.
I was also looking for a camera that would allow me to adjust most of the settings I needed using physical controls, which is another strength of this camera. Shutter speed, aperture and exposure compensation can all be set using dials or adjustment rings, and rather than using a mode control, the shutter speed and aperture controls include an 'A' (for automatic) setting. If you set both to A, you are in fully automatic or Program mode, but if you set the shutter speed to A and adjust aperture, you are in Aperture Priority mode (or the opposite for Shutter Priority mode). Manual focusing is also done using the lens barrel, and it works very nicely, particularly with the split screen or focus peaking guides in the viewfinder. There are lots of buttons on the back of the camera that you can customise to act as shortcuts to whatever functions you like, such as the film simulation modes, ISO settings, flash and so on. In short, I find that I rarely have to look away from the viewfinder to adjust whatever I need, which I like a lot.
The Fujifilm is a bit bigger and heavier than the Sony, and will certainly not fit in a pocket. However, it does fit quite nicely in the small pouch that I am now using to carry the everyday essentials (keys, wallet, phone, work ID etc.) when I'm out walking or on my bike, so it is easy to just pull the camera out and start shooting if I see something that catches my eye. It also sits very nicely in my hand, helped by the 'Thumbs Up' grip that was included in the bundle I bought with the camera. It slides into the flash hotshoe, and acts as a low profile hook that you can rest your thumb on. I find that it significantly improves my grip on the camera, and also stops me accidentally shifting the exposure compensation dial.
The camera I bought also came with the Fujifilm lens adapter (so you can fit filters) and the hood, but I don't use the latter. I bought a relatively cheap but good quality UV filter by Gobe, which is quite tough, and means that I can wander around with the lens cap off and not worry too much about the lens. Finally, the red and black discs you can see attached to the strap mountings are Peak Design strap anchors, which quickly click into their straps. I'm a convert to these straps, which are perfect for small cameras like this. If I am taking a lot of photos, I attach the strap and wear it cross-body, sling-style. However, if I'm carrying it around in my bag, I disconnect the strap to save space.
Image quality
I haven't had a camera that offers such lovely possibilities for depth of field effects for a long time, and I am really enjoying playing with that. At large apertures, the lens produces gorgeous, creamy bokeh in the background, that I can't seem to get enough of. Indeed, I need to remember that some shots actually need a smaller aperture, and that I should venture beyond F2.8 once in a while! I'll calm down about it in time, but for now, I'm addicted to the bokeh.
The quality of the images straight out of the camera is really good. You can shoot in RAW or JPEG or both, but while I always shot RAW with all the previous cameras I had which offered that format, I haven't felt the need to switch away from JPEG with the Fujifilm. Part of the reason for that is Fujifilm's film simulation modes. These — as the name suggests — attempt to simulate classic films like Kodachrome or Fuji's own Velvia. I mostly use the Classic Chrome (i.e. Kodachrome) mode for most colour shots, the Velvia mode for outdoor landscapes, with the 'B' monochrome mode for black and white. All of these look great straight out of the camera, and I'm finding that — other than cropping or straightening a bit1 — I don't need to do much (or anything) in software to process the shots. This is great, because processing shots was always my least favourite part of taking photos, and often meant that it would take me quite a while to get around to putting images up on Flickr or wherever.
I'm taking a lot more photos than I was of everyday things, and posting more regularly on Flickr. I'm learning more about the camera as I go, and also re-learning all the basic photography stuff that I had forgotten, which is really fun. The other aspect that I really like is the fixed 35mm lens. I thought that it might be an annoying constraint, but I find that it is making me a bit more creative about framing shots. I'm also just starting to develop a feel for what this lens length covers, which means that I'm beginning to do some of the shot selection before I bring the camera up to my eye. I'm hoping that I'll get better at this with time.
I think that the telling detail is that I can't resist pulling the camera out whenever something catches my eye. I'm addicted to that little window, and — apparently — to taking pictures of the cats. They are starting to get a bit tired of it, as you can see below. If you'd like so see a few more, I've collected some of the photos I've taken with this camera in this Flickr album. I've got a lot to re-learn, but I'm having a lot of fun doing it.
---
Apparently I couldn't keep a horizon straight if my life depended on it. ↩︎