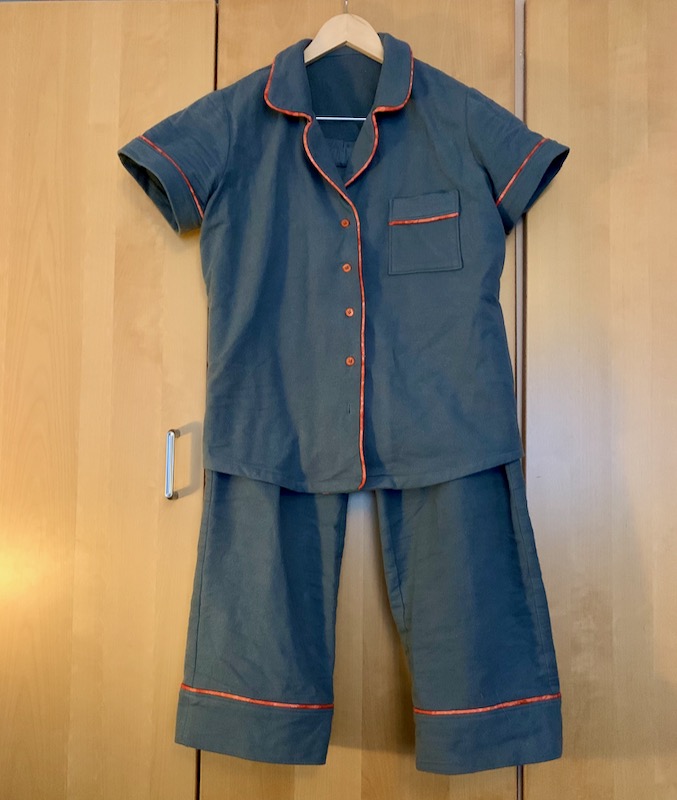 I like to have a sewing project to tackle when I'm on holiday, so this has been a chance for me to tackle a long-planned project: making a pair of Carolyn pyjamas from cotton flannel.
I've made the pattern twice before: a pair of blue linen pyjamas with the shorts version of the pyjama pants, and an un-blogged pair made from a cotton batik fabric I bought in Indonesia while I was there for a conference. Both are great and have been frequently worn, but are more for summer wear than winter. I wanted to make a really cozy winter pair from cotton flannel. In a flurry of pre-Christmas panic/planning, I ordered several metres of a grey flannel fabric and some brighter cotton to make piping so that I would have it for the Christmas break.
I love this pattern, but always forget a) how much fabric it takes to make a pair of pyjamas (even with a short-sleeved top rather than a long-sleeved one), and b) how much time it takes. I hadn't made the version with the optional piping before, so that meant making my own bias tape and then my own piping and applying it. I'm not complaining — after all, I wanted a project to get my teeth into, but I would be omitting the whole truth if I didn't admit that there were a couple of times when it seemed like a lot of work for something to wear in bed. It was an absorbing process though, and I love the end result.
As I said, I have made this pattern twice before, so I'm pretty familiar with it. For this version, I made only a few small tweaks. First, I made the next size up for both the top and bottom part of the pattern. I found with the previous long trousers version that they are drafted with less ease than is usual for pyjamas. I think if you planned to wear them primarily as lounge wear around the house rather than in bed, the slimmer fit would be fine, but since I wanted to wear them in bed, and I hate feeling constricted while sleeping, I decided to go the next size up from the 'correct' size for my measurements. One great thing about making your own pyjamas is that you can make the top and bottom different sizes, which I typically need, avoiding a situation in which you have a well-fitting pair of trousers and a top that swamps you.
The second main change was using the piping and altering some construction details because of the nature of the fabric. I bought the flannel online since I couldn't get to a fabric shop in person, and it turned out to be heavier weight than I had anticipated. It is beautifully soft but the body of the fabric meant that double-turning hems (for example) wasn't going to work well. I also had to aggressively trim back seam allowances to remove bulk on the collar particularly. However, the flannel also didn't fray much, so I could get away with finishing seam allowances with pinking shears rather than overlocking them, which might have added more bulk. The pattern calls for the free edges of the collar facing to be double turned and stitched to finish them, but since I had plenty of bias tape left over from making my piping, I used the tape to edge the facings, and also finish the single-turned hem. This looked very neat, and adds another pop of colour to the inside of the jacket.
When I planned the pyjamas, I wanted to go for a fairly neutral and plain main fabric. Plaid flannel pyjamas would be fantastic, but matching the pattern would take even more fabric and planning of the cutting out for an already fabric-hungry pattern. Since I do like a bit of colour, I went to town on the fabric for the piping, and got a quilting cotton in warm orange tones to contrast with the mid-grey, and some matching orange buttons. Given that I was having to do all my fabric and haberdashery shopping online, this worked out really well. You may not believe this, but it was only when I was about half way through sewing it that I realised that the colour combination was somewhat familiar. I had just recreated the colour scheme of this blog! Well, that's another benefit of making your own clothes: your pyjamas can match your website theme.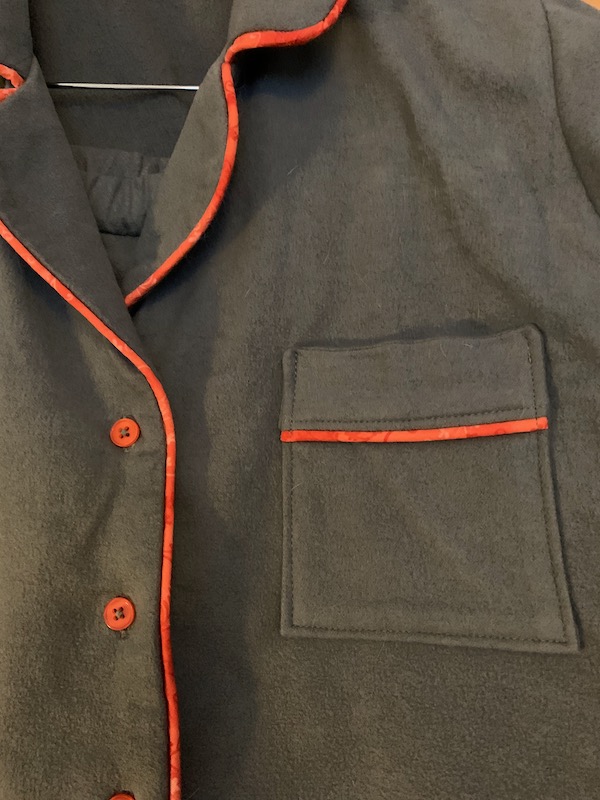 I was a bit anxious about attaching the piping, but it went quite smoothly in the end, even on the collar, which has some tricky parts to match up. In some ways, it makes the cuffs on the sleeves and trouser legs easier to attach, because once you have sewn the piping to the leg or sleeve, you can feel the ridge of it, which guides where you need to place the stitching to attach the cuff and then sew it down. I really like the end result and it makes it hold its shape a bit better too.
I have worn the pyjamas for the past few days (hence the wrinkles in the fabric in the photos, sorry about that1), and they are incredibly cosy and comfortable. I'm glad I went for short sleeves rather than long on the top though, as it means I can hang my arms out from under the covers to cool myself down if I get a bit hot in the night. The construction process was fun, and the flannel was lovely to work with. The more I sew, the more I realise that the tactile quality of the fabric and how well it sews plays a large part in how enjoyable the sewing process is. Fabric that feels nice in your hands and presses well is a joy to work with (as well as to wear in the end product) and enhances the whole experience for me. It's also something that is difficult to explain, and even harder to assess when buying online, so I certainly got lucky this time! Roll on the days when I can visit a fabric shop again and fondle fabrics in person before buying.
---
And sorry for the terrible photos, but the light is very poor today. ↩︎