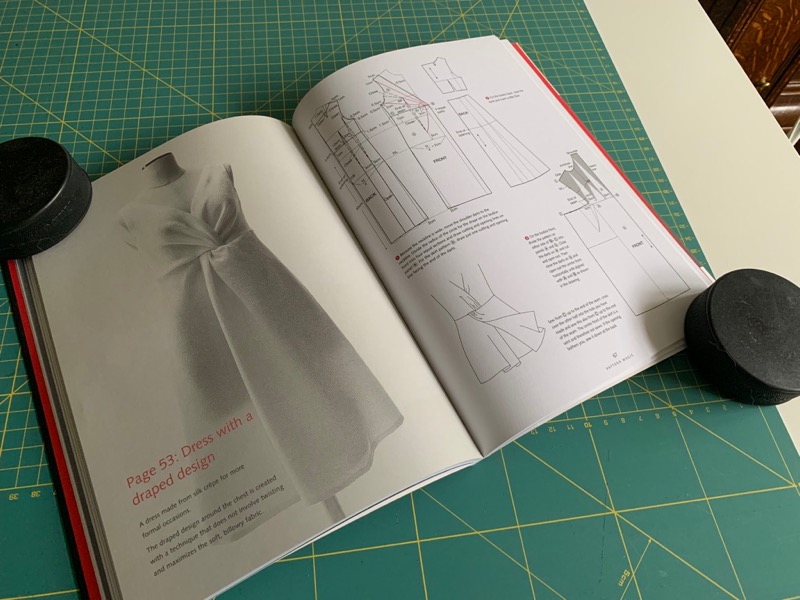 If you follow me over on Micro.blog you may have seen this post a couple of weekends ago. I had decided to try to make a dress using instructions from one of the Pattern Magic books by Tomoko Nakamichi. As if that wasn't daunting enough, I decided to make it out of a sentimentally special fabric, and for a special event happening the next weekend. Sewing isn't (usually) an adrenaline sport, but it was quite a nerve-wracking experience, but one which happily worked out well in the end.
I have a very beloved godmother who also used to sew her own clothes, but hasn't sewn for many years. When she found out that I had started sewing, she offered me her stash of fabrics. She and her late husband used to love to travel, so many of the fabrics were bought in exotic locations and are very beautiful, as well as being bound up in wonderful memories of holidays they enjoyed together. I accepted the fabric gratefully, and then thought about what I would make with it. Every time I saw my godmother she would ask me whether I had made anything with it yet, and I felt terrible about the fact that I hadn't. She had a celebration for a special birthday coming up and — the weekend before — I was suddenly galvanised into action. If I couldn't get up the courage to cut into this lovely fabric and make something to wear for her birthday celebration, then it was never going to happen.
Heather Lou wrote a wonderful post a few years back about sewing confidence, in which she wrote:
Worried about ruining that "special" fabric? Is it woven from unicorn eyelashes? No? Life is short. It's just fabric.
Quite. This fabric was sentimentally important to me, but it was just languishing in my fabric stash. My godmother would much rather see me wearing something made from it (however imperfect) than for it to remain unused. After all, she gave it to me because it was languishing in her stash! The fabric I chose out of the ones she gave me was a striking large-scale border print. It was 100% polyester (which I usually don't enjoy wearing or sewing with), but this was a great quality fabric which felt wonderful and behaved well when sewn. There was a gold stamp on the selvedge which indicated that the fabric was made in Japan, and that was when I decided I would make a dress using one of the Pattern Magic designs. I had owned several of the books for years, read them and admired the designs, but never got up the courage to make one. The fabric was very drapey and silky, and the design you see at the top of the post with the twisted detail seemed as if it would be a good match.
I decided to lengthen the skirt to floor length, and cut the pieces on the cross-grain so that I could use the dark flowers in the border print at the top and bottom of each of the pieces. This required a bit of fabric tetris, but I like the result. I had already made a sloper using the Bunka pattern drafting method, so all I had to do was squint at the diagram on that page to see how to 'slash and spread' the sloper template to transform it into that twisted bodice. I had to close the bust darts and open out a couple of angled cuts to add to the fabric in the bodice area and form soft folds in the finished garment. The centre line of the bodice and skirt was also extended so that they would form an overlap once the pieces were sewn together. The neckline ends up as a 'v' neckline which overlaps like a wrap dress, but the bodice pieces from each side are sewn interlocking with each other in a way that looks complicated but isn't too difficult to achieve.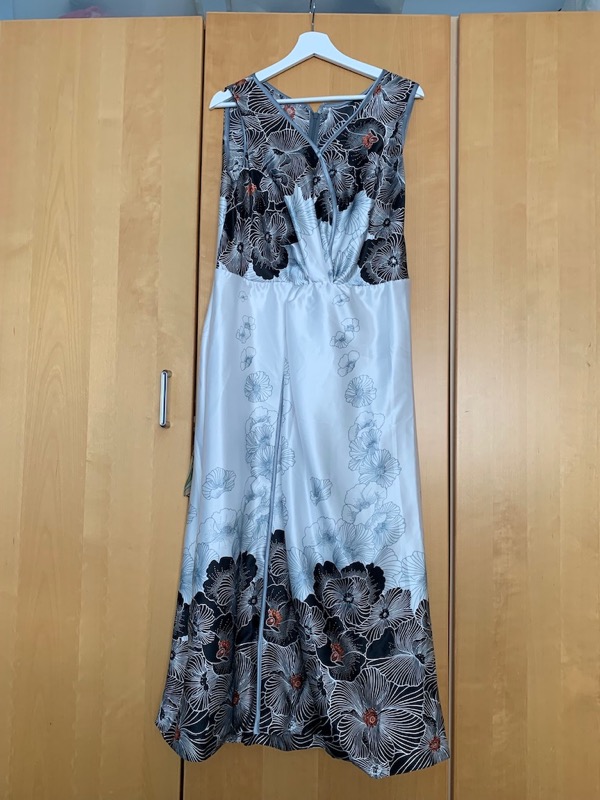 The drafting of the pattern went OK, but I didn't have time to make a toile or muslin, or to true up the pattern, which led to having to wing it more than I would have liked during construction. The bodice/skirt front is supposed to be cut as one piece, with a partial seam ending before the centre front which allows you to leave a hole through which you insert the other front before repeating the process. However, since I was cutting the pattern on the cross grain to place the border pattern appropriately, I didn't have enough width of cloth to do that. Instead I decided to cut the pattern piece in two and create a new seam. This meant that I ended up with two seams close together at the waist, when I could have arranged things to eliminate one of them. In the end it looks OK, but it could have been a little neater.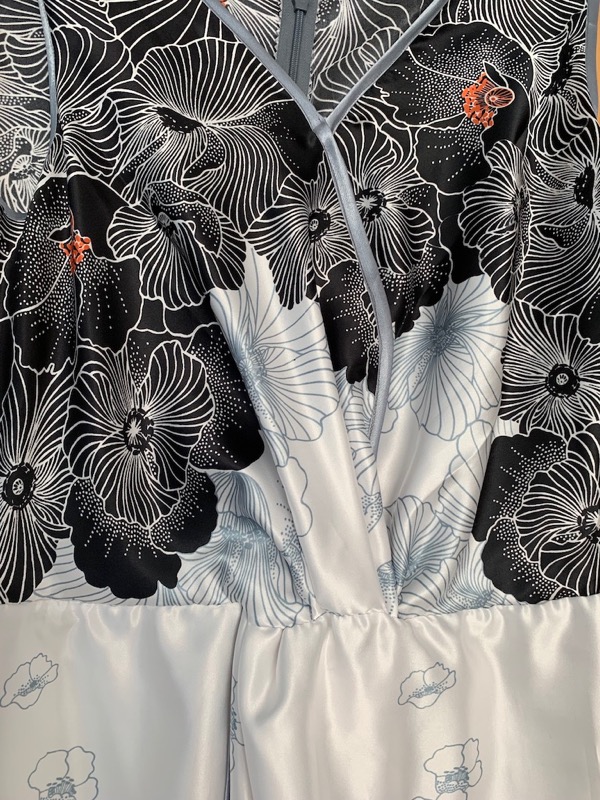 The instructions don't give you any hints about how to finish the edges of the garment (or really any details about construction other than how to interlock the fronts). I decided to bind the whole neckline (down to the hem) with satin bias tape for speed, and treat the armholes the same way. I think this worked out well, and was certainly neater than trying to turn a narrow hem would have been with this delicate fabric. I had to do a lot of tweaking as I went along. The cross-over of the neckline was a bit too low for my taste, so I tacked it down higher up. I also sewed closed the front overlap with a few tacks, which don't show when worn but prevent me from inadvertantly flashing onlookers if there's a breeze! The fabric was slightly transparent and frayed a lot, so I decided to use French seams for neatness in most places. This lead to some bad words being said when I started sewing these seams right sides together (rather than wrong sides together) twice and had to unpick them. I was still sewing at 9pm the night before the event, so I was cutting it very fine! I also haven't yet mentioned that I sewed almost all of it (except for the binding) on my 1945 Singer 201K in the 1911 treadle cabinet. It was a wonderful experience, and I have got better at controlling the speed of the treadle in the process.
In the end, I was pleased how the dress turned out. I'm not sure that I love the gathered front on me, as it puffs out a bit more than I would like. However, the back is a spectacular fit, and it was very breezy and comfortable to wear. It's the kind of dress you can dress down with a denim jacket over the top, or dress up for evening wear, so I think it will be reasonably versative. I hadn't told my godmother about it, but as soon as she saw me she recognised the fabric and was really pleased I'd used it. I'm so glad I got up the courage to try it. Drafting the Pattern Magic dress was fun, and sometimes it's best to just leap into these things.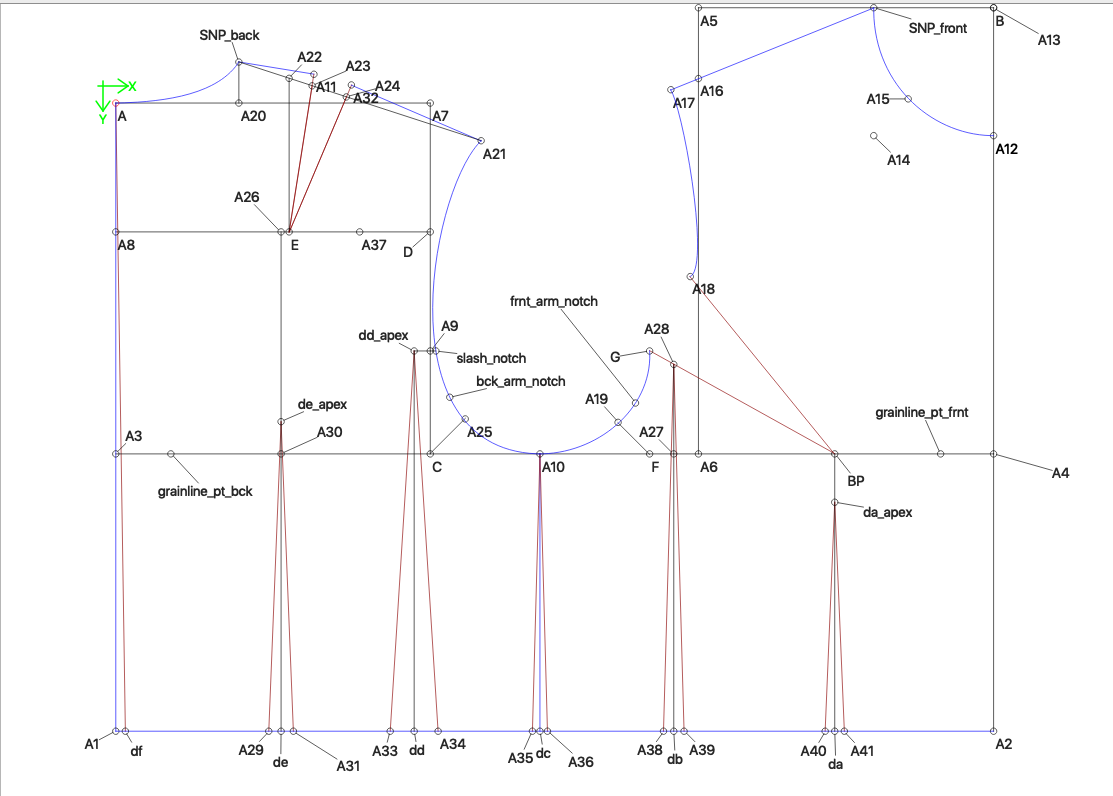 The experience also brought home to me how well the Bunka sloper works for me: the fact that I could use it as a base from which to draft an entire dress which fitted me without adjustments (apart from the depth of the v-neck, which is a personal preference) is amazing to me. It has encouraged me to do more drafting of patterns. I know how to do this using paper (tracing out the sloper outline and dart points, then physically cutting and spreading the paper to make a new pattern), but I have been looking for pattern drafting software for a while. When I last looked, the software I found was either for professionals (and thus eye-wateringly expensive and complex), only for Windows computers, or too limiting to enable me to do what I want. However, just this weekend I found an amazing bit of open source software called Seamly2D, which is available for all three platforms for free, and is beautifully compatible with the Bunka drafting system. You can see my re-drafting of my sloper from scratch above. Basically, you enter your own measurements (for the Bunka sloper this is just bust circumference, waist circumference and back length) and then draw out the lines using these values in formulas (e.g. this line should be (bust circumference/2 + 6cm), which is exactly the way the Bunka system works. This means that if your measurements change (or you want to use the sloper to make something for someone else), you just alter the measurement values in the measurements file and the sloper re-adjusts automatically. You can also use tools to do the digital equivalent of 'slash and spread' to modify the sloper, so once you've got the sloper, you can 'Save as..' to use it as a base for a new pattern.
The software allows you to print out the pattern tiled onto A4 paper, so I printed out my completed sloper and it fits very closely to my original paper copy. I'm really excited about what I can do with this. I like the process of working with paper, but doing it digitally will enable me to work faster and try out experiments more quickly.