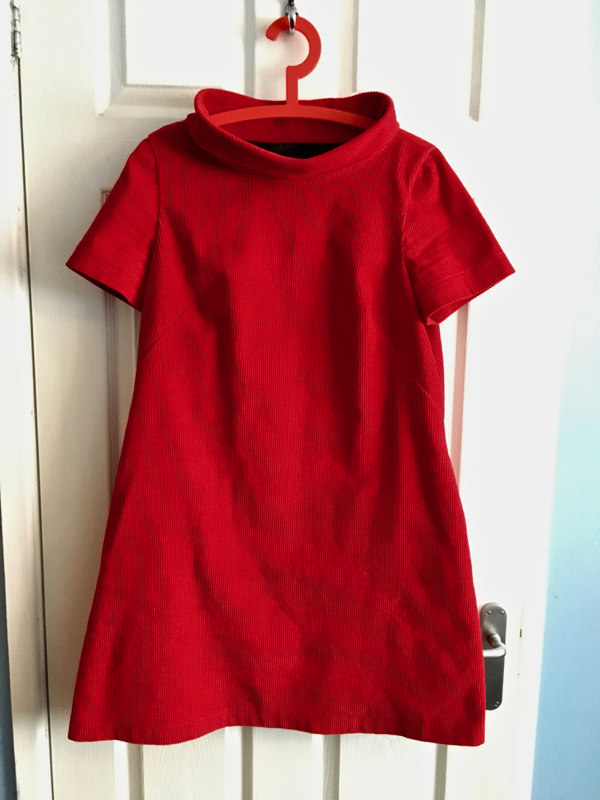 Well. That was a distressing, bewildering, enraging, and terrifying week. I don't even know where to start with it. In response, I seem to have diverted into temporary displacement activity: who else would like to join me in a few moments of thinking about something other than the state of the world? I made a very red, very corduroy tunic: the French Dart Shift Tunic by Maven Patterns.
At the start of the winter, I had a plan to make a warm winter dress. My first idea was to make a corduroy pinafore dress, an idea that rather surprised me. I think I last wore a pinafore dress when I was about 5 years old. In fact, I have a photograph of me wearing it, with a ribbed polo neck jumper underneath, and a puddingbowl haircut with slightly wonky fringe above. I'm vaguely aware that they have become somewhat fashionable recently, but that wasn't why I wanted to make one. I was after a dress that I could wear a thick layer (like a jumper or long-sleeved t-shirt) underneath, rather than covering up the dress with a cardigan. I was ready to try to draft something myself, when I saw another alternative that I could wear in the same way: Maven Patterns French Dart Shift Tunic.
I loved the shape of it, and the fact that it had more of an air of 1970s art teacher than 1970s primary school pupil. I bought the pattern, and went in search of fabric. I was after red corduroy, and boy did I get it! I bought it on my first trip to the legendary Barry's Fabrics in Birmingham, and after I emerged, blinking into the light, I looked at the corduroy in the daylight and thought, "Wow. That is really red". Nevertheless, I love the colour, particularly in these cold and grey days. I have a colleague at work who, like me, is a fan wearing of bright and saturated colours, and we have formed a mutual appreciation society of each other's sartorial colour combinations.
Making the tunic went very smoothly on the whole. Since I wanted to wear layers underneath it, I went with a fairly roomy size, and graded up a size from waist to hip. The pattern is drafted with lovely shaping, with two double-ended darts in the back that curve it into the small of the back, and long French darts at the bust that give the pattern its name. I love the boat neckline which balances out the slightly A-line skirt, and the collar is wonderful. You can wear it folded over (as in the photo above), or dramatically unfolded. Either way, in corduroy it is beautifully cosy. I normally wear dresses (or skirts and tops) that have a more defined waistline, but I really like this tunic. The shaping around the shoulders and bust and at the back is very flattering, but the ease at the waist is extremely comfortable. Best of all, there are good, deep, pockets!
I made it a couple of weeks ago and have worn it several times. I wear it with long-sleeved t-shirts and leggings underneath, and big black boots, and love the way I feel in it. However, the 'nap' of corduroy gives it a tendency to want to gradually ride up your body, particularly if you are wearing a long coat over the top, so I decided I would line it. The pattern doesn't include pieces for a lining, but Mrs. Maven has published an article on how to create the pieces, which is very straightforward. I had debated adding the lining from the start (which would have saved me some hand-sewing to join the lining and shell at the neckline and armholes), but I made the decision to wear it without one first to see if it was necessary. I finished making and attaching the lining today (French seams throughout, appropriately enough), using my new-to-me-but-very-far-from-new sewing machine1, and it was a lovely experience. I even enjoyed the repetitiveness of hand sewing in the lining to the shell, which probably attests to my desperate need for displacement activity. I'm really pleased with the result, and look forward to wearing it tomorrow, blazing like the setting sun, and without the fabric going for a walk.
---
About which I will certainly gush later. ↩︎