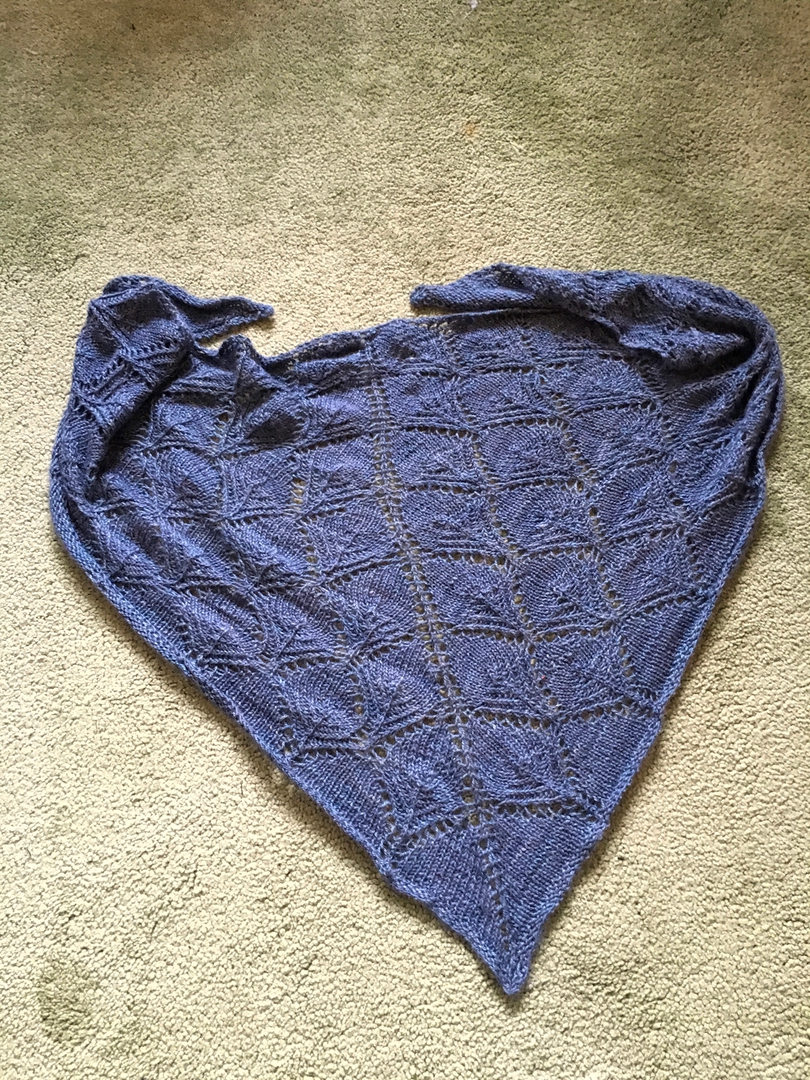 I've recently finished several knitting projects that were all at various stages of progress. I've enjoyed taking up knitting again, but since I'm quite a slow knitter I get a bit impatient. Compared to sewing, knitting even quite a small garment seems to take forever. Anyway, I was determined to finish off these projects before I started another sewing project.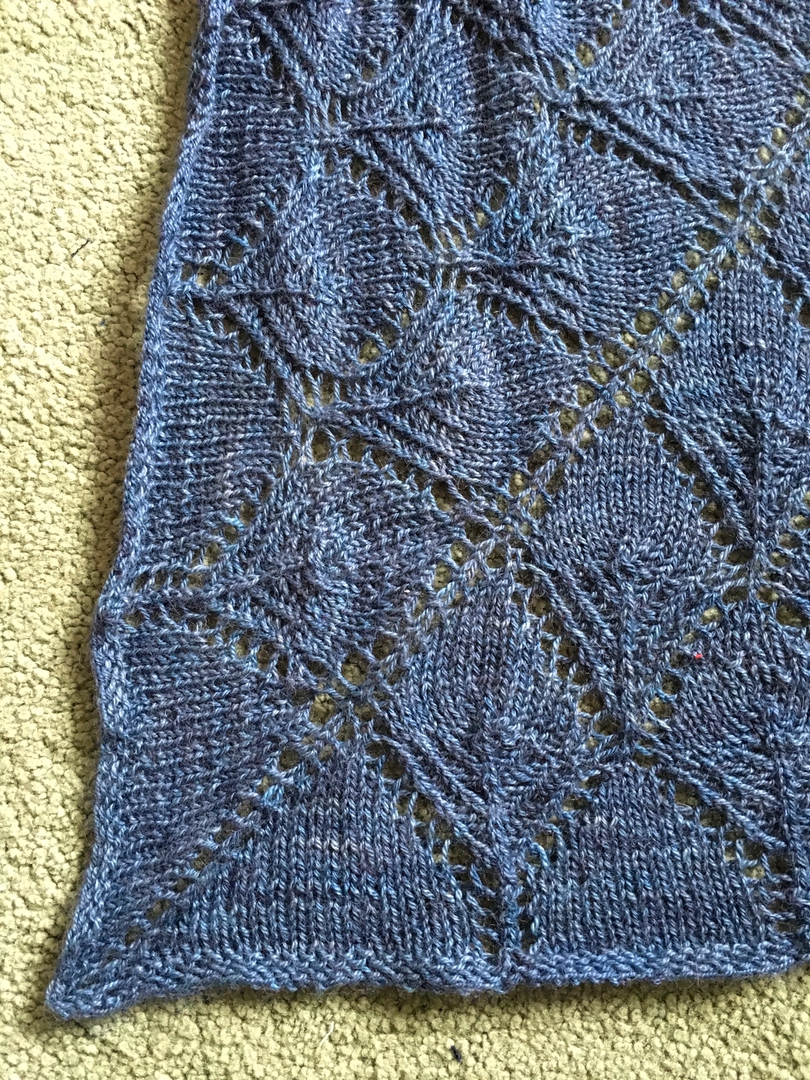 I mentioned in a previous round-up of some pre-wedding projects, that I had started the Fantoosh! shawl, designed by Kate Davies. I love this pattern, which looks a little like leaves or perhaps feathers — very appropriate for the lon dubh (blackbird) yarn colour I had chosen. However, I found the project quite taxing. The stitches themselves are not hard, but I discovered that as the project grows (you knit from the point upwards, so every row gets longer as you go) I got worse at keeping track of the pattern repeats. Basically, once I get more than about 150 stitches on a needle, I have a hard time counting them and not letting things get out of hand. Socks, hats, gloves and so on seem much more managable to me, since you never have too many stitches, and you can finish them quickly.
I went wrong in various places, and had to improvise a kludged solution (by increasing or decreasing stitches) to avoid one half of the shawl getting longer than the other. I had meant to make the larger size of shawl, but wisely (I think) stopped once I had reached the right size for the smaller one. This is plenty large enough to make a cosy wrap around my neck, so it's perfectly fine. The errors are visible if you look carefully, but a) I don't care and b) you do have to look carefully, so I am very happy with the end result. The images don't convey how gloriously light, soft and silky the yarn is, making it feel like the height of luxury to wear.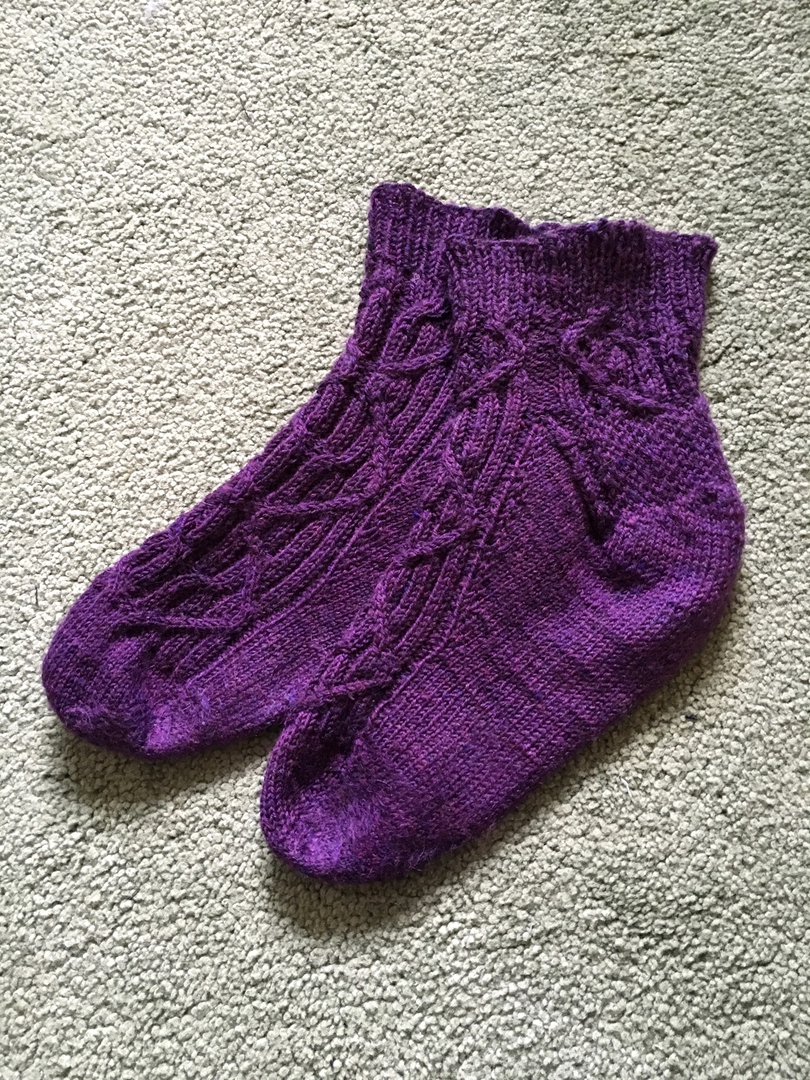 Once I had finished the shawl, I turned back to a pair of cable pattern socks that I put aside to start the shawl. These are the first I've knitted toe-up and two at a time. This is quite an interesting technique where you use a long circular needle (using the 'magic loop method') and cast both socks on to the same needle, knitting each sock in the round as you come to it on the needles. You can knit socks top down or toe up, and I chose the latter method for these, which also means you can keep trying them on for size as you go. For some reason, I decided to also try a cable pattern, even though I've never knitted a cable in my life.
These are not my finest hour, but I got them done. They are definitely too big (despite me trying them on as I knitted). I think I tend to forget that knitted garments need to have substantial negative ease if they are going to fit snugly. I also seem to knit quite loosely, and for this project, I made the error of not knitting a gauge swatch first. I probably need to routinely go down a needle size, and I definitely need to discipline myself to knit a gauge swatch, however impatient I am to get started with a project.
Anyway, I don't mind too much. I learned a lot, and the socks are fine for wearing around the house to keep my feet cosy. The yarn is merino, and that warmth plus the chunky cable knit is lovely on a cold evening. I will definitely try the two-at-a-time method again though, as it makes it much easier to make the socks identical. Knitting toe up also means that you can make the most out of scraps of yarn by knitting the length of the leg to suit how much you have left.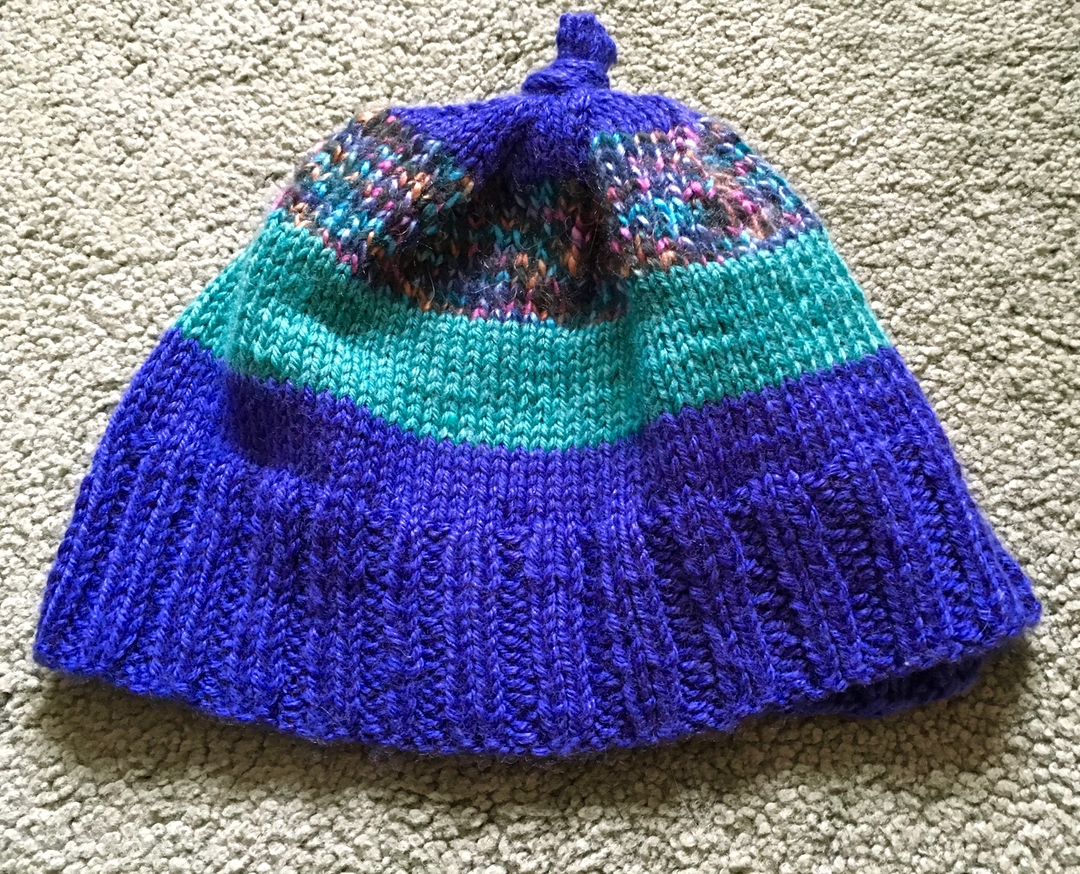 My final project was a quick hat I knocked up using a pattern that came with a Craftsy class. I had some odds and ends of yarn left from a project from several years ago, and so I went with stripes to use up what I had left over. This time I did do a swatch, and the hat fits much better for that. It's quite simple thing, but I really like it. I finished it just in time for the really cold weather, and chunky wool yarn keeps my head beautifully warm.
Finishing these projects cleared the decks sufficiently for me to think about starting another sewing project, and today I finished sewing the buttons on an Arielle skirt. I didn't get a chance to take a photograph of it yet, but it's a knee-length, high-waisted pencil skirt, that fastens asymmetrically with a line of buttons. I made mine in denim (left over from making my Ginger jeans), and used wooden buttons. I also took the option to line it, using left-over lining from my jacket. It has been a good project to 'stash bust' my fabric store, but at various points, I wasn't sure if I was going to like the resulting skirt on me. When I tried on the finished article today, I absolutely loved it. It's possible that I've been watching too much Howards End recently1, but it makes me think of an updated version of an Edwardian skirt. The shape is perfect for someone like me with big hips and a relatively small waist, and I like slightly subverting the sleekness with denim. I think I'm going to get a lot of wear out of it.
---
I have become obsessed by the gorgeous double-breasted coat that Hayley Atwell wears in the series. It is an incredibly beautiful fitted shape, with two rows of gigantic, mother-of-pearl shell buttons all down the front. ↩︎