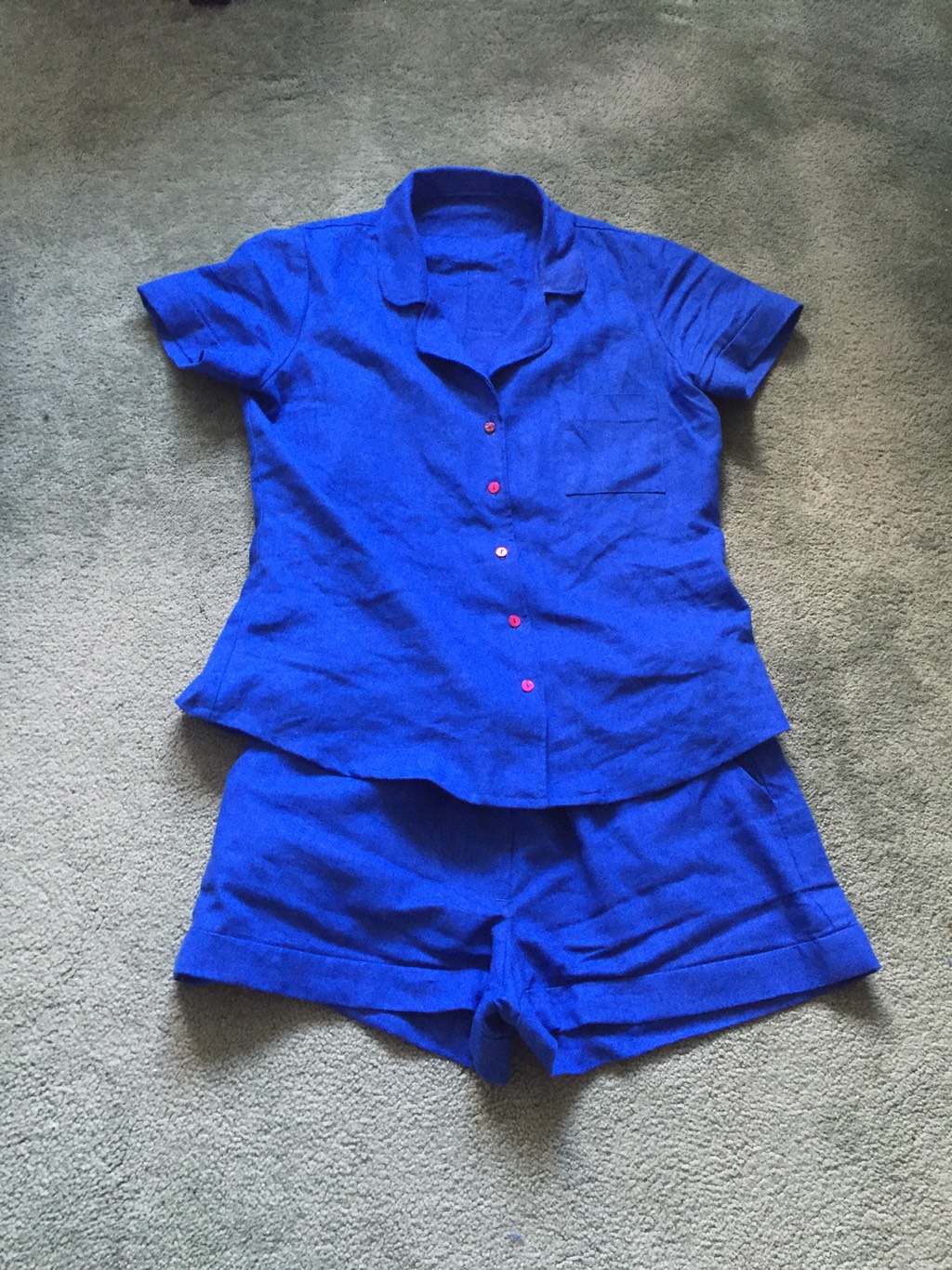 My latest sewing project has been a lot of fun: Carolyn pyjamas. I'm normally a t-shirt and jersey pyjama trousers kind of person, but I was taken with this pattern for 'posh pyjamas'. I bought the pattern, and then around my birthday, I made a special visit to John Lewis to get some fabric befitting of such fancy night attire.
I love linen. My linen Hollyburn skirt has been one of my most worn items, winter and summer, and the more it has been washed, the softer and more luxurious the linen has become. It may crease like crazy, but I love the texture and softness of linen, and the way it keeps you cool in summer and warm in winter. However, John Lewis had both a gorgeous royal blue linen and a magenta/mulberry coloured one, and I was completely torn between the two. One of the options with the Carolyn pattern is to include traditional piping around the edge of the collar and shirt front, and around the cuffs of the sleeves and legs. I toyed with the idea of getting both colours and making one pair in royal blue with magenta piping and one in magenta with royal blue piping, but I couldn't really justify the cost, and came away with just the royal blue. In fact, I somewhat miscalculated how much I would need. I was hoping to make the version with long trousered bottoms and a short-sleeved top, but it quickly became clear that I only had enough fabric for the shorts versions of the bottoms. That was fine, as it allowed me to try out the fit while making the pattern for the first time, and the shorts are great for the summer. I also dropped the idea of piping for this first pair, which I think was a good idea.
It was a fun pattern to sew, with the thorough and clear instructions I have come to expect from Heather. I had never sewn a collar with a lapel before, and despite her clear instructions, I managed to do it wrong first time. When attaching the collar to the neckline, I sewed too much of the seam, and only realised my mistake after I had trimmed and clipped the seam allowance. Whoops. Then I found that I had marked the matching points wrongly for the lapels (I used the marks for a different size), so I had to remark those as well. Thankfully, though it made ripping back the seam and doing it again rather fiddly, it worked out fine in the end, and the lapels look quite even, much to my surprise. The rest was straightforward, and I really like the neat cuff finish on the sleeves and legs. The shorts even have pockets, which I don't think I've ever encountered on jim-jams before.
It fits me really well, and is incredibly comfortable to wear, especially on warm nights. I do apologise for the creases and wrinkles1 in the photo, but a) it's linen and that's just the nature of the beast, and b) I have been wearing these for several nights and couldn't be bothered to press them before taking the photo. As you can see, I couldn't let go entirely of the royal blue and magenta idea, and I used some gorgeous magenta shell buttons to sing out against the blue. I'll definitely make another pair, and perhaps manage to buy the correct amount of fabric to make long trousers next time. They might even still have that magenta linen in John Lewis, you never know…
---
And also copious quantities of cat hair, though you may not be able to see that in the photo. ↩︎