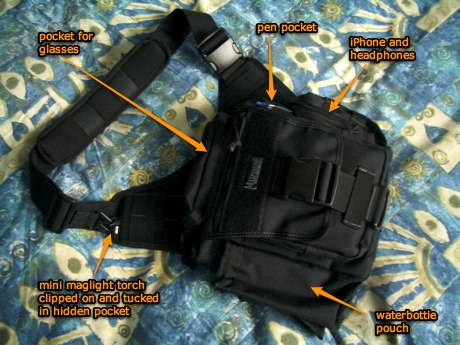 My name is Bsag, and I am a bagaholic.
I'm not remotely interested in your Prada or Gucci or other 'It' bags: no, my thing is rough, tough bags with lots of pockets. My problem is not that I want to collect a lot of them, but that I'm absurdly picky and a perfectionist when it comes to bags. I want something that's comfortable to carry fully loaded, particularly when riding a bike (like a rucksack), but that is easily swung around to access the pockets (like a messenger bag). I want a bag that doesn't look huge on me but has enough room for the daily essentials plus a few extra bits for longer excursions. I don't want to rummage, so I like lots of pockets which happen to be the perfect size for exactly the kind of stuff that I carry. I want it to be tough, well made and engineered to last. Oh, and I want it to be waterproof (or at least showerproof) as well. That's not much to ask, eh?
When I used to carry my laptop to work every day, I used a Crumpler Cheesy Disco, which fulfilled a lot of those criteria, and was a very nicely made bag, but now that I don't need to carry my laptop, it's just too big. I've admired Tom Bihn bags from afar for a long time, and they seem to be beautifully made and superbly designed, but you can only get them direct from the US. The bags aren't cheap to start with (though I am sure that they are good value for money, given the quality), and once you've paid international shipping, import duty and VAT, they turn into very expensive bags for UK citizens, particularly with Sterling low against the Dollar.
A trawl around the internet lead me to Maxpedition, and the Jumbo Versipack. The Maxpedition site is a bit unnerving for a gun-hating civilian. While they market their products to anyone who spends a lot of time outdoors (explorers, mountain rescue teams and so on), rather a lot of their bags are designed for carrying weapons, particularly concealed handguns. The Jumbo Versipack that I bought has a special pocket at the back in which you can stick an optional velcro holster to carry your concealed weapon. I just conceal my wallet in it, but it is very handy if your transaction requires a quick draw of the debit cards. If you can ignore the rather military atmosphere of the site, there are some great bags, and several UK suppliers so you can avoid international shipping.
I spent ages on the site trying to decide which bag to get but I was really impressed with the Versipack when it arrived. The material (1000 Denier ballistic nylon) is extremely tough and looks as if it will be pretty durable. It's quite stiff which concerned me a little to start with, but it does mean that the bag stands up on its own, which is quite handy. The stitching is excellent, the zips are heavy duty, and it generally has a very over-engineered feeling. This isn't a bag which will fall apart with a bit of heavy use. There are lots of pockets. In fact, there are pockets within pockets. For example, the pocket on the right side of the bag (which is just the right size for my iPhone) has a little slip pocket within it, into which you can slip your earbuds. There's a snap hook on the left side which I keep my mini maglight torch clipped to, and to my delight, I found that there's a small hidden pocket (under the webbing) into which you can slip the torch so that it doesn't bounce around. Even better, on top of that pocket, there's a strap which is perfect for slipping the belt loop of my camera case through, so that if I'm taking a lot of pictures, I can temporarily mount the case on the strap rather than digging around in the bag.
The Maxpedition bags are very modular, and like the rest of the range, the bag has lots of areas of webbing, to which you can attach other accessory pouches, carabiners and so on, making it much more versatile. It's also very comfortable to carry across the body with the shaped and padded strap, and even when fully loaded, it doesn't feel like a burden. I must be about a foot shorter than their average customer, so I had to shorten the strap as far as it would go. But that makes it the perfect length for the bag to ride snugly against my lower back. You can very easily swing it around to the front to get things out of the pockets.
I don't carry a water bottle every day, but the water bottle pouch is nicely designed and collapses with a velcro strap when not in use. It's also huge, and would easily take a 1L bottle or a decently sized thermos flask. Alternatively, it would house a wet umbrella quite nicely, particularly since they have thoughtfully added a little drainage grommet hole in the bottom of the pocket.
Overall, I'm really pleased with the bag. It's just the right size, and yet can take a few extra bits when necessary, and it's tough and comfortable to carry. I do still feel that I might need to 'de-militarise' it a bit. Luckily, Maxpedition provide two large areas of velcro on the bag; one you can see in the photo behind the logo, and the other is on the pocket on the top of the bag. Judie Lipsett did a great review of the smaller brother of the Jumbo on The Gadgeteer (which helped convince me that I was making the right choice) and customised her bag with some wonderful embroidery. My free-hand embroidery skills are non-existent, but I reckon that I could manage a simple needlepoint design on square-holed canvas. So I plan to make a couple of needlepoint panels (something colourful like Celtic knotwork or flames) and mount them with velcro on the bag. That way, if I mess up the needlepoint or get bored with the design, I can swap it for something new.