Finding myself in that rare position of having an unspent book token recently, I was browsing around in a bookshop and picked up 19th-Century Fashion in Detail by Lucy Johnston. Now, the idea that I would look twice at any book with the word 'fashion' in the title would have made me roar with laughter a few years ago, but since I started sewing, I have become fascinated by construction techniques, and with borrowing ideas from previous periods in which different body shapes were celebrated. As soon as I opened the book, I knew I had to buy it. It's a gorgeous, in-depth analysis of both male and female clothing from the whole of the 19th Century. There are beautiful colour photographs, but also technical line drawings of the garments, so that you can see more clearly how they are constructed. I've been enjoying reading it enormously, and thinking about ways that I could incorporate some details into designs for my own sewing.
Of course, I don't want to be doing some kind of Victorian cosplay, fun though that would be! These kinds of styles (particularly for women) are completely impractical for modern life, apart from anything else. However, since I have a long torso, short legs and big hips, the 19th Century silhouette of a high waist or empire line bodice, and full skirt is one that actually suits me quite well. Then there is the superb tailoring (for men and women) to learn from, and some delightful details on cuffs, collars, necklines and so on. What I'm aiming to do is borrow some of these elements with a light touch so that the garment at the end looks stylish (and perhaps very slightly unusual), but in no way screams costume drama.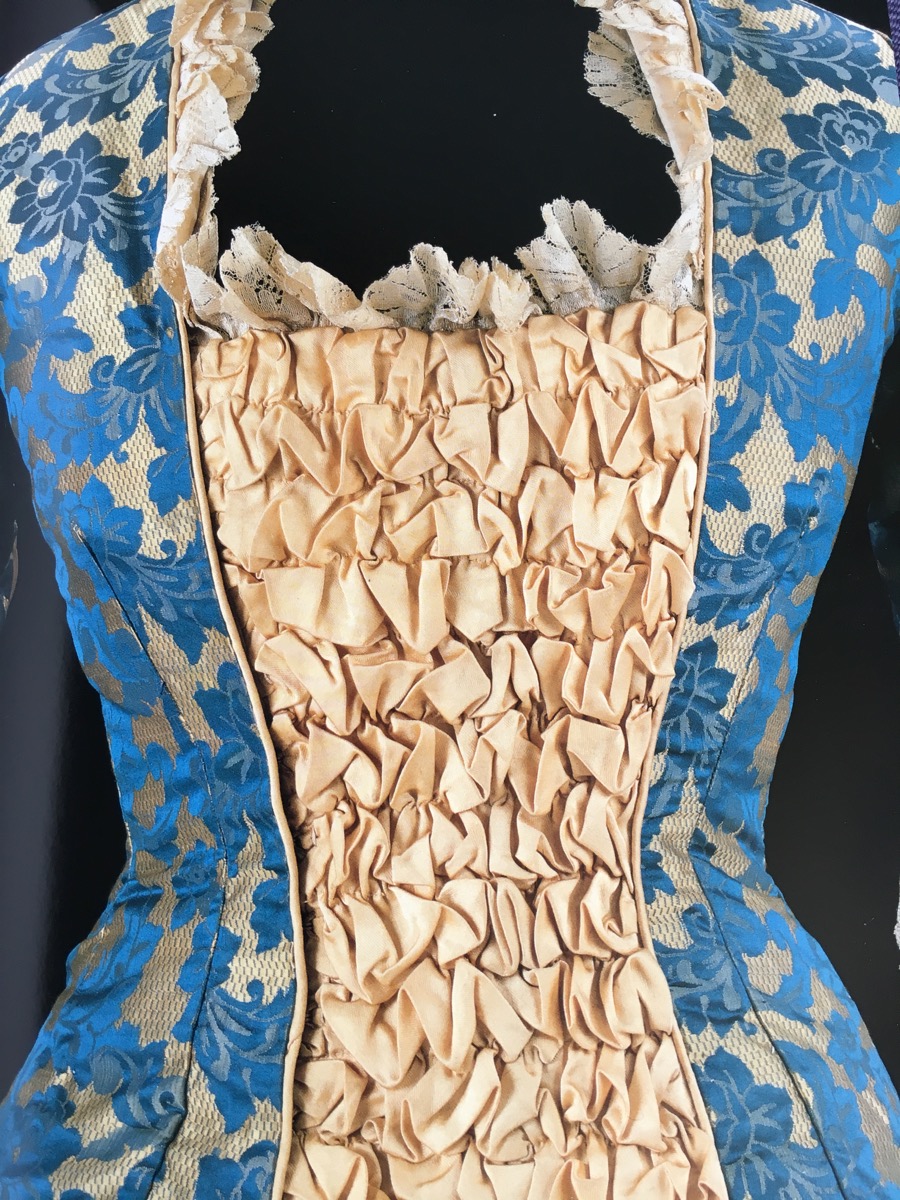 The dress above is a good example: I like the idea of a princess-seamed dress with a square neckline (without the lace), and a different texture of fabric in the centre panel. I would probably go for something crisply pleated instead of ruched (I don't want to look like a window blind in a 1980s en suite bathroom), but the general shape was inspiring. I would absolutely wear that lovely silk jacquard fabric though — the blue and gold is gorgeous.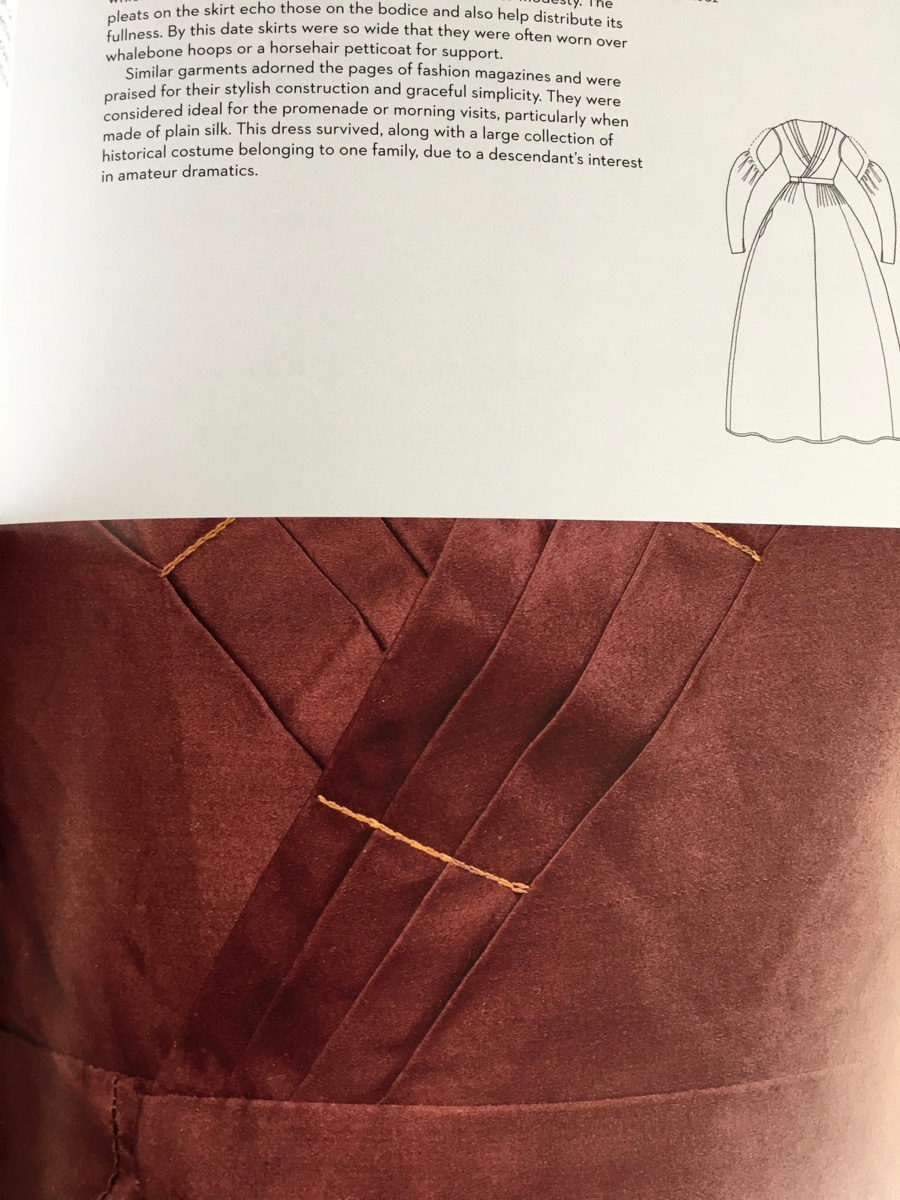 Here's another example. This is quite simple, but the pleated edges on this cross-over bodice look crisp, architectural, and actually rather modern. The chainstitching securing the pleats is functional but also a nice decorative touch. This dress is technically very early Victorian (it is dated 1838-40), since Victoria came to the throne in 1837, but the Victorians always did like functional things to be pretty and vice-versa.
It's fascinating to see the progression of fashions throughout the century, and the way that social changes influenced the style of dress. As women took up more physically-active leisure pursuits (like walking or cycling), the styles had to change to accommodate this. It is also interesting the way that male and female fashions influence each other. In the late 19th Century, women's fashions were strongly influenced by men's tailoring and also incorporated military touches (like braid and frogging) as decoration. Men's fashions also broadly echoed the shapes of women's fashions at different times, so that early in the Century, men's frock coats were styled with a narrow waist, broad shoulders, and full skirt to the coat.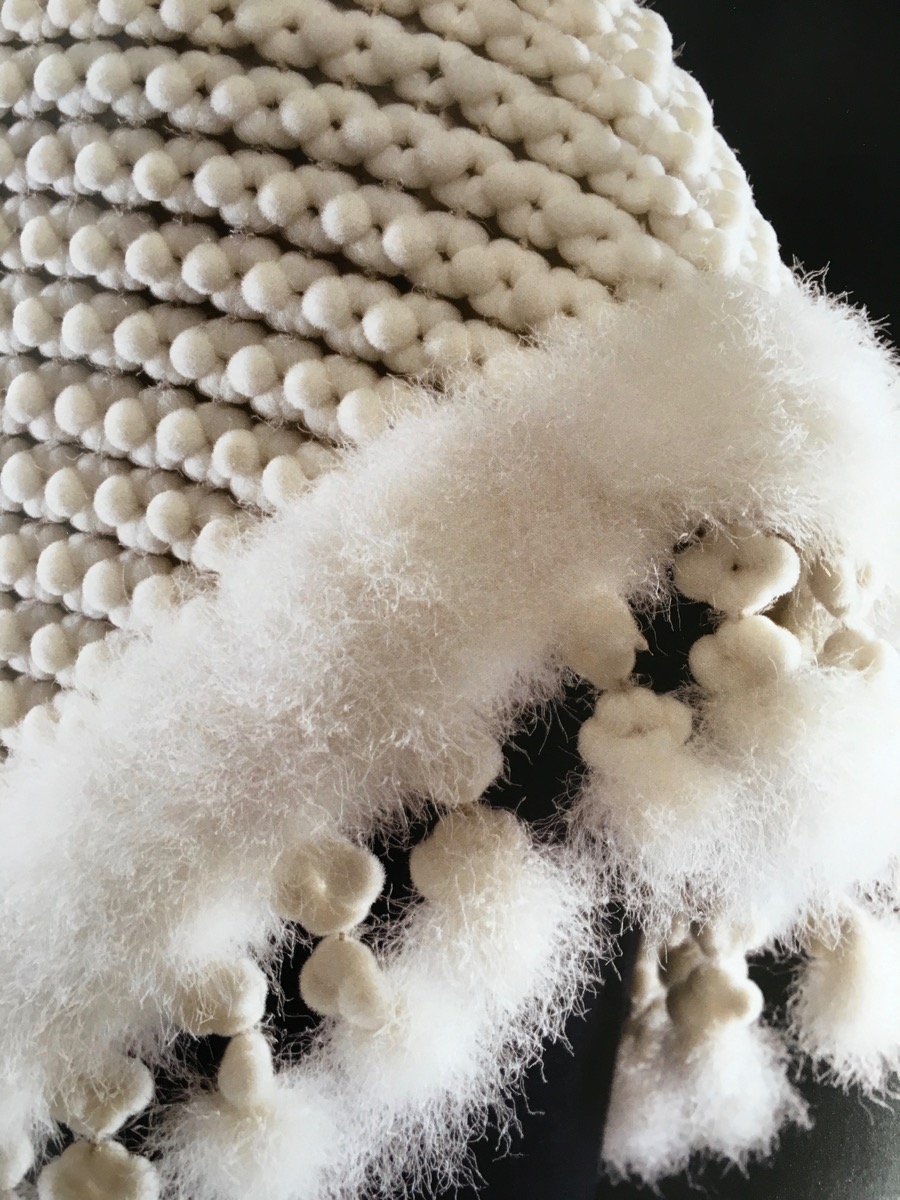 There are also some garments that make me heave, and not for reasons of style. I turned a page to find a man's overcoat, lined with the skins of 32 Russian wolves. That's 32 emphatic nopes from me. I have more complicated feelings about the incredible mantle pictured above. This is somehow (I have no idea how) made entirely from silk and swansdown, which sounds like something out of a fairy tale. If I could believe that the makers had harvested moulted feathers from swans to make it (and thus not harmed any swans), I would love it, but I suspect they just killed the swans to get the down, so it is beautiful but deeply troubling.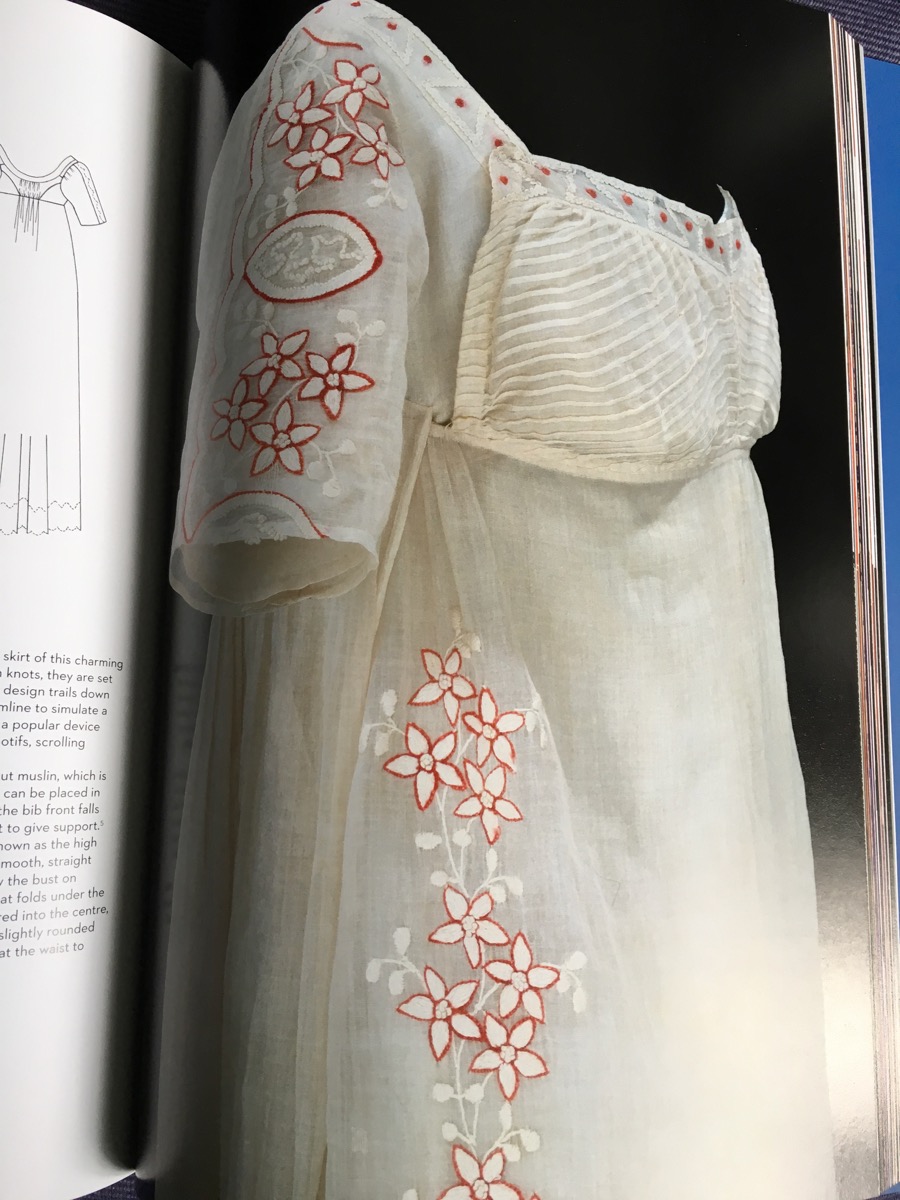 Having said that my aim was to take away small details, shapes and so on from these styles, there are a couple of complete garments that I love in their entirety. I think the embroidered muslin dress is simple, but very beautiful, and incidentally has some very clever structural touches. The front panel of the bodice and skirt ties on with tapes that run under the back skirt. This means that the fastenings are concealed under the panel, but also that the front of the skirt can be flat and ungathered for a sleek look, while still allowing fullness of the skirt at the back.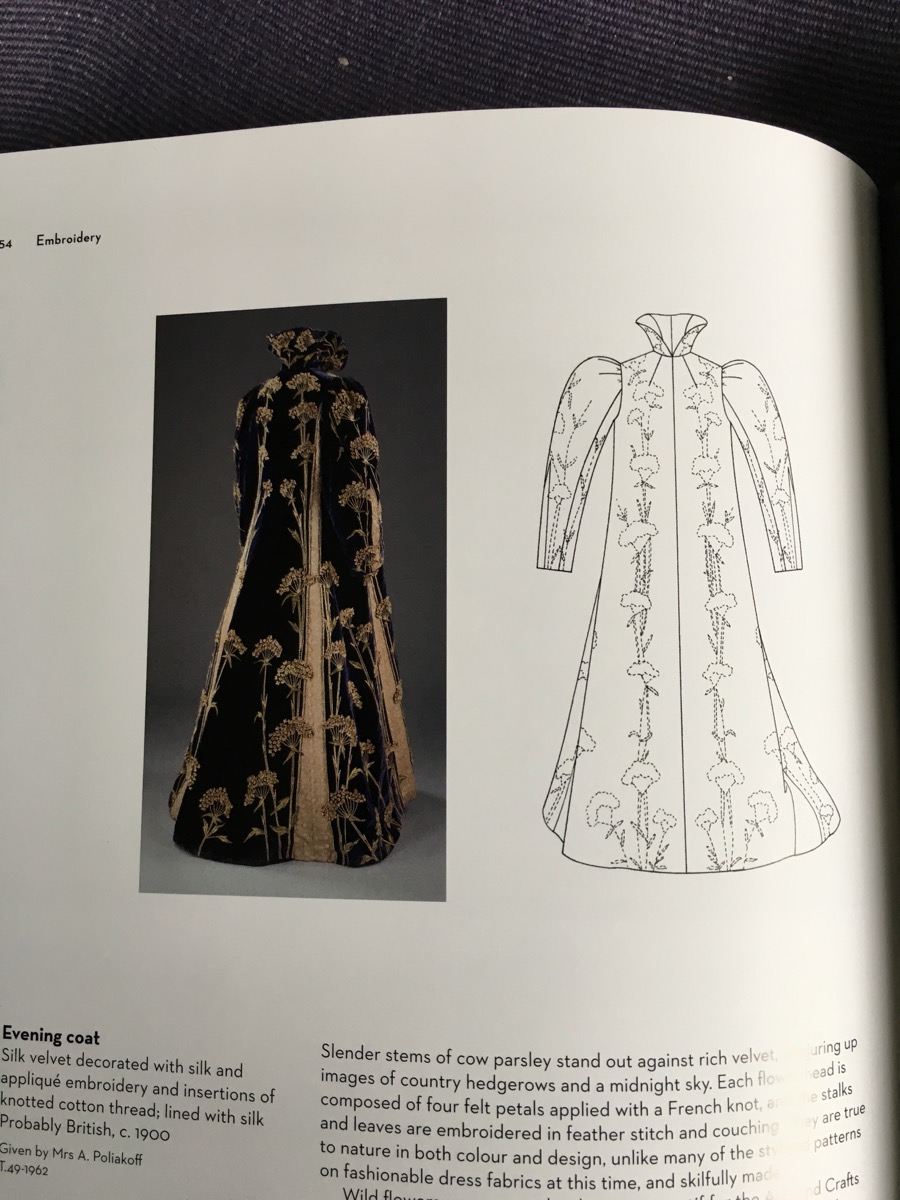 I have no idea if I could really pull off this look, but I adore everything about this evening coat. First, it is made from silk velvet in a deep, midnight blue. Second, it is covered in exquisitely embroidered cow parsley, and I love cow parsley. I think you could put this on, sweep dramatically into any room and completely stop conversation. Actually if I was a superhero, this would be my chosen cape1. In my dreams…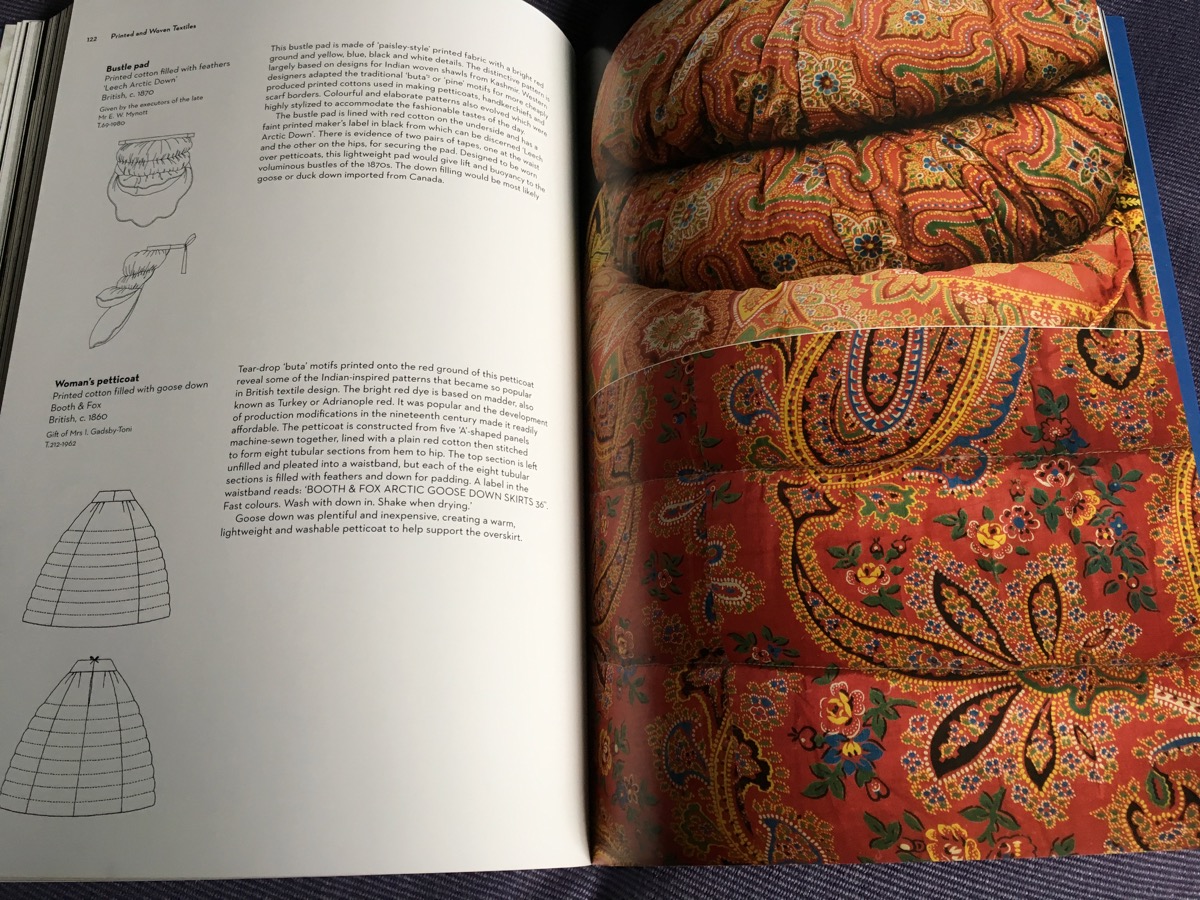 Finally, this really made me laugh: it's a puffa petticoat! It's supposed to act a bit like a soft crinoline, supporting the shape of a heavy skirt over the top, but I bet it would also be toasty warm. It's like wearing a secret duvet under your skirt.
---
If I ignored Edna Mode's strong opinions on capes for superheroes. I like to think that even she couldn't disapprove of this coat. ↩︎