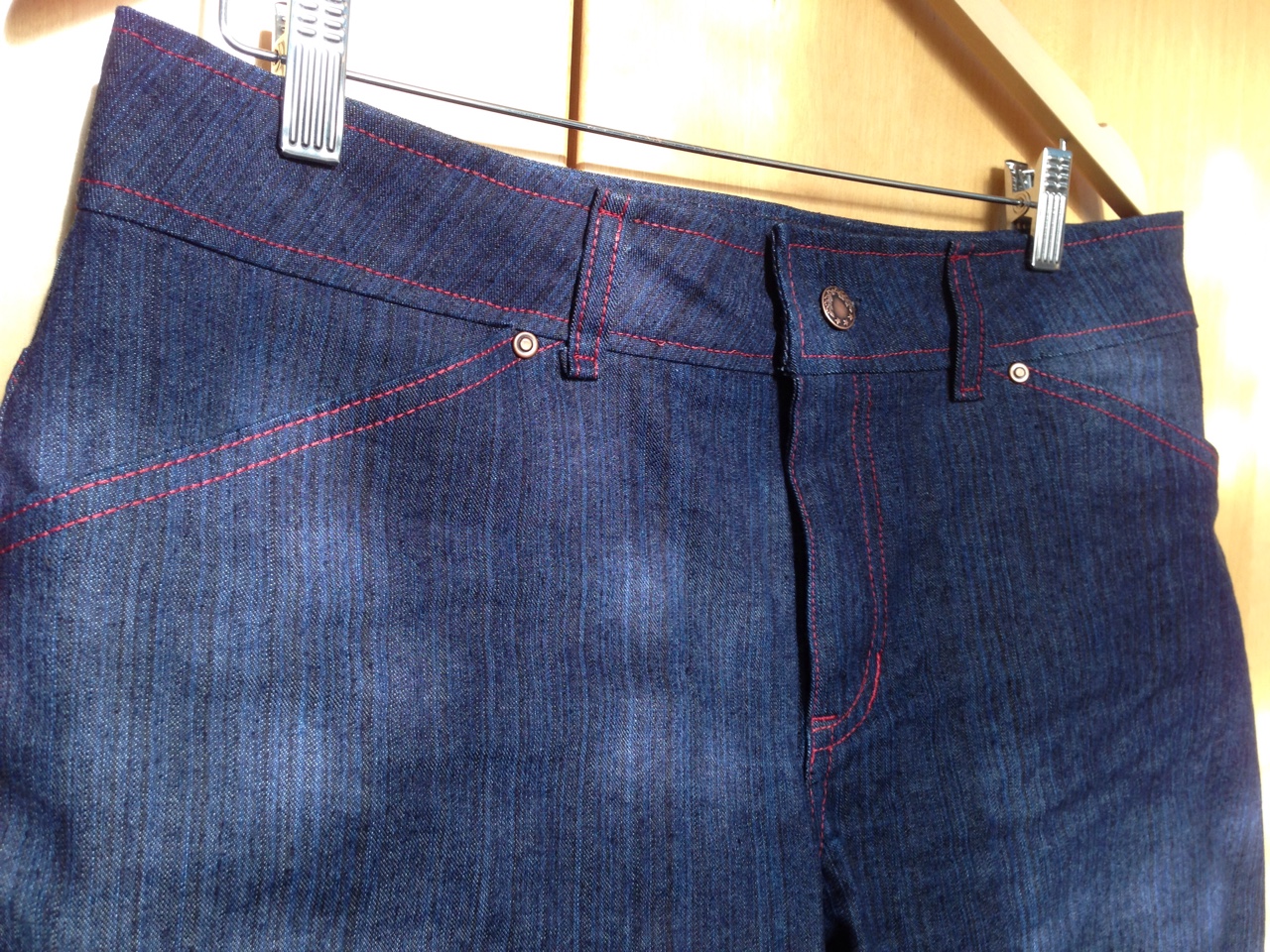 After getting a bit of confidence with my last pair of jeans-style trousers made in cotton twill, I was keen to tackle a pair in real denim. I got some dark indigo, non-stretch denim from the Fancy Silk Store in Birmingham, and planned the changes I would make from the last pair. Real jeans have a yoke rather than darts to shape the back, so I decided to modify the Thurlow pattern a bit to convert the back dart to a yoke piece. I did this by tracing off a yoke-like shape from the trouser back pattern pieces, using an existing pair of jeans as a guide for how long the yoke should be at the centre back seam. I then added a seam allowance to the bottom of this piece and closed up the dart in the tracing paper, snipping into the seam allowance at the bottom so that the paper would remain flat. The bottom seam (that would join the top of the back trouser piece) was therefore still the right length, but the yoke curved more to make the edge joining the waistband smaller, which is what I need for my body shape. I then traced this shape again to get a clean copy, and cut off the corresponding piece from the back pattern piece, leaving a seam allowance.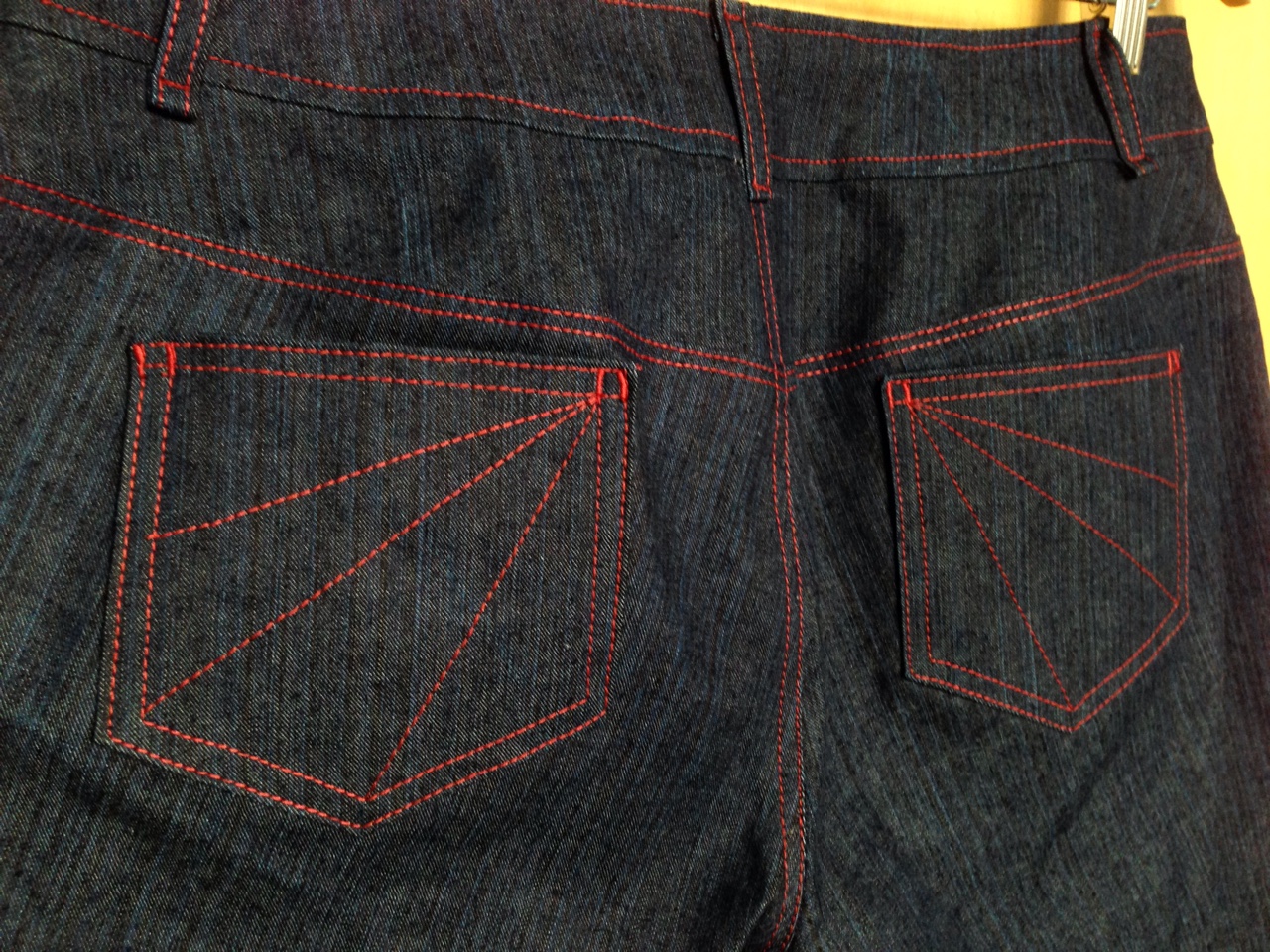 The other change I made was to change the waistband a bit. As I mentioned last time, the Thurlow waistband is made in two halves that you join at the centre back when you sew up the rear seam to fit. This is a fantastically easy way to get a good fit with trousers, but isn't really compatible with the way you construct jeans, and specifically, how you topstitch the rear seams. I've been trying to take a slightly more scientific approach (since I am a scientist!) to fitting. I've taken a lot of different measurements of myself, separating out measurements of the back and front halves of my body so that I can get a good fit. The Craftsy class Fast-Track Fitting with Joi Mahon was a huge help in this, as she covers how to measure the pattern then make the necessary adjustments in the right place to correspond with the measurements you have taken of your body. It's a systematic approach employing quite simple techniques that I like a lot, and it makes it quite easy to get a good fit without having to necessarily make a muslin first. I've used the technique on a couple of garments now, and it has given me the confidence to draft changes myself and know that they are likely to fit well.
The basic problem that I have with waistbands that fall below the level of my natural waist is that a) they tend to gape at the small of my back, and b) the top of the waistband stands away from my body. This is because my body is contoured there, but the waistband is rectangular. To get it to fit well, I need a band with a curve, so that the length at the top is shorter than the length at the bottom. The Thurlow pattern does actually have a contoured waistband, but it's not quite contoured enough for me, and is also in two pieces, whereas I wanted a one-piece waistband, cut on a fold. I was at a bit of a loss to think how to draft this myself until I came across some instructions on the net (that I can't re-find now, unfortunately). It's basic geometry: you cut a rectangular strip of paper that is the width you need for your waistband, and long enough to go around you easily, with a good bit of excess for safety. You know from your measurements how much shorter you need to the top of the waistband to be than the bottom, and you also know whether you need the bulk of that reduction to be on the back or the front of the waistband. You then slash and overlap the strip of paper from the top, distributing the reduction at appropriate intervals. The waistband then naturally starts to curve. Once you have finished, you can try it around yourself to work out whether it feels about right, then you fold it in half at the centre back and trace around it (smoothing out the angles) to make the finished pattern piece that you cut out on a fold. I did this and it worked out really well. The finished jeans fit me fantastically well, without needing a belt. I can't remember the last time I had a pair of jeans that fit my hips and backside and also had a snug-fitting waistband. It's quite a revelation.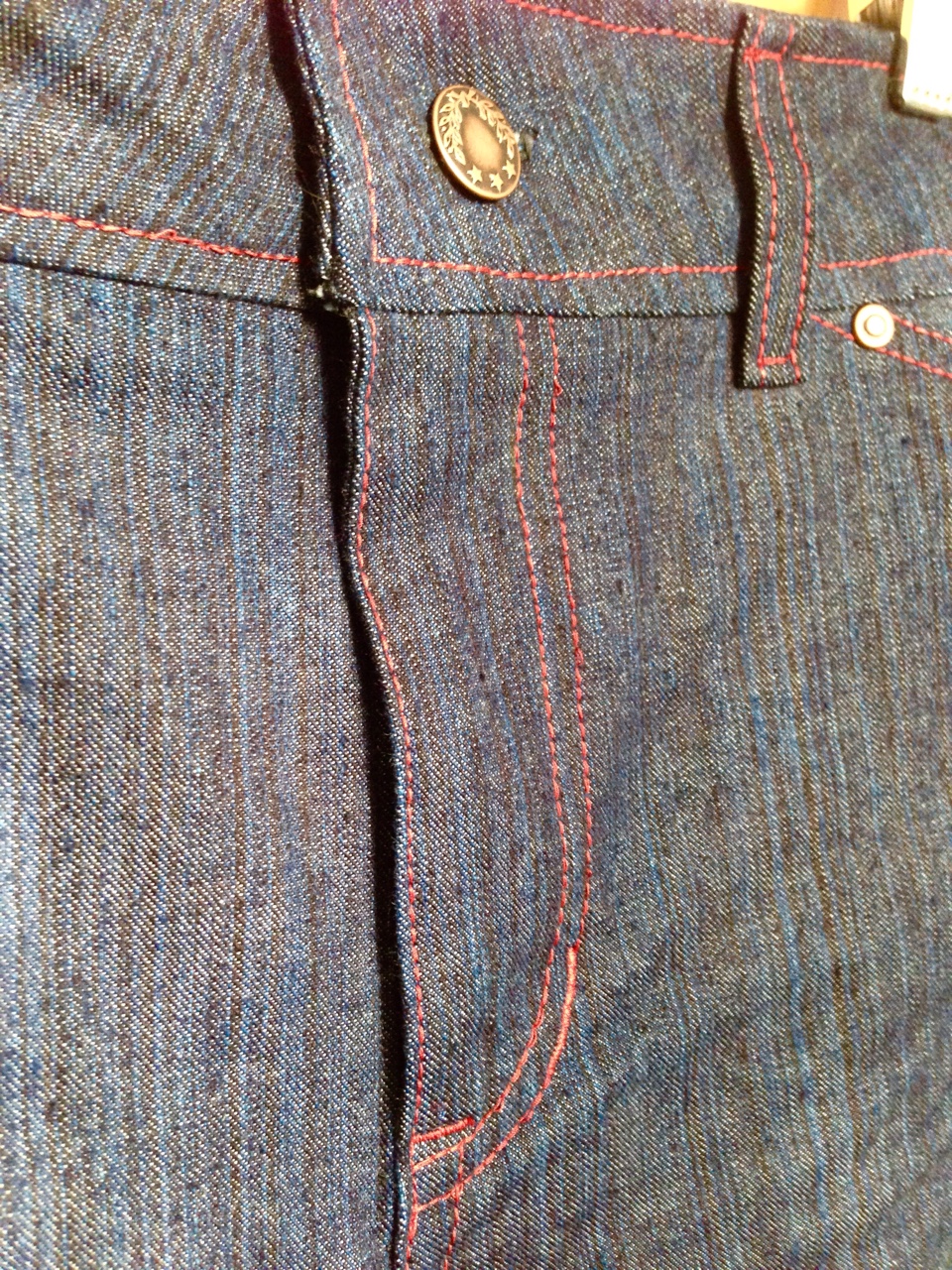 Everything else went pretty smoothly with the construction. The fly took a bit of thought and wrangling, as I was still trying to use the pattern without extension strips at the centre front edges. About half way through construction, I decided that as I would have to be dragged kicking and screaming back to buying ready-made jeans, I might as well get a specific jeans pattern, and bought the Ginger jeans pattern from Closet Case Patterns. This has extension pieces on both sides, and an ingenious way of constructing the fly that seems far easier and neater than the way I've been trying to do it. The problem I've always had has been getting the front edge of the fly and the crotch seam to line up nicely without any puckers, but also while covering the zip properly. I did manage it with these jeans, but only after unpicking my work a couple of times, and also only by inserting the zip itself at a bit of an angle. It doesn't show from the outside and operates properly, but it's mighty wonky on the inside. Next time I'll get it right.
I'm quite proud of (most of) my topstitching on these jeans. I decided to be brave and also add a dash of colour to the jeans by using bright red thread1. Since I didn't have proper topstitching thread (which is thicker), I used two spools of ordinary weight thread, threaded into one needle. This works quite well for visibility, but in places the tension went a bit awry, and one thread is bit loopier than the other. Still, no-one (except me) is going to be looking at my jeans that closely, so it's not really an issue.
I can't tell you how amazed I am that I made a pair of jeans, my most beloved category of clothing. I've worn these several times already (hence the wrinkles) and am trying to resist washing them until I have softened them up a bit by wear so that they develop a good pattern of fading. I may also decide to narrow the legs just a bit to make the bootcut leg a little less wide, but they are certainly very wearable as they are. Jeans take quite a long time to make, because of all the topstitching and processes involved, but the are incredibly rewarding. I can't wait to buy some more denim and make a pair with the Ginger pattern.
---
I love red. Since making my own clothes, my wardrobe has become much more vibrantly coloured! ↩︎